Food
It's what we want to be eating too.
At this point we're beyond the assumption that models don't eat—especially during Fashion Week. We mean, when you're doing five-plus shows a day, food is fuel. And, as your mother has told you time and again, breakfast is the most important meal of the day. So when the Karlie Klosses of the world have a 7 AM call time for hair and makeup before walking for Proenza Schouler or Diane Von Furstenburg, you better believe they've got their breakfast handled—and by none other than Dig Inn, too. And wouldn't you know it? We have the recipes (duh). Herein the chia-and-oat pudding and frittata that Joan Smalls will be "chowing down" on. Now you can do like a runway model and eat breakfast just like you're about to close for Alexander Wang.
---
— Dig Inn's —
Leek Frittata
Makes one 6-inch Frittata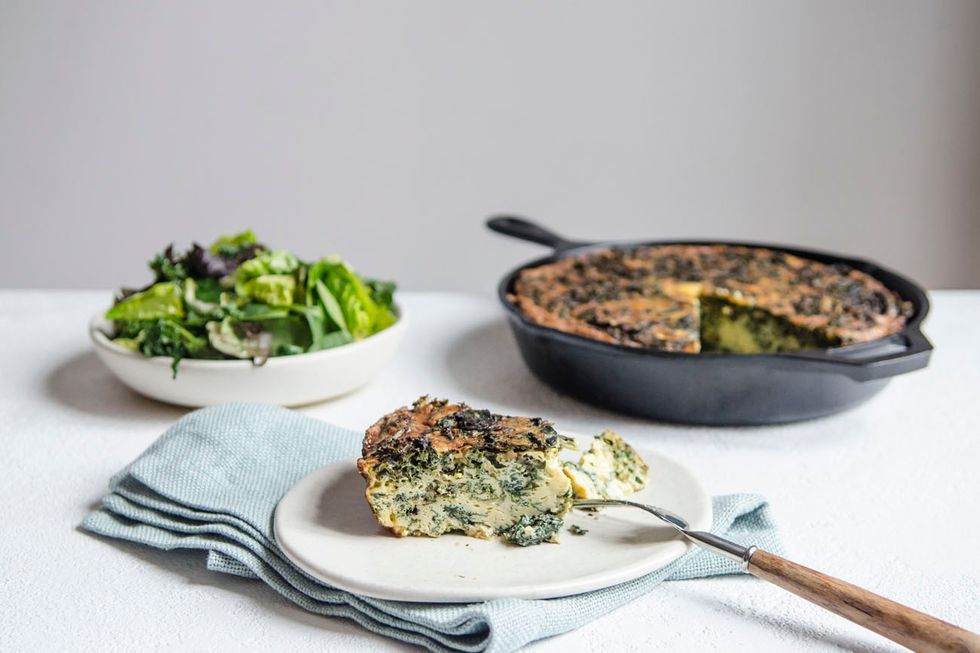 "Served for breakfast, lunch, or dinner, the frittata's greatest strength is its versatility. It tastes as good—arguably even better—cold as it does warm. And can be filled with anything from seasonal veggies and cheese, to last night's leftovers. It's also super simple if you're mindful of a few key tricks. The egg-to-dairy ratio is important to achieve that smooth custardy texture. Two tablespoons of milk for every four eggs is a reliable starting point. Invest in some quality, pasture-raised—and preferably veggie-fed—eggs, as this will set the scene for the rest of your dish. Your remaining ingredients should be defined by the seasons. It's more sustainable, but fresh produce simply tastes better too. This frittata celebrates the first wintered leeks, and is best enjoyed with fresh-baked sourdough and great company."
— INGREDIENTS —
1 fat leek (light green and white part only), cut into thick half-moons
3 tbsp olive oil
coarse Maldon sea salt
1 tbsp fresh tarragon, chopped
1 tbsp fresh mint, chopped
¾ cup Gruyère cheese, grated
4 pasture-raised eggs
2 tbsp milk
— DIRECTIONS —
1. To prepare the leeks, toss with two tablespoons olive oil and a pinch of sea salt.
2. Roast in a 450-degree oven until lightly golden. Chill and reserve.
3. For the frittata, make sure the oven is lowered to 375 degrees.
4. Lightly whisk the eggs, milk, and 1 teaspoon of salt together in a large bowl.
5. Fold in the herbs, cheese, and 1 cup of the roasted leeks. Stir to combine.
6. Heat a small cast-iron pan on the burner and place one tablespoon of olive oil in it.
7. Pour in the egg-and-leek mixture, before immediately transferring to the oven.
8. Cook for 15- 20 minutes, or until the egg is just set.
9. Remove and serve warm, or leave to cool and serve at room temperature.
— Dig Inn's —
Overnight Chia and Oat Pudding
Serves four
"Meet your new best friend: Overnight Chia and Oat Pudding, here to help you reclaim the AM. Perfect fuel to start the day, it's simple to make, and dairy-, gluten-, and refined sugar-free. Seasonal fruit compote adds an energizing punch, which you can make at home or buy at your local farmers' market."
— INGREDIENTS — 
2 cups almond milk
1 tsp vanilla extract
pinch fine sea salt
½ cup dates, pitted and chopped
2 cups gluten-free oats
2 tbsp black chia seeds
2 stalks rhubarb, diced*
½ cup agave syrup
— DIRECTIONS —
1. Start the process a day ahead by placing almond milk, salt, vanilla, and dates in a blender. Puree until smooth.
2. Combine well with the oat-and-chia mixture in a large bowl.
3. Pour into mason jars or parfait glasses to set in the fridge overnight.
4. To make the compote, place rhubarb (or other seasonal fruit) in a bowl and coat well with the agave.
5. Leave overnight (or at least 4 hours) at room temperature to pull rhubarb juices from the stalks.
6. Strain liquid from the rhubarb and bring to a boil in a small saucepan. Cook for about 5 minutes, or until syrupy.
7. Reduce the heat to a simmer and fold in the rhubarb, before bringing back to a boil.
8. Once boiling, remove from heat and chill.
9. To serve, top each parfait with two tablespoons of compote.