Entertaining
For those of us who skipped the Emily Schuman gene, IRL tips courtesy of Charlotte Dellal, Chelsea Leyland, Karley Sciortino & more.
---
Here's an insider tip from The Coveteur Guide to Relationships (book deal pending): if you want to know whether your significant other is marriage material, throw a Christmas party.
The small army of fir-scented candles it takes to ensconce your home in a welcoming glow. That one damn light that decides to burn out minutes before the guests arrive, taking out the remaining strand of twinkle lights with it. The tiny peppermint things (so many tiny peppermint things!). Throw in a noise complaint and a few singed hors d'oeuvres and before you know it, it's four in the morning and you're in a bedazzled minidress and oven mitts still arguing about Angostura bitters.
Instead of drowning our sorrows in the baked brie this festivus, we called on a few of our favorite next-gen Martha Stewarts to give us the goods on throwing a seamless holiday party. Here's their guide to everything from custom cocktails to hostess gifts to why Sinatra should always come on before "the booty popping stuff" (it's just good form).
—Chelsey Burnside
Charlotte Olympia Dellal
Designer 
How do you kick off the holidays?
"My husband's birthday is in the beginning of December so this usually kick-starts the festivities. This year I threw him a big dinner party at home. My friend Fiona Leahy organizes the best parties and helped me create a beautiful evening with no detail forgotten."
What's the best hostess gift to receive?
"It's always nice to send photos taken at the party to the host the next day. Sometimes moments are missed, especially when they're busy entertaining and organizing the evening."
What's your favorite holiday cocktail to serve?
"I love Whiskey Sours. It's a real cocktail that that looks and tastes good."
What's on your holiday party playlist?
"My husband has a record player, so we like to play an assortment of music. It's nice when people look through vinyls and put on their favorite tunes."
What do you wear out during the holidays?
"I tend to dress from the feet up and I like statement accessories; choosing something fun to wear can put you in the mood for a fun night ahead."
What's the one thing party hosts should have on hand just in case?
"Music is very important; it's always good to have a portable speaker and a good playlist in case your sound system breaks down! It also goes without saying that you should always have plenty of snacks and drinks to keep guests going throughout the evening."
Ryan Korban
Interior Designer
What's your perfect holiday party situation?
"My ideal holiday party is small, but extravagant. I love the idea of extravagance on a small scale for an intimate group. And YES, DANCING! The holidays are the time to mix groups… People's spirits are higher than usual, so it's a good excuse to mix people. I would say 20 people tops. I prefer a mailed invite as well as an email."
How would you decorate your party?
"I usually stick to a theme. If it's white and silver, I keep that consistent. That means flatware, table ware, linens, flowers, candles all go with that color theme. Part of the reason I love the idea of intimate entertaining is because you can really give those guests an amazing evening. Flowers are my number-one must. It's the place most should be invested in."
What food and drinks do you like to serve?
"I like celebratory food during the holidays, like caviar. I never go heavy on the food because I am more concerned with the booze. Champagne is a must during the holiday, but I also would have a fully stocked bar so your guest can order whatever they like. As I get older I realize people really do have a drink of choice and you want your guests to feel like they are being taken care of."
What's the perfect soundtrack?
"I always go for holiday music like Sinatra Christmas before we get into the booty popping stuff. We start off classy and then it turns sloppy."
What's a good party timeline?
"I think three hours is a good amount of time. I used to organize going out after, but over the years it seems staying in all night becomes more fun. I like turning the cocktail party into a dance party and making sure at least a few of your guests pass out!"
What should hosts give and receive?
"Gifts are always appropriate during the holidays. I think the host should give a party favor. I have done flasks in the past, but this year I'll make sure everyone leaves with a copy of my new book, Ryan Korban: Luxury Redefined."
What's your plus-one policy?
"[When it comes to bringing a plus-one] always ask first! Unless they are hot and single."
Karley Sciortino
Author of Slutever.com & Vogue.com's "Breathless" column
What's a favorite holiday party you've attended in the past?
"The gallery Gavin Brown's Enterprise in the West Village always has great Christmas parties, with amazing food. I'll go anywhere with fancy, free food."
What's the best hostess gift to receive?
"Alcohol is always clearly a great and functional gift for a party. Although since almost everyone gives alcohol, I've recently started bringing an orchid as a present to parties in people's homes. It stands out, it's still functional because it acts as a decoration during the party, but it's also something the hosts can keep and enjoy after, and they will remember the nice gesture when they look at it and want to invite you to all their future parties! Also, they only cost about as much as a nice bottle of wine anyway."
What's your favorite holiday cocktail to serve?
"I think martinis are good for any occasion—you look glamorous holding them and they're slightly less fattening than most cocktails. But for a holiday party, if you want to make something slightly easier, and that's festive, hot toddies are a classic."
What's on your holiday party playlist?
"Always Blood Orange."
What's the ideal dress code for your holiday party and what exactly would you wear?
"People always like an excuse to get dressed up. Especially in New York. My friend the filmmaker Ry Russo Young recently had a birthday party at her house, and on the invite she just wrote 'And look nice, obviously. We're not slobs here.' I thought that was a good way to put it. I recently bought this Carolina Herrera dress on eBay that's red with white fake pearl-looking things around the waist, so I'm planning on that being my festive party wear this year."
What's the one thing party hosts should have on hand just in case?
"Lube."
Andrew Bevan
Style Features Director, Teen Vogue
What's the best holiday party you've ever thrown?
"A few years ago my friend, stylist Sarah Conroy, and I threw a Top Chef-style holiday cocktail competition where multiple teams competed to win the best drink of the evening. People took it very seriously, as most Brooklyn foodies do. It was not an ugly sweater party but throughout the night my closet got raided and everyone ended up in my knitwear dancing to bad nineties music!"
What's the perfect host gift?
"I like something that I wouldn't buy myself or haven't heard of before. Once someone gave me a smoked Spanish olive oil and a really esoteric flavor of jam."
What's the best festive cocktail?
"Around the holidays I like serving old-school, unearthed cocktails like champagne cocktails, Pink Ladies, White Russians, and Side Cars and anything with rainbow sherbet or an egg white in it because it makes it frothy and festive!"
What's the ideal dress code for a holiday party?
"I think it's always a nice excuse to dress up one or two steps more than you would normally dress the rest of the year at parties. It's time to break out your fur, velvet, sequins, mohair, and lurex knits and anything with a sheen. Just don't wear them all together or you'll look like a disco Christmas tree."
What's the one thing party hosts should have on hand?
"A bag of frozen tater tots or egg rolls ALWAYS makes for an awesome surprise snack for people for late-night guests."
What's your holiday playlist?
"I've Got My Love to Keep Me Warm" – Billie Holliday
"Christmastime is Here" - Vince Guaraldi
"Little Boy Blue" (Postal Service Remix) - Nina Simone
"We Need a Little Christmas" - Angela Lansbury
"Snow" - From White Christmas
"Paganini Rocks" – Robortom featuring Au Revoir Simone
"Jingle Bells" - Barbra Streisand
"The Blizzard" - Camera Obscura
"Carolina Christmas" - Squirrel Nut Zippers
"All I Want for Christmas" – Mariah Carey
Andrew's Holiday Playlist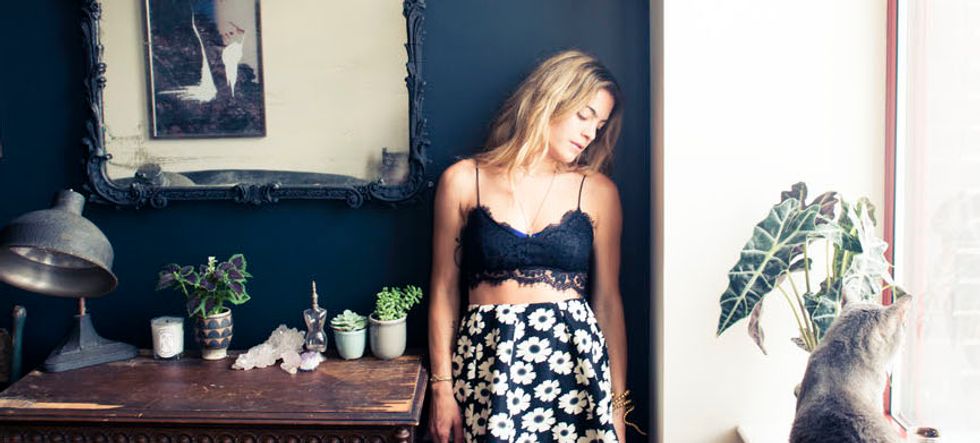 Chelsea Leyland
DJ
What's the best holiday party you've ever attended? 
"I DJ'd Milk's X-Mas party one year and that was pretty turnt up! As you can probably imagine, it was a damn good Christmas party and with there being so many different types of energies in one room, it had the best vibe ever. When people are celebrating the holidays and the end of the year, they tend to approach letting go in a far more open manner. You really feel these 'festive spirits' as a DJ because there's a strong connection to letting go and hearing music."
What's your favorite holiday cocktail?
"Mescal and watermelon juice with a little mint."
What's the perfect holiday dress code?
"Cozy and comfortable. I'll be wearing cashmere sweat pants from Club Monaco with Huff marijuana leaf socks. Anything that doesn't involve making too much of an effort—maybe a big Carven cashmere jumper over the top."
What's the one thing party hosts should keep prepared just in case?
"There are many of these things...but hidden treats are probably the most important. These may include dark chocolate-covered everything and anything; orange peel, raisins, mango, almond butter cups and so on."
What's on your holiday party playlist?
"Here's a sample of my chilled holiday playlist. This is what I will be listening to on Christmas Day, which will very different to what I will be playing on New Year's Eve."
"Is it Because I'm Black" - Syl Johnson
"Looking For You" - Nino Ferrer
"Forty Days & Forty Nghts" - Muddy Waters
"Showdown" - ELO
"Black Feather Wishes Rise" - Brightblack Morning Light
"Hung Over" - The Martinis
"Le Temps de l'amour" - Francoise Hardy
"Tired of Being Your Fool" - Nelson Sanders
"Lola Rastaquouere" - Serge Gainsbourg
"How Long" - Sharon Jones & The Dap Kings
Chelsea's Holiday Playlist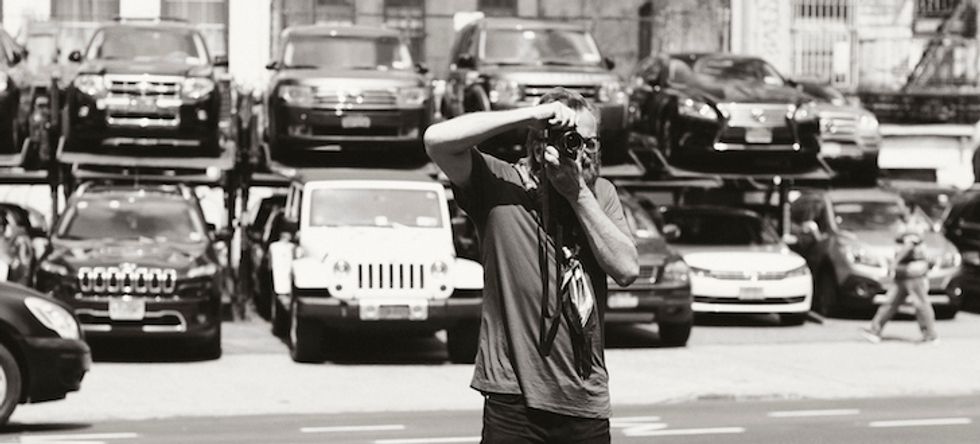 Johan Lindeberg
Designer
What is your favorite annual party tradition?
"The beach party in Tulum that I do every year the day before New Year's Eve. It starts at 3 PM and goes all night. It started as a small bohemian thing but has grown into a big tradition. For me, it's the party of the holidays... The energy is insane."

What's your favorite host gift to receive?
"Pink champagne. I like it but never buy it myself."

What's your favorite holiday cocktail to serve?
"Swedish Glogg: spicy hot red wine with a bit of vodka."

What's on your holiday party playlist?
"Something like '90s party music with African and Indian influences."

What's your go-to holiday party look?
"A tux jacket and black jeans and my silk scarf."

What is your best advice for holiday hosts?
"Always have enough drinks."