Down to Party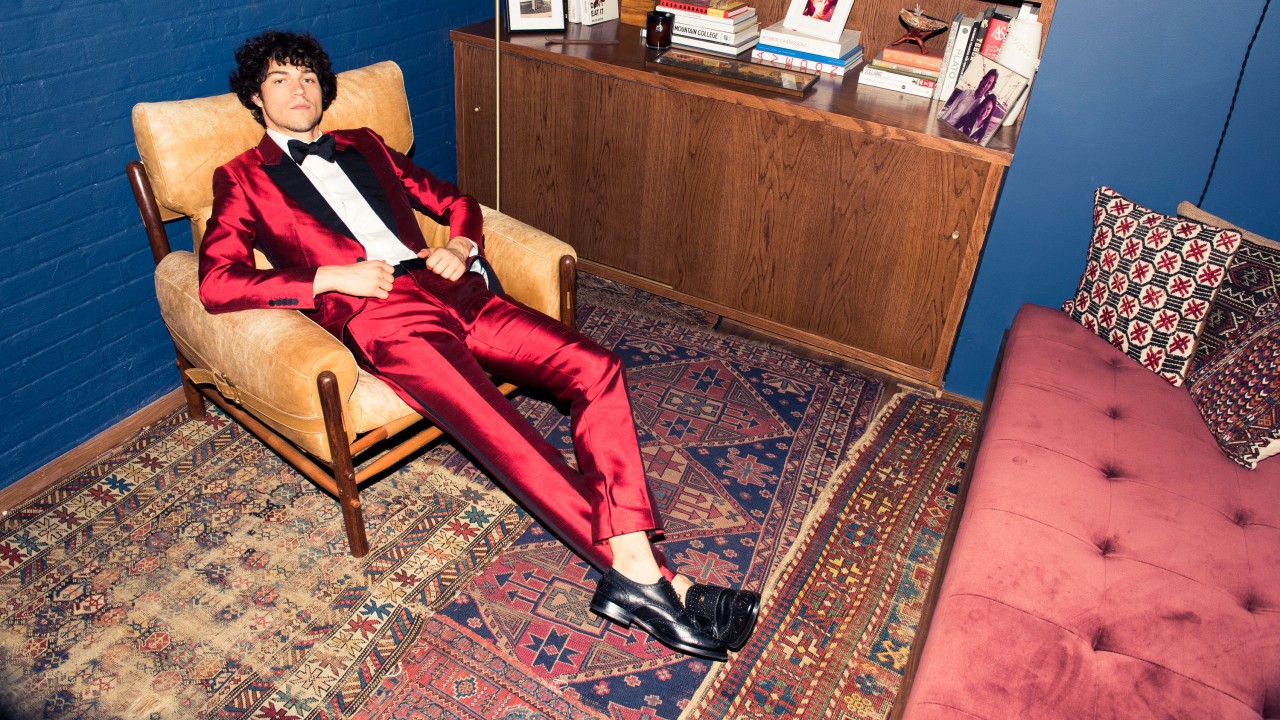 How to Win at Weekends Like Miles McMillan
A gala, a house party, and a pasta feast with friends. In collaboration with Gucci.
What happens when you just come off a weekend of parties with Camille Rowe? The correct answer is that you want round two. What can we say? When we get a taste of the good life, we want more. And it just so happened that a model (and an equally Gucci-inclined) friend of ours, Miles McMillan, had a marathon of fun things planned the following weekend—lucky us, we got to tag along. Like, a super fancy and very important gala holiday dinner. Throw in a Mexican-themed house party the next day, and close out the weekend with an indulgent feast of cacio e pepe, and you've got yourself one Miles McMillan-approved weekend.
---
Friday
Gala Holiday Dinner
How he preps for a big night out:
"I make sure I shower early enough so that my hair can air dry [laughs]. I don't like to show up to events with wet hair. I wish I got ready earlier, but it's usually 20 minutes before I have to head out the door. I throw on my clothes, wash my face, touch up my hair, and then go."
Grooming products he loves:
"I use everything May Lindstrom on my face, and David Mallett products for my hair. And that's it!"
His take on a black-tie:
"I love everything Alessandro Michele does at Gucci. When I wear his clothes, and especially this suit in that powerful red, it makes me feel kingly. The embellished tiger on the back with that burst of shimmer... And the fit is perfect, which is really important."
He never leaves the house without:
"My phone, wallet, keys, and often I will throw a crystal in my pocket. Sometimes I carry around pyrite, usually a piece of tiger eye—it depends on my mood."
Pre-gaming rituals:
"If I'm tired, I'll have some Royal Jelly—it gives me a second wind at the end of the day. Because I don't drink, I need a little pick-me-up sometimes.
"I'm usually listening to Beyoncé when I'm getting ready. Right now, 'Love Drought' is my favorite."
On where he's heading for the night:
"The ACRIA gala is always a really great, special night. It's very touching, and reminds us all that we have to fight just a little bit more and a little harder for the differences we want to see in the world."
The after-party:
"We'll go to a restaurant like Odeon, The Knickerbocker, or Blue Ribbon with friends after a night out—especially when we're dressed up—before we call it a night."
Saturday
House Party
3 rules for a good party:
1. "Make sure there's [lighting]. That's important.
2. "Good food. But I'm really trying to not make as much food, because I'll be like, 'Oh, we need this, and this, and this,' and then there's just too much food.
3. "I always make sure that I either have a good playlist or someone has a good playlist to play. And that the speakers are working—that's important!"
Shoes on or off:
"On!"
Ways to get the party started:
"With all my friends, it just happens. It's definitely about good people and good company."
Party food mainstays:
"I'm Californian, so I do love a taco and Mexican food. You know, guacamole, chips, and salsa. I make really good salsa. My favorite ingredient is cilantro—one salsa is basically a cilantro salad, and the other is [traditional]."
Playlist essential:
"Always Beyoncé. But I always like to throw on an Elvis song every once in a while to shake things up a bit. And then back to Rick Ross [laughs]."
Best party he's ever been to:
"It was my birthday party last year and it was Mexican-themed—we had piñatas, and my friends got me a Mariachi band. It was truly the best party that I've ever had."
From market to house party:
"I like it when you feel casual enough to go to the market but then you look down at this jacket and you're like, this is fun! I mean, everything about it is cool—the attention to detail, those dogs, the embroidery of the tiger on the back."
Sunday
Dinner at Vic's
His usual dinner attire:
"Jeans, sweater, and boots are something I would wear to dinner. Especially awesome boots like this with this striped sweater."
Share or get your own meal:
"I enjoy sharing. I really like to share if I don't like what I ordered [laughs]. Dessert—anything chocolate—I don't like sharing."
Off the menu:
"Vic's cacio e pepe is my absolute go-to. They always have seasonal vegetable starters, so I like to get a few of those and share with everyone at the table."
Why he's a regular:
"The food is great, the environment is great. The people who work there are amazing—it's very neighborhood-y. Everyone treats you like family. If I walk by with the dogs, they come out and say hi. We know the chef and everyone who works there."
How he chills out after a packed weekend:
"My favorite thing to do is take a bath. I run a very, very, very hot mustard detox bath. It's pretty great, and it really takes it out of you. You have to lay around all bundled up for 20 minutes after, and you keep sweating. It's definitely not something you can do and then go out after. But it feels great. And I love bringing a book—I'm reading Barbarian Days: A Surfing Life by William Finnegan. The author grew up around the corner from my grandparents' house in Hawaii, so it feels very personal to me."