The Label Behind the Neon Fur-Lined Parkas You've Seen Everywhere
Mr&Mrs Italy's creative director, Geraldina Bassani Antivari, had an out-of-the-box idea that's been widely successful.
Career
The standard green military-inspired parka (you know, the one hanging in your dad's, boyfriend's, and best friend's closets) got a seriously luxurious upgrade a few years ago thanks to Italian label Mr&Mrs Italy. Yup, leave it to the Europeans to take something basic and make it the chicest item in your wardrobe. The idea came to creative director Geraldina Bassani Antivari when she decided to play around with sewing fur into vintage parkas, and adding a neon pink, green, and blue-colored element to make it feel young and refreshing. Then Rihanna went ahead and wore one and, well, here we are. Since then, the label's parkas and bombers have been regularly snapped on everyone in the million-follower Instagram club: Gisele Bündchen, Cara Delevingne, Chiara Ferragni, and Olivia Palermo ( to name a few).
We caught up with Bassani Antivari at The Mark hotel to get a peek at the new collection, quiz her on how she manages to stay sane despite flying as many as five times a week, and chat about launching a product in today's overstimulated fashion world. Her reasoning for Mr&Mrs' success is simple: "It's quite direct as a product—when you try it on you understand how useful it is. There's the function of it and then the happiness part." Give us a snuggly warm coat we can wear any time of day, then cover it in hot pink fur? Yeah, we totally get the hype.
---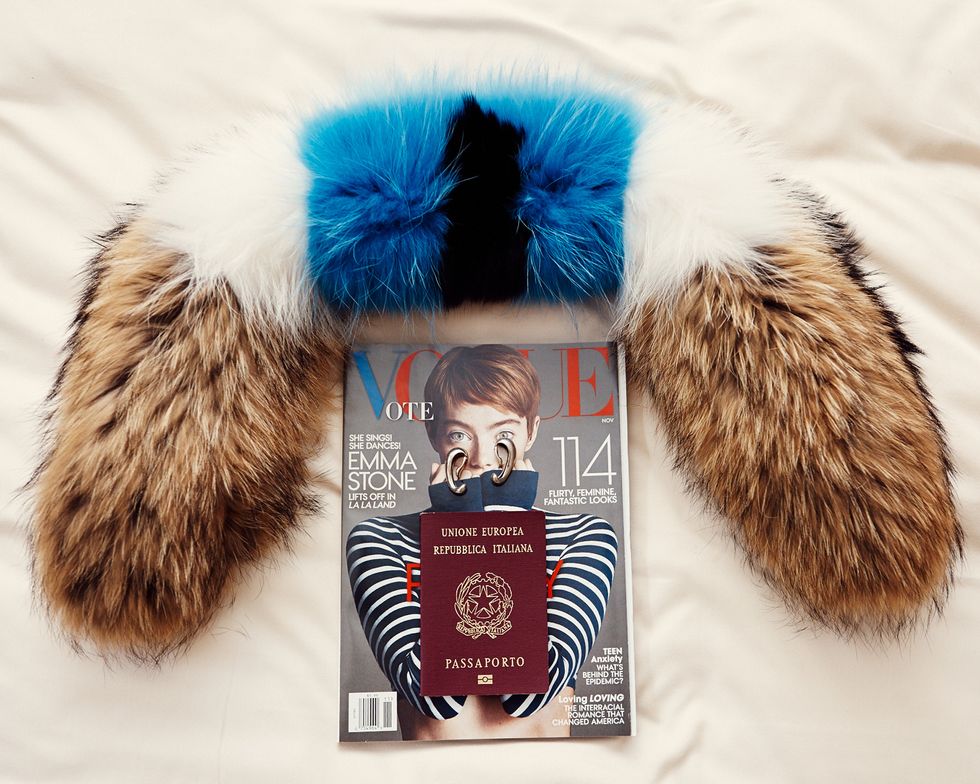 How the idea for the parka was sparked:
"When I met the owner of Mr&Mrs, they were looking for somebody who was more of a pragmatic designer. That was nearly three years ago and the company has grown incredibly since—it's mainly about the parkas, coats, and bombers. We do parkas for all kinds of women—when they go out with the dog in the morning or to lunch with their friends, and out in the evening. It's one product that delivers every moment of the day.
"My grandma has always been super passionate for furs, but furs aren't contemporary anymore. You can't really wear them out because it feels like showing off. So I thought about creating something that's an everyday staple. It started as [a] joke, like, why don't I put fur inside a military parka? You don't experiment on a Dior coat you've bought, you use [a] vintage one. They did really well and we started doing other garments, like bombers. It's so easy, and whoever tries it on, all of my friends are like, 'I want to go buy one now.' When you try it on you understand how useful it is. There's the function of it and then [the] happiness part. If you want pink fur, you get pink fur. It's a mix-and-mash of function, of coolness, fashion, attitude, and then it's very personal, because nowadays you have so much choice."
Why their publicity was completely organic (thanks in part to star power):
"Two and half years ago, a picture arrived of Rihanna wearing one of our parkas, which was a good sign for sure. Then Gwyneth Paltrow made a personal order—she wanted something special. Press is something we're working on now, and honestly, it's coming on its own because of the success. Everything was very organic. We saw the people and how they reacted and then we understood."
Her ideal Mr&Mrs customer:
"Every style and age group loves our pieces. Even though a lot of people are toning down on spending, it's a great product because it gives you quality, function, but without showing off.
"I would love to see the super billionaires of the Upper East Side, an 80-year-old woman in her jewels, going around in one of our parkas. She's moved on from her sable coats and fox and said, 'This is what I want'. I want the most difficult people, the ones who wear couture, to wear our coats, because then you have them all."
How designing for their consumer and quality come first:
"I really believe in quality. Our products have to be intelligent and rational. We're in a different world today—the consumers, I wouldn't say they're bored, but they want something else from the market."
Her non-stop travel advice and go-to room service order:
"I can't stop, because the moment I stop I just want to sit on a couch and watch TV or go to the seaside. When we have trunk shows I have to travel a lot and might take five flights a week. It's about loving what you do. I run three to four times a week. It's difficult when you fly a lot, because you lose a lot of time traveling. But the nice thing is you actually go see the cities if you run. I try to be efficient—I only use hand luggage because I hate to wait. If you travel that much, you really want to go to the airport, go on the plane, get down, go home, do whatever you have to do. Running helps me have balance. Most of the time I probably forget my pajamas and moisturizer, but it's about being efficient. Going to a city, doing things and tasting local food."