Empire Star Grace Byers' Guide to Chicago
It involves a spa, shopping, and some salsa (naturally).
Celebrity
All, L'atiste; Earrings, Melinda Maria
ICYMI: We've been all up in Empire—the cast members, the costume department, the cosmetic trailer—in a big way this week to celebrate the fall finale. Also, because we've come to be just as obsessed as the rest of the country with the music-industry drama. So as you've probably figured out, when we had the chance to head to Chicago and go deep into the Empire world, we gladly obliged. Which is how we ended up with actress Grace Byers—whose breakout role is playing Anika Calhoun—at a spa first thing on a Monday morning (a super casual way to start the week).
---
This first stop on the tour also happens to be where she goes for relaxing couples' massages with her now-husband and co-star. (She and Trai Byers met on the set of Empire, a fairy-tale story come true.) From there we headed to the dance studio (again, as you do on a Monday), where Grace used to work the front desk before landing the Empire gig—and is now where she is asked for her autograph. And we finished off the day with a bit of shopping on Michigan Avenue, where Trai stopped by with the couple's puppy, Baron—outfitted in an argyle sweater and mini-Ugg dog booties (basically photograph gold). As we were wrapping the shoot, Grace excitedly rattled off her list of favorite foodie spots (everything from afternoon tea to steak) and then the little family of three was off. Leaving us just as obsessed as ever, and happy to know that the cast and crew behind Empire are way nicer than we could ever imagine IRL.
&nbsp

---
RELAX
---
Allyu Spa
600 W Chicago Ave, Chicago, IL 60654

"I love the zen feeling of this spa. I mean, when you walk in you can't help but truly relax. The way that they've set up the decor and the stones and crystals and everything. Plus, it smells so good—you can smell it from the moment you walk in—I just love that. I kind of got my husband [Trai] hooked, too, and now we get couples' massages. It's just a very serene oasis in the middle of Chicago. For treatments, I love the hot stone aromatherapy, but often I'll just get a Swedish massage."
&nbsp

---
DO
---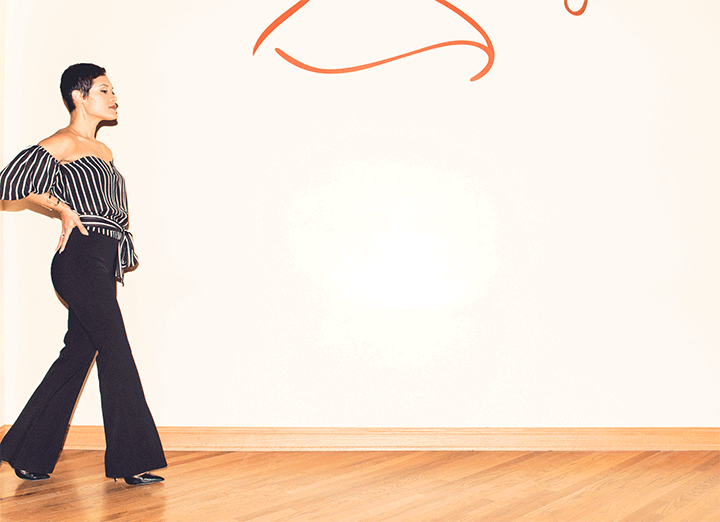 "I used to work here before I got my role on Empire—you know how every artist has that 'starving artist' period? I walked into Arthur Murray and saw they were hiring a front desk manager. I was like, 'Please hire me, I'll be amazing.' So [owner] Jill [DeMarlo] did, and it was great. One of the things that came with working for Arthur Murray is that you get one free dance lesson a week. I used to think that ballroom dancing was for old people, you know? Until I saw that people of all ages came and heard the music, then I was hooked. Later I brought [Trai] into the mix with ballroom dancing. He also does swing! For our first dance at our wedding we did a slow dance that we practiced beforehand. It was a really great dance! Every time I walk in they're like, 'Grace!' I used to check them in and take their payments."
&nbsp

---
SHOP
---
"I love to go shopping down Michigan Ave. Some of our favorite spots are Hugo Boss—that's a great one for Trai—and I like to shop at Banana Republic, and then we'll go to Bloomingdale's. From the Nike store to Apple, almost anything you could want is right here on Mich.
"My puppy, Baron Byers, is a little malti-poo. Trai got him for me on my birthday. He whisked me away to Montana for 'glamping,' which, if you haven't done it, is a lot of fun. I had been asking him for a whole year to get a dog. He kept saying no so I gave up the idea. When I got home and  opened the door, there he was sitting in the middle of the kitchen just looking at me. He was literally two pounds—two pounds of fur and he had a little birthday hat on. Then I just starting screaming, 'Who is this dog for? What's going on?' I cried and cried. I was so excited. Now he's my little baby."
&nbsp

---
EAT
---
"We love to go to Bandera—that's a really great spot. I consider cupcake shops restaurants, so I like Sprinkles—my favorite dessert is crème brûlée though. I'm totally a sweets person. One of my favorite spots in Chicago is The Signature Lounge at the John Hancock building. Anything on the menu is amazing and they treat their customers beautifully, so I absolutely love them—but it's really about the gorgeous view of Chicago, you see all of the buildings and Navy Pier.

"We also love Shaw's Crab House for Sunday brunch. Hugo's Frog Bar is amazing and their seafood is really great. We also love Joe's [Seafood, Prime Steak &] Stone Crab. And Kinzie Chophouse, a beautiful, quaint steak house—their filet mignon is the best we've ever had. So we'll go to Kinzie for steak and Shaw's, Hugo's, or Joe's for seafood. If you like burgers, Grange Hall. And if you love afternoon tea, either the Drake Hotel or The Peninsula will blow your mind. One of my ultimate favorite things to do in life (period) is to have afternoon high tea. It's my M.O. and everyone knows it! My favorite spot to go is the Drake Hotel. I mean, Chicago's a food place!"
Tune into Fox with us to see all the drama that goes down in Empire's fall finale (!) tonight at 8/7c.