Down to Party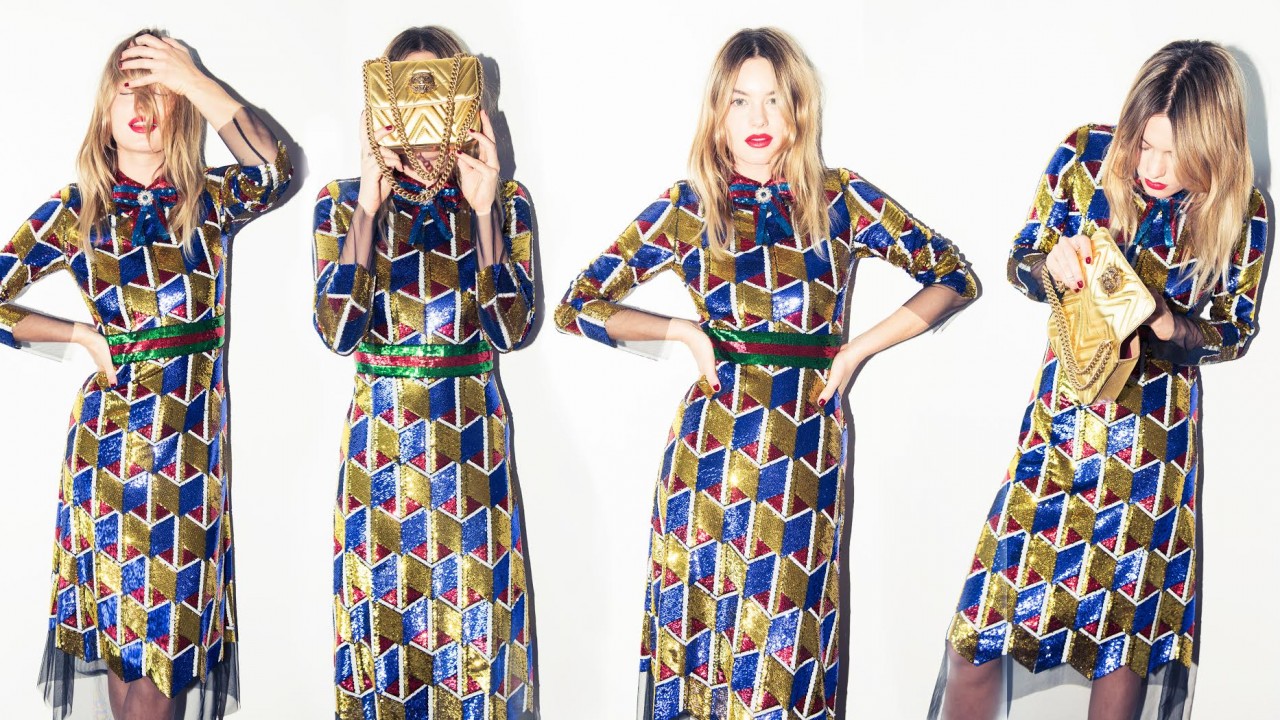 How Camille Rowe Does 3 Parties In 3 Days
How to do a weekend full of parties like Camille Rowe. In collaboration with Gucci.
No other time of year is as jammed full of social obligations as the month of December. Back-to-back holiday parties, friends in town needing entertainment, family outings, which are mostly fun until someone asks you about your employment/relationship status; pile that on top of your mounting gift list, and you get what we mean. But it's also the last big push to see people before you're relegated into the confines of your home in hibernation for the next few months with your couch, popcorn, and Netflix.
Which is why when model Camille Rowe invited us to be her plus 1 for her weekend lineup of parties—three, to be exact—we couldn't really say no. If you're wondering, she has the whole partying-all-weekend thing down to an art, especially for a self-proclaimed "cat lady" (we feel you, Camille). It all starts with the prep; a sleep in, copious cups of coffee, and maybe a facial in between. There isn't even one eensy teensy drop of alcohol involved in fueling her fun, which also means there is no hangover (!!)—just good friends, some fancy balloons, a coffee-mocktail and a wardrobe full of Gucci. We could spend every weekend like this one. Okay, maybe not, but definitely a few.
---
Party #1
---
What: Photographer Theo Wenner's Black Tie Birthday Party
When: Friday Night
The prep:
"If I know I have a big night out, I try to get as much sleep as possible the night before. I wake up and chug a big bottle of water. Then, I'll drink coffee all day—I drink way too much of it. I'll also go to Tracy Martin and get a facial if it's a really special occasion. Not that the Theo's birthday isn't the most important event of the year [laughs]!"
How she gets ready:
"I don't really know how to do makeup and I don't really like wearing a lot of it. I think it looks cooler if you're almost bare—no hair, no makeup—with a gorgeous dress. So, literally maybe 20 minutes before I have to get out the door, I start getting ready. I'm also really clumsy, so I have to put on the dress at the very last minute or there might be a problem. Although there won't be a problem with this Gucci dress."
Whether she's the plan-ahead type of dresser, or the moment-of type:
"I'd rather just be told what to wear. I'm passionate about vintage, so if I know I have something coming up then I'll hit a couple of my favorite spots and try and find something really special and unique. I like wearing vintage to black tie events, and what I love about Gucci is that it has a super vintage feel to it. Gucci has that element to it where you don't really know when it's from—it could be from this year but it could also be from the '60s or '70s.
"I get super inspired—I dress according to what I'm reading, what movie I just watched, or what I'm listening to. My ex-boyfriend wouldn't let me watch Breakfast at Tiffany's because for a week after that, I would act so coy."
Why color is always better than black:
"This dress is so shiny and bright, and 'look at me!' It's such a statement piece, it's quite girly, it's quite juvenile but it's also really sexy in the way it fits. I'll go for black sometimes, but it depends on my mood. Sometimes you're feeling really good and you want to be a little bit more noticed than other times."
Why a going-out bag is key:
"I love to dance and I've gotten my purse stolen before and so it has to stay on me. Safety first, you know?"
On her skin-care routine pre-party:
"I love trying out products, so I'm always on the prowl to find some new weird beauty thing. I cleanse, use a serum and moisturize—and, I don't know, use mouthwash [laughs]."
Her go-to black tie makeup look:
"I really like a red lip, but I think I'll keep the rest of my face pretty minimal. I can't give myself a cat eye, so I'm not going to attempt that! I might curl my lashes, put on a bit of mascara, and finish with a lip."
Why gifting is always personal:
"I actually take a lot of pride in gifting, I'm a pretty good gifter. Theo is one of my best friends and he collects little crosses, so I got him the same one that I have that he's always trying to steal."
The best gift she's received:
"I collect first-edition books, so any kind of first-edition book is always awesome. My favorite book is The Master and Margarita, and I had a boy get me the first American edition of it, so that was really rad. I mean, I'm never going to say no to jewelry [laughs]. I've gotten some good vintage jewelry, too, which is nice."
Her recovery MO:
"If it's not too late and I don't crash right when I get home, I'll soak my feet in cold water with rosemary. It feels really good! I have this routine every night; there's this magnesium powder called Calm that helps you sleep."
Party #2
---
What: House party
When: Saturday
Where: Her place
How she gets a party started:
"Music. 'Hot Chocolate' by Every 1's a Winner is a good party starter. Disco in general is amazing for dancing. I'd go a little more soulful, like Shuggie Otis, Brenton Wood, or Bill Withers to kind of get in the mood and then go full disco."
What if her guests arrive early:
"I'm the least shy person in the world, so if it's a question of me changing, then I will sit in my underwear, like it's not a problem."
#1 party faux-pas:
"When people get too drunk, that kind of bothers me."
Best party she's ever been to:
"My friend threw a birthday party for a few other friends, which was a space disco-themed birthday party. I had this white latex suit made, Barbarella vibes, and, yeah, it was really awesome. I had a lot of hair extensions."
Ingredients for the perfect party:
"Good music, good people, and a coffee bar."
Shoes: on or off at a party?
"If it's a house party, shoes off. Obviously if I'm wearing Gucci shoes, then I'll try to keep them on. But if I want to dance, then I'll take them off."
Party #3
---
What: Dinner with friends
When: Sunday
Best thing to do with friends:
"I love eating out. My friends and I go out for dinner a lot. We all live in the same neighborhood, so neighborhood restaurants are where we go. Pietro is fun because it's two blocks away, and all the buddies hang out there—it's super cute and delicious. Or Souen's another place that's around the corner. My favorite restaurant is so weird, but it's called Caravan of Dreams [laughs], it's always empty so we can bring large parties there and there's always a really weird amateur piano player or jazz singer. It's sort of Lynchian vibes. They have really crazy tinctures with a bunch of weird mushrooms and it gets you real jacked-up [laughs]. So I'll go there and get weird tinctures and get crazy."
Share or get your own:
"I'm a sharer. I get my own meal but I love picking at other people's food too, which can be annoying [laughs]. But I love food and I love to taste everything so I like the idea of sharing a bunch of different dishes because I want to get all the flavors."
Her ultimate indulgence:
"I have a huge sweet tooth, so dessert is my favorite way to indulge. I love lemon tart, key lime pie, and ice cream—anything chocolatey, I love a flourless chocolate cake. But I think lemon tart might be number one. Pasta for some is an indulgence, but I have pasta every night, so it's kind of not an indulgence."
What she wears with friends:
"Jeans and a t-shirt is so true to my style. I love high-waisted jeans and I like that these are cropped and look slightly vintage-y. The patch on the butt was a really cute touch."
Why jeans are almost always appropriate for going out:
"You can dress up a jean really nicely. Especially in New York, people stay pretty casual. I find that if you're just going out to a restaurant, getting overdressed seems a little…it's just not my style. I wear what I was wearing all day long and then add a red lip or something."
How she chills out at the end of it all:
"I go back to being an old cat lady and be alone for a while and just read. I love to take a lot of baths with Epsom salts, essential oils, burn incense, and relax."