Celebrity
Plus, the lipstick she wears every day—even in sweats, to the airport.
Alicia Cesaro
First things first: it's not every day that you talk hot fries, Saint Laurent, and onesies with an actress on the top-rated show on television. But then again, it's not every day that you spend a morning at the Thompson Chicago with Empire star Serayah McNeill.
As it turns out, the Thompson (our temporary HQ while in town shooting all things Empire) is familiar stomping grounds for Serayah—she stayed there for a few months after landing her role on the show and immediately moving from Los Angeles to Chicago to take on the role of Tiana Brown.
Had that fateful call not come through, though, we get the feeling that Serayah would have been just fine. Case in point? She caught us up on her one-time plans to become an esthetician (!) had the whole acting thing not worked out. As we now know, it did, and for good reason—Serayah describes the rush of performing (like, say, in front of an *intimate* crowd of 60,000 with pal Taylor Swift) as a "high." Yeah, we could see that. Clad in a sporty Puma sweatshirt, leggings, and a furry coat, she posed for our cameras and downed some coffee while we chatted, even letting us in on her ride-or-die M.A.C. Lipstick shade ("Velvet Teddy," BTW). And with that, it was off to the set of Empire to shoot.
---
How she began performing:
"I've been wanting to do it my whole life, but I hadn't always had the opportunities or met the right people. I studied a lot by myself, in dance classes. Before Empire, I was in college; I was majoring in theater at community college in L.A. I had just booked a print agent and I did some commercials and print work in the summer before."
How she landed her role on Empire:
"When the semester started, I got a call from my high school friend, and he told me about this audition. His mom is a casting director, I'm like, 'Dude, you never told me that your mom is a casting director. I went to school with you for four years!' They were already shooting the third episode, and that's when my character premiered. They already had a Tiana and then something happened—fate happened, I auditioned and got the part. I flew to Chicago, came here to the Thompson, and stayed here for about  two months. This is my home away from home."
When she found out she got the role:
"I had just got off school, and I was with my friend in the car. We were driving to the gym. My mom is my manager, and she called me and was like, 'So, Lee Daniels really loves you. Now we just got to get the studios to love you.' I had to audition again for the studios. There were six people in the room, I had done a lot of independent stuff, so going into Fox Studios singing, I was terrified. It ended up working out and, God, it was a blessing."
Her favorite part of playing Tiana:
"The best part about playing her is being able to be unapologetic for being a diva. When you hear those stories about divas in the industry, you never know what they're really going through. How she has to go through her music with Cookie, with Hakeem; all this stuff makes her even more of a diva. So I really enjoy playing her because I get to be fabulous! It's like playing dress-up every day. There's always something crazy that she's wearing. She always has great songs."
On her new single on the show, "Aces High":
"'Aces High' is premiering on Empire on Wednesday. I'm really excited about this song, because I feel like it's different than what we've heard from Tiana. I got to work with songwriter Ester Dean. I recorded the song, I loved the song as it was. I didn't want to change anything. The sound is so universal, and that's why I love it. I'm an R&B head."
How she gets into character:
"It's ironic, but I've been very modest my whole life. This is how I dress all the time, relaxed stuff. Tiana shows everything, and wants everything out all the time. Three years of playing this character has given me a lot of confidence just in regular life, in my body, in everything. I wasn't that confident before; I was very timid. Different is okay, and I'm learning that."
On performing with Taylor Swift:
"It was like walking into the room and having to do a scene with Taraji [Henson]. You can never really prepare for these moments, when they're so big. I'm on the pop-up [platform], you're crouched down, but let me tell you, I looked up and I looked down really fast because I'd seen, like, a fourth of the crowd and it was packed. And I was like, 'No, no I can't do this!' And then they're pushing me, 'Yeah, it's your time, go!' I stand up and the energy of 60,000 people—her fans are so welcoming, they go crazy for anything. The energy I got from being on stage was such a confirmation, like I have to do this every day of my life. It's a high."
On her back-up career in beauty:
"I wanted to be a cosmetologist, if it all didn't work out. I love skin care. I'm really into product. I love Nars makeup—especially their concealer. I'm always doing a natural look, I just cover up anything I want to, and a light lash. I love nude to pink-y lips. Right now, I'm really into mauve, because it's the winter. And a very natural contour."
The lipstick she wears everywhere (even with sweats):
"My go-to for anything, even if I'm in a sweatsuit going to the airport, is Velvet Teddy from M.A.C."
Her skin care favorites:
"For skin care, I like natural stuff. I went to this natural health store and I got a clay and sea salt bar of soap, and that's what I use on my face. I take this stuff in my smoothies—it's called maca root powder, it's good for energy, it's good for women and hormones. And it helps out with your skin. I like to do stuff like honey masks, because I have drier skin. Anything natural, I do."
Her first big designer purchase:
"It would be my Saint Laurent tote. It's a nude, very small bag. My mom actually talked me into it. She was like, 'Seriously, you work so hard, you barely get anything for yourself.' We were in Neiman's, and I'm staring at the bag for an hour. I'm like, 'I don't know, is it worth it?' She said, 'Get it, you need it. It's good to have a nice purse.' So, I got it. I'm so frugal, but sometimes it's worth it."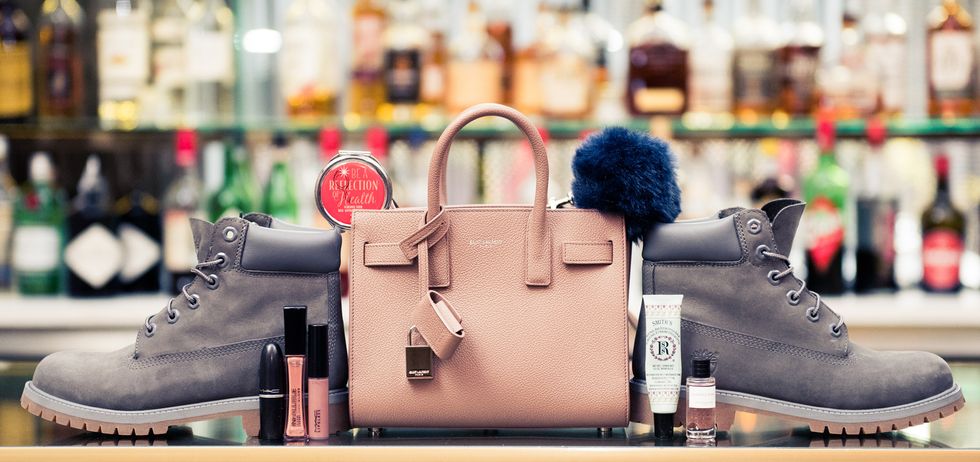 The last thing she Googled:
"Onepiece.com. I just got some onesies for the holidays."
Her favorite junk food:
"Hot fries."
Her go-to Starbucks order:
"Either a vanilla latte or a caramel macchiato. Or a chai tea latte. If I'm on the tea, a chai tea latte for sure."
What you'll always find in her bag:
"I'm a chapstick junkie. I have a whole bag of different chapsticks. The rose pot, I love that, Carmex, the Nivea... The list goes on. Like, 'Why do you need so many?' They all do different things!"