The Best Dry Shampoos for Every Hair Type
Bidding adieu to grease once and for all.
Hair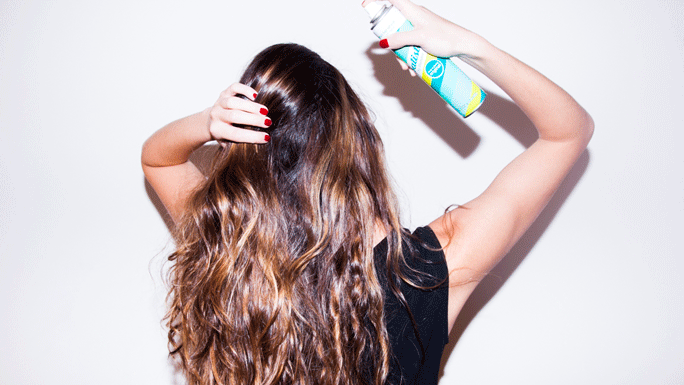 We've all been there: you hit snooze one too many times, missing your already too short yet optimistic morning shower window, scramble into your emergency dress/jumpsuit/overworn-but-still-chic-in-under-30-seconds look (#bless), spray a generous dose of dry shampoo in your hair, and head out the door. Fast-forward two hours and a run-in with your boss later, when you realize you were slightly too generous with the dry shampoo, leaving you a little more Cruella de Vil than intended—but hey, going gray is chic, right?
Chaotic morning habits aside, unless you're fortunate enough to have the thick, glorious hair that can actually last more than 36 hours sans shower without looking like you spent three hours at SoulCycle—trust, it's not cute—dry shampoo, when used correctly, is your savior. So, in an effort to avoid future unplanned dye jobs, we turned to three of the hair world's heavy hitters (with CVs including Haim, Zendaya, and Bella Hadid) to give us the lay of the land on the best dry shampoos for your hair color, texture, and thickness.
---
"[For lighter hair] I would suggest Rene Furterer Naturia or Klorane Dry Shampoo, as they both can absorb any amount of oil on your scalp. These are both great for blondes and redheads, and overall a great dry shampoo for all hair colors and types if used as instructed for maximum oil absorption. Make sure to rub thoroughly on the scalp and you won't see any powder residue, whatsoever."
—Candice Birns, Celebrity Hairstylist and Groomer
"DevaCurl No-Poo Quick Cleanser is a great solution for those with dark hair. For starters, it's talc-free. Many conventional dry shampoo products contain talc, which can help absorb moisture, but often leaves hair not only dry, but with a white-looking residue. DevaCurl contains menthol, macadamia, and peppermint oil to invigorate the scalp. Lastly, the starch derivative absorbs excess oil, giving hair a cleaner, fresher appearance."
—Shai Amiel, Celebrity Hairstylist & Owner, CAPELLA Salon

"On darker hair colors, make sure the spray is blended evenly throughout. This is when [higher-end dry shampoos like] Oribe Gold Lust or R+Co Death Valley become easier to use than [drugstore brands]."
—Gavin Harwin, Celebrity Hairstylist
For coarser, curlier hair:
"DevaCurl No-Poo Quick Cleanser is more moisturizing and more conditioning than conventional dry shampoos on the market, partially due to the ethyl macadamiate derived from macadamia nuts. It's the healthiest of all the ones I tried and doesn't leave any residue. It works great on all hair textures."
—Shai Amiel
"[For volume, I like] Sachajuan Volume Powder for all hair types. I also find Oribe Dry Texturizing Spray to be great for thicker, fuller hair."
—Candice Birns
Drugstore vs. luxury dry shampoos:
"I've worked with different dry shampoos over the years, everything from the most basic drugstore brand, Psssst! Instant Dry Shampoo, to the high-end Oribe Gold Lust and R+Co Death Valley Dry Shampoo. Gold Lust and Death Valley are my favorite and they both smell great and have well-designed packaging. That said, if I was going to count the empty cans of dry shampoo that I've used over the years, I would guess I've used more cans of Psssst! than any other brand—it's easy to buy wherever you are, it's inexpensive, and it works well.
"The difference for me between the cheaper brands and the more luxury ones is the ease of use and the fragrance. Death Valley and Gold Lust both smell great and are easy to use and don't leave you looking white and powdery. Psssst! is not going to win any awards for its fragrance and you have to work a bit harder to blend it into the hair, but it does work."
—Gavin Harwin