Food
Espresso is the main ingredient. Need we say more?
By now you may have noticed that whatever Greenhouse Juice Co. brings our way falls under the category of healthy, nutritious, and downright delicious (think warm fall salad and chickpea flatbread pizza). It only made sense for us to have them by our side during this season to replace our indulgent cravings with healthier (and just as desirable) options. Check back weekly over the next month for recipes that will make it okay if you have to skip the gym to make room for more family time (after all, it's a busy time of year).
---
ESPRESSO SMOOTHIE (V, GF)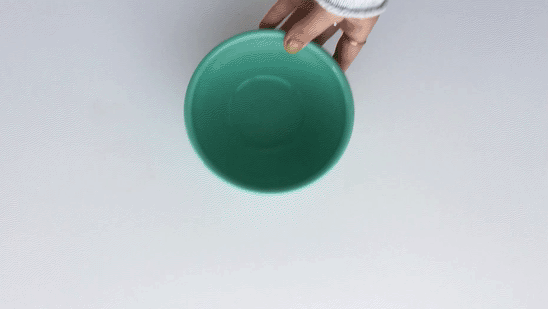 "This delicious blend is both smoothie and espresso—and very well may be the world's best wake-up call. The scoop of almond butter is a great source of plant protein and healthy fats that will keep you well satiated until lunchtime. We don't need to tell you why the caffeine is a helpful morning addition, however, we must warn you that side effects may include the sudden ability to answer long-neglected emails at superhuman speeds and a stronger-than-usual desire to wear a brightly colored cape."
INGREDIENTS:

1 tbsp almond butter
1 shot espresso
1 tsp cinnamon
1 tsp maca
1 tsp vanilla
1 frozen banana
1/2 cup almond milk
handful of spinach
Optional: 1 tbsp cacao (for a chocolaty version)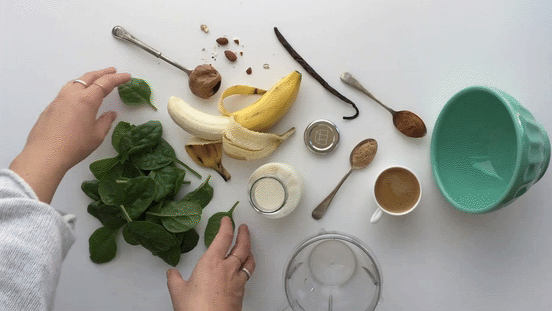 DIRECTIONS:
 
1. Combine all ingredients in a high-speed blender and press "go." The music of whirling blades will help you perk up.
2. Pour your smoothie into a nearby drinking vessel or bowl. Take a sip. Another one. Your sleepy-eyed vision is becoming clear, isn't it?
Photo and GIFs courtesy of Greenhouse Juice Co.