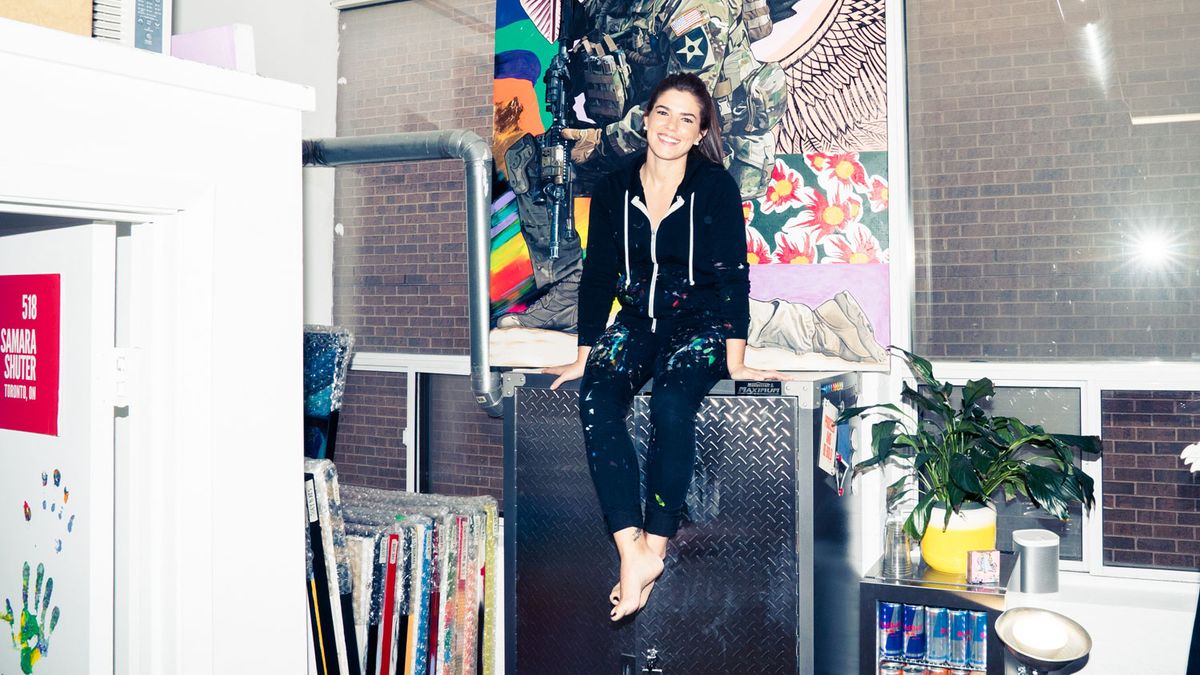 Culture
Samara Shuter talks getting started, leather jackets, and her love for menswear.
Renée Rodenkirchen
Sometimes we like to hold out on meeting someone until the time is absolutely right. And for us, going into the studio with Toronto-based painter Samara Shuter, that time was during our art week. You see, Shuter, who paints headless, masterfully tailored suits on technicolor backgrounds from her Chinatown studio, is someone to keep an eye on. Big retailers like Saks Fifth Avenue, Holt Renfrew, and Timberland, to name a few, have already taken notice.
Between getting her to balance on top of a 12-foot ladder and bonding over vintage Troll dolls and leather jackets (we have an affinity for both), we chatted about where Shuter channels inspiration, why she is drawn towards menswear, and what it felt like to sell her first painting, ever.
---
On how she got started:
"I've been drawing and doodling my whole life, and began to explore painting in grade school. I would be asked to leave class because I wasn't paying attention in math—all my notebooks had doodles on them. My whole family in Montreal is in the textile industry, so I was always fascinated with patterns and swatches, and when I was younger, my father had a tie collection for a variety of occasions. I was enthralled by it. I thought it was so special and I wanted to make my own patterns in his ties or wear them myself.
"Feeling like ties were only a boy thing back then (they have since evolved), I would have the best time changing the outfits on my NKOTB or Ken dolls. Perhaps it was my way of indirectly sneaking into the boys club, since I always felt equal to one of the guys. I started to doodle those when I was little and [then] fast-forward, I got back into painting as a way to wind down on weekends when I was working in film production. I found an old memory box that had all these old doodles of guys in suits but with ponytails because I was relating them to myself. They would basically be girl faces but they would have long ties and I would have pencil crayon drawings filling in patterns of their bowtie or necktie. I was looking at some of these old doodles and I thought, what if I put one of these line drawings on top of an abstract painting that I had done?"
The first painting she sold:
"As I took it more seriously, it evolved naturally, and then my sister egged me on to enter my first art show and lo and behold, I sold out my first show and I freaked out. I was having an out-of-body moment. I sold a painting to an older woman, an RBC exec who wanted one of my pieces that had a guy with full tattoos and suspenders—she wanted it for her kitchen. She was like, 'I want to look at this every day,' and I thought she was crazy. At the time, I wasn't very fond of my employer, so I took a leap of faith and I just said, 'Fuck it, I'm done here.' I continued to paint (while bartending and waiting tables), and then, having invested all of my tip money, I entered another show and another one, and it just sort of grew, and then here we are."
On why she loves painting menswear:
"I always loved how regal suits looked and how they were worn for special occasions and celebrations. I didn't see it from the 9-5 angle at first—it was more tuxedos that I appreciated because [they were] celebratory and had an optimistic perspective. It's funny because if you look at the doodles I have, they went from the necktie, and then I wanted to challenge myself and do a collar, then it evolved to shoulders, and then [my Dad] taught me [about] lapels. I thought, okay, I'm going to make the one side match the other side, and then it started to take its own form. That's why I never did faces. People think it's a mockery in a weird way [but I am] appreciating the garment and style—for me, the suits are a little bit of business, a little bit of rock and roll. I love the confidence that I feel some of them exude."
The one thing she's learned since painting full-time:
"I can't sit in a room alone all day. There are a lot of artists that are good with that; they can just get in the zone and ship their paintings off to the gallery and call it done and show up to the show. For me, it's very collaborative. I want to leave my door open and have other people working in here with me, talking about the work that's being made. It's like I'm creating a community in here, it's not a one-man show anymore. If I can't share during the process then it's not as much fun for me. Too much solitude isn't healthy for my psyche and runs against the grain of my personality."
On her past collaborations with fashion brands:
"I have a very heavy interest in the fashion world. I sketch and doodle a lot of my own pieces that I'm hoping will come to life sooner rather than later—it's just a matter of finding the time to work on other avenues of my art. It's all under the same umbrella, essentially, and these guys find me—whether through social media or people I've met through the industry and other events—and have approached me to collaborate. With Harry Rosen, I helped launch their Eaton Centre store with the first live painting experience I ever did, and will ever do. For Saks [Fifth Avenue], I was picked as one of their nine influencers of Toronto to open their new locations in Canada, which was cool, and Timberland was part of an artisan's series."
Her relationship with Paddle 8:
"I love what they're doing. They're really keeping up with technology. I don't know if it's a little brash to say, but they're aggressively moving in on the Sotheby's and Christie's of the art world. They're a phenomenal auction platform and I think they speak a lot to our generation. I've grown a really great relationship with some of the people there and it started out mostly as an extension of the charity work that I do, which is a lot of the reason why I sell privately in Toronto. I can navigate as much charity work as I want to and it's a huge part of what I do. They cater to that and they have some great foundation-based auctions that I took part in. Through them I've worked with The Bronx Museum of Art, Circle of Women, and most recently featured in one of their House auctions. They also throw a great party and who doesn't love a great party?"
On creating a coloring book:
"Since I started out with line drawings, it seemed like the perfect fit and I always approached [my pieces] from that perspective, of filling in my lined drawings. I also loved coloring when I was younger, and when it became a trendy thing to do a year or two ago, I was like, 'This speaks to me, I'm going to try this out.' I was just going to do a limited-edition run of 100; then I announced the sale—I was printing it the same day—and that afternoon I had already sold out by 4 o'clock. I was like, 'Holy shit,' and called the printer and asked them to make it 250."
Five things she can't live without:
"My family, my friends, creating things, sparkling wine, and dumplings."