Culture
The Polish designer is blurring the lines between everyday objects and works of art.
Weston Wells
It takes a hell of a lot of energy to be Matylda Krzykowski. Not just a designer, curator, or creator in her own right, Krzykowski is all of the above, and then some. The polished multi-hyphenate is an absolute force working to blur the lines between functional design and art. When we met her, she claimed to be recovering from a cold, but we only wish we had half her confidence and enthusiasm when we were feeling 100 percent. "I work in design. But I work in design on the border to everything," she says.
In her sometime role as a curator, she's bringing together a wide array of objects at her year-long showat Chelsea's Chamber gallery. The show will be broken up into four separate collections of objects, the first of which is called "Just What Is It," and is currently on view.
---
"The whole idea refers to a collage by Richard Hamilton. Sixty years ago Hamilton did this collage that is called 'Just what is it that makes today's homes so different, so appealing?' Then, most things that were produced were made by engineers and [mass-produced], and he depicted a lot of things that he thought people desired back then. When [I] think about that idea now, things have changed," she says of the initial inspiration. "The desire to have an object made by a designer, knowing where the designer comes from, knowing what he studied and what his approach and his work is, that's something that has become very relevant. That's why design has entered the gallery context as well."
Every object that Krzykowski has included in the exhibition is, at its core, purely functional. But beyond that, they're incredibly well-designed—sometimes to the point that their function isn't immediately obvious. "The objects that we have surrounded ourselves with are sometimes not necessarily recognized as what they are intended to be. You also look at everything and wouldn't necessarily recognize what is art and what is design. So there's this interesting shift within this discipline. There's a stronger dialogue."
And as for what she actually does? As a designer herself and also co-founder of contemporary-design space Depot Basel in Switzerland, Krzykowski laughs when asked to define it. "When someone asks me, 'What's your plan in five years?' I couldn't even say in two months! Every morning I wake up and I make my own day. I don't have a 9-5. I never had one."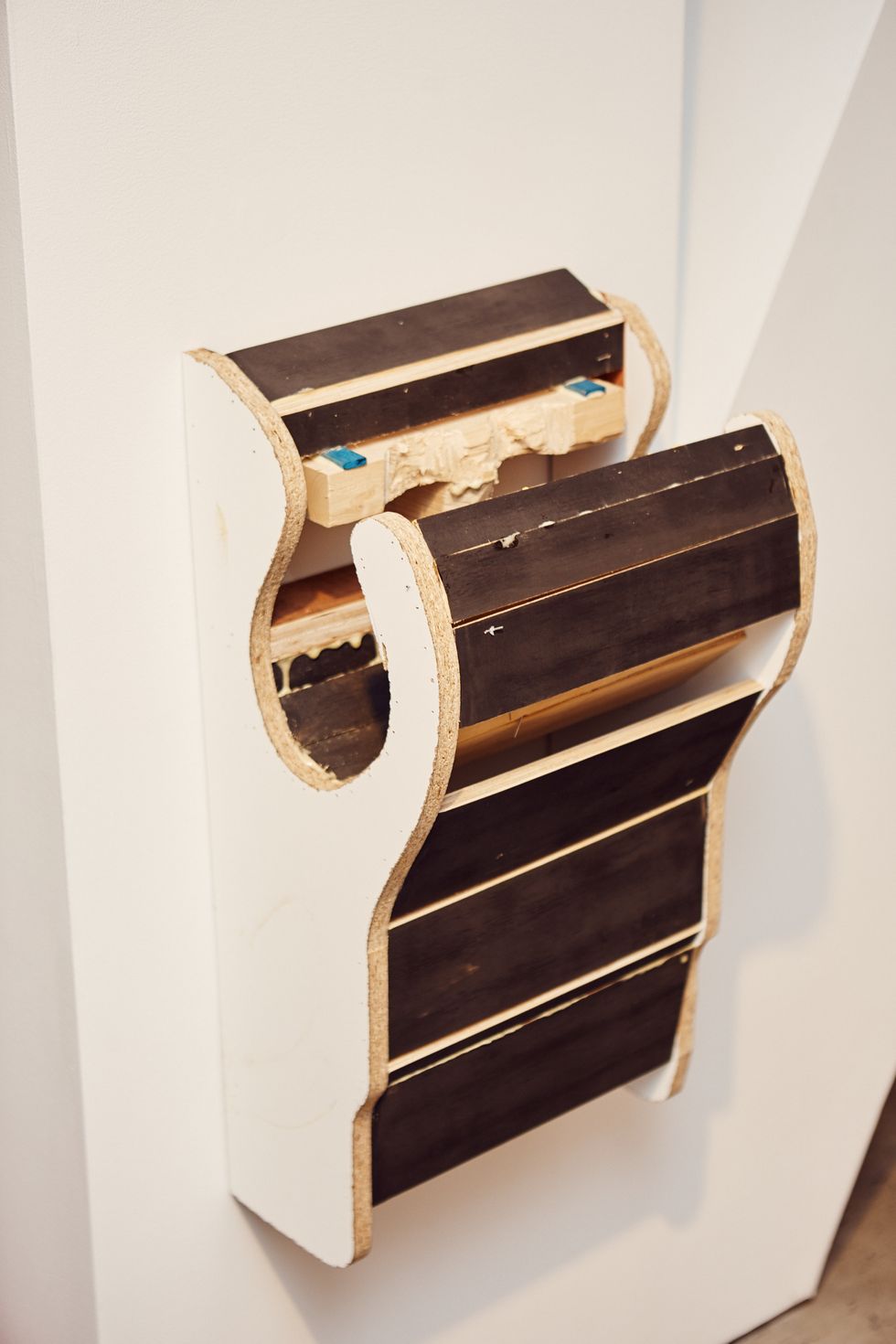 "With the Dyson, for example, it's a work by Pieterjan Ginckels, a Belgian artist who reproduced a low-tech version of a Dyson Airblade, which is something that you find everywhere in the world. I like the fact that he made a high-tech object into a low-tech object."
"Trix and Robert Haussmann were always talking about the mirror is a virtual material. Placing a mirror in three corners, you're distorting reality, and it's plywood, but then you have this preciousness, this beauty, in the corner. The corner is there, but it makes it disappear, and then you have the counter form where [a] piece of the corner actually isn't there at all. They're over 80 years old, both of them. They're trained as architects. I really relate to it because I like when things are very simple but then have this little twist, this surprise. Some sort of smartness, a cleverness, hidden behind it."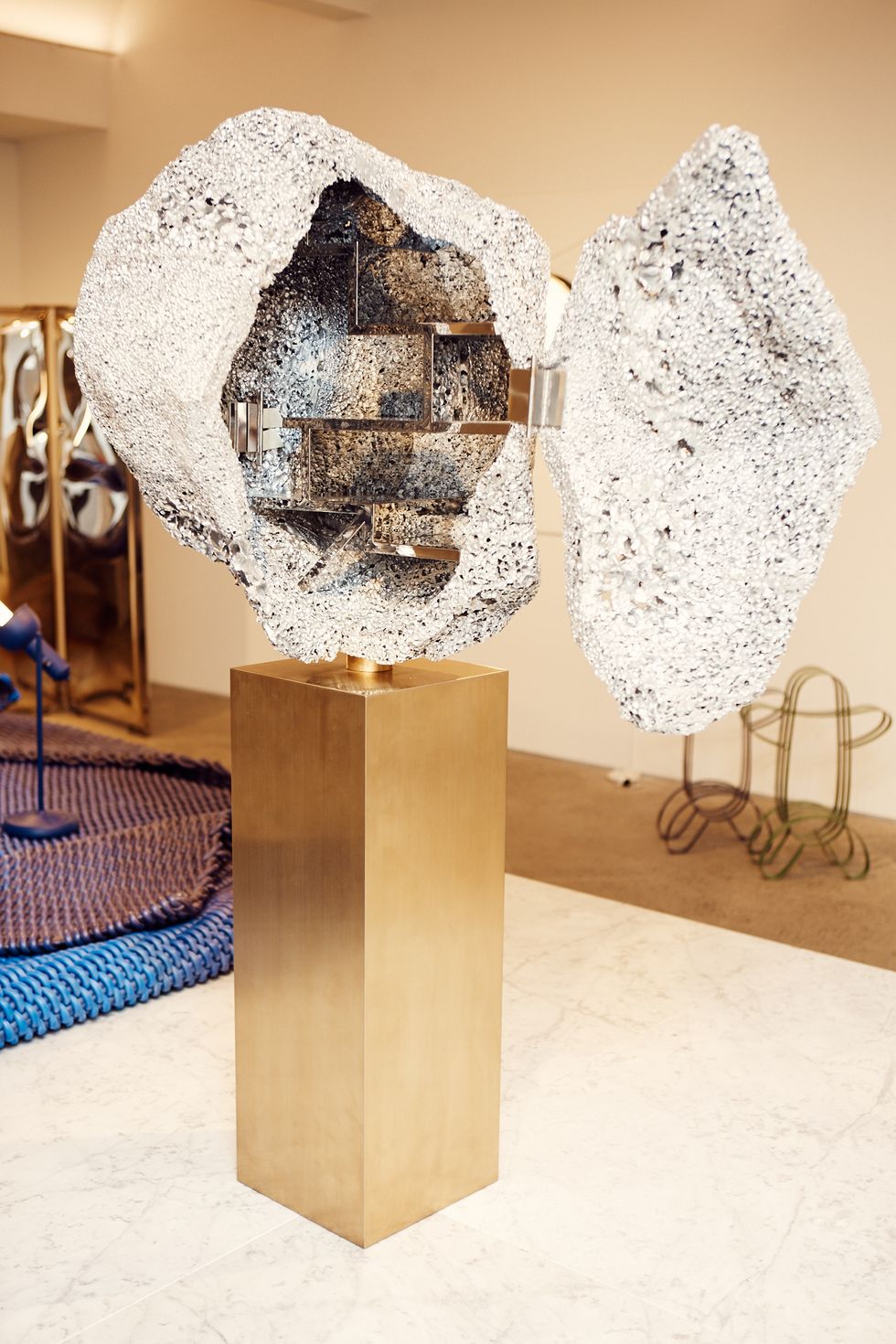 "This is aluminum foam. When it's closed it basically appears like a sculpture and you wouldn't even know that it's actually a little cabinet at the same time. You have this extreme shift between the two notions."
"This mirror, when you approach it, it folds itself in like an origami. Think about the future of domestication—we'll probably have a lot of pieces around in our work environment that will react with us, you know?"
"The way this is manufactured is they take two plates of steel and weld them together, and then they use air to blow it up. That's how you get the body of the screen. This is by Oskar Zieta."