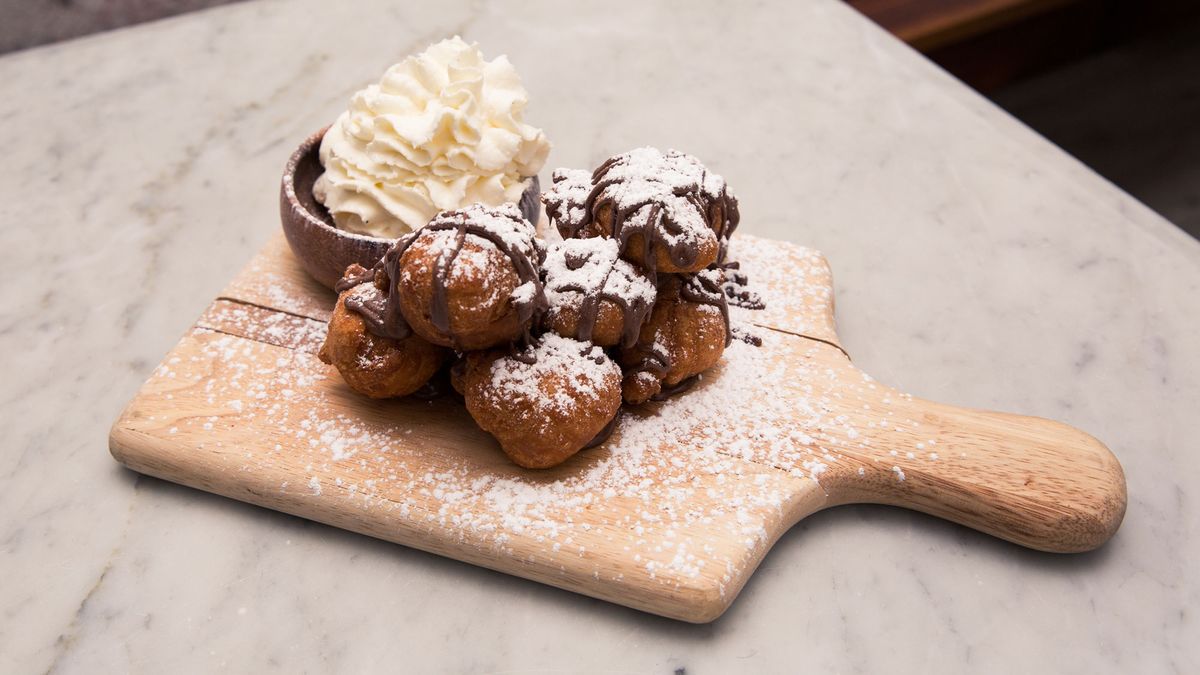 Entertaining
3 Party Dishes You Can Eat with One Hand
So you can drink, eat, and Snap all at the same time.
Alec Kugler
At any holiday fête—or any party, actually—we want to drink all the champagne and eat all the foods. At fashion events, holiday or not, we've been known to mingle particularly close to the kitchen to catch the male-model cater waiters at every pass. But the key to hors d'oeuvres and party foods of any kind is that all tray-to-mouth action must be done with one hand. If you're standing—even if you're sitting—in all likelihood you're clutching a flute of champagne, a phone, a bag (maybe all three!) in one hand, with one left to grab whatever seasonal delicacy happens to be passing by, whether or not you've stationed yourself next to the buffet table. Honestly, a girl can only multitask so much; anything that requires two hands (sliders, you don't fool us!) is out of the question when you're wearing a sparkly satin dress. With all that in mind, we asked three of our favorite party-food-making restaurants in New York to share their recipes for delicious, festive, sometimes healthy, one-handed dishes you can make for your next holiday party—whether you're potlucking or going all-out and actually hosting a party yourself. No Snapchat shall ever be sacrificed in the name of sustenance again.
---
---
Ingredients:

grape leaves (either fresh or jarred)
2 cups farro (or long-grain rice if you're gluten-free)
1/2 cup toasted buckwheat (kasha)
1/2 cup tahini
5 dry dates (seeded)
1 clove garlic (finely chopped)
4 tbsp lemon juice
4 tbsp honey
1 lemon, 1 lime, 1 orange (or whatever citrus you have in the house)
1/2 cup fresh mint, finely chopped
1. If using prepared grape leaves, wrap in paper towels and squeeze out extra liquid, then lay flat. If using fresh, cut off the center stems and spines. Place leaves in a pot and cover in boiling water. Swish pot around until leaves are soft. Drain and lay leaves flat.
2. Cook farro according to package or in salted boiling water until just past al dente to slightly soft. Strain and spread on a plate to dry. Cook buckwheat in 1 cup of boiling water until soft.
3. When cool, mix farro, buckwheat, and chopped mint together. Mix thoroughly and set aside.
4. In a food processor or blender add: tahini, dates, garlic, lemon juice, and honey. Blend or process until smooth.
5. Add tahini mix to farro, buckwheat, and mint mixture. Fold together until evenly mixed.
6. Place a tablespoon (more or less depending on your grape-leaves' size) of mixture onto a grape leaf. Fold the short sides into the bundle and then roll the other side over, sealing the bundle. This will take a little practice to get perfect, but it's fun and meditative.
7. When all grape leaves are full and mixture is used up, place finished rolls in a pot. Slice your citrus and layer over grape leaves. Cover halfway with vegetable stock (or chicken stock). Simmer for 30 minutes.
8. Gently remove rolls from pot and move them to a glass bowl. Cover hot rolls with good olive oil. Rolls will absorb olive oil as they chill. When rolls are chilled they are ready to eat!
**They will last in a covered container in the refrigerator for 4 days.
Ingredients for chili sauce:

2 shallots, sliced thin
1 piece ginger, minced
1 tsp sherry vin
1 cup sambal
2 tbsp honey
1 tsp soy sauce
2 cups grapeseed oil
Ingredients for fried chicken:

2 lbs boneless chicken thighs
3 cups cornstarch
1 cup cornmeal
1 tbsp baking powder
1 cup water
Directions for chili sauce:

1. Sweat shallots and ginger with a teaspoon of oil in a pan until translucent.

2. In a bowl, blend all remaining ingredients except grapeseed oil.

3. Once smooth, slowly drizzle in grapeseed oil until emulsified.


Directions for chicken batter:
1. Combine all dry ingredients.
2. Split the dry mixture into two bowls.
3. Add water to one bowl and whisk to combine.
Directions for fried chicken:
1. Season thighs with salt and pepper.
2. Brown the chicken thighs in a sauté pan until cooked through (approximately four minutes per side).
3. Once cooked, drench thighs first in the dry mixture, then into the wet mixture.
4. Fry at 375°F until light brown and crispy. Toss in chili sauce. Slice into desired size.
5. Garnish with crushed peanuts and thinly sliced Daikon.
Ingredients:
2 cups all-purpose flour
2 tbsp baking powder
1 tbsp sugar
1 1/2 tsp salt
1 cup + 2 tbsp whole milk
2 tbsp canola oil
1 large egg
Directions:
1. Preheat fryer to 350°F.
2. In a bowl, pour the sifted flour and baking powder. Mix, then add salt and sugar before mixing again with a wooden spoon.
3. Make a well in center of the dry mix: pour in the egg, milk, and oil. Mix from center by reducing the flour gradually to form a rather sticky paste. Let stand for 30 minutes.
4. Using 2 tablespoons, form small balls and place them in the fryer. Your donuts will be ready when they are golden.
5. Stuff with Nutella using a pipette and sprinkle icing sugar on top before serving.
Note: Always serve your beignets with vanilla whipped cream.