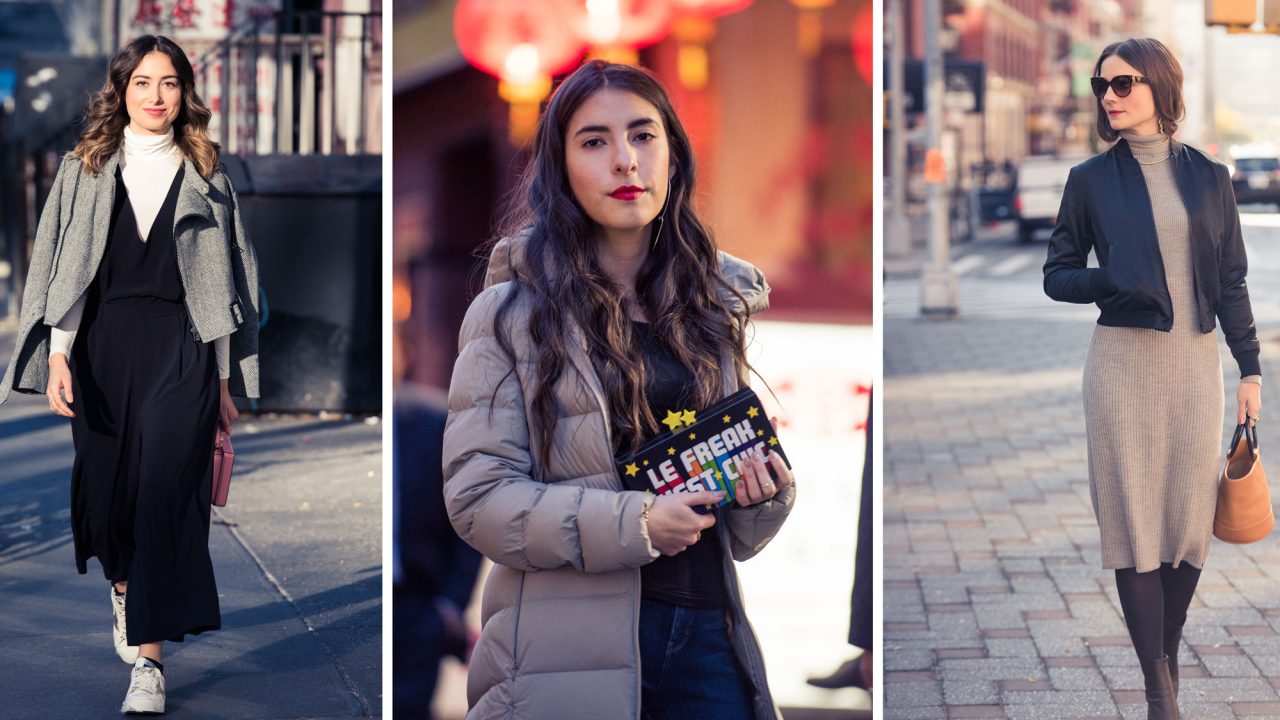 Your Ultimate Guide to Surviving Winter in NYC
From a crazy workday, to running weekend errands, to Friday night turn-up: Team Cov demonstrates that winter can be done stylishly (seriously). In collaboration with Uniqlo.
Winter. If you live in New York, or on the East Coast, period, the word is probably enough to stop your blood cold (pun intended). But it doesn't need to be this way. Life doesn't stop just because it's unreasonably frigid out (believe us, we've tried), and so in our lifetimes, we've gotten to be very creative in making the season not just bearable, but actually enjoyable. Whether it's a nonstop, "wait, it's what time?" kinda work day, a Saturday with brunch plans and a million errands to run (and no chance of going back to your apartment to grab a warmer coat), or a Friday night (complete with tequila and karaoke), we're not about to let any silly temperature come between us and what we've dreamed up in our heads to wear.
To demonstrate, we managed to catch Cov staffers Alex McGinn, Brand Marketing Director (aka the marketing genius who helps us get cool brands to work with us on fun stuff); Emily Ramshaw, Senior Editor, Features (aka one of our never-not-working editors who writes stories like this, interviews everyone from Grace Coddington to Victoria's Secret Angels, writes, styles, and writes some more); and Tatiana Bravo, Media Planner (aka the one who gets sh*t done when it comes to brand campaigns and partnerships) away from their desks, with their laptops firmly closed (work email is another story), all to see how they deal with the cold weather on any given day. Turns out it all comes down to lots of pizza, a really great moisturizer, and two little words that are about to change your entire life: HEATTECH. Another one: Uniqlo. You taking notes?
---
SATURDAY AFTERNOON
---
Alex McGinn
Brand Marketing Director
12:15 PM, Café Henrie, Soho.
Time elapsed outside: 6 hours
What an average Saturday morning looks like (no hitting snooze here):
"There was a time in my life when anything was an excuse to go out on a Friday night, but I grew a strong distaste for crowded bars and waking up at noon the minute I turned 27 (that's science for you). These days, I'm awake by 7 or 8 on a given Saturday. My best friend and I are parting ways after 5 years of roommate bliss come December (it's time), so it's always fun to catch up over coffee and wax nostalgic about the absurd things our apartment's bore witness to throughout the naiveté (read: stupidity) of our early twenties ('if walls could talk'). After a sufficient enough gab sesh, it's off to some sort of workout class. New York Pilates (64 W 3rd Street; 25 Howard Street) and Physique 57 (citywide) are among my favorites."
Her weekend uniform:
"My adoration of jumpsuits is so real. I must own at least 10. The ease of wearing one piece of fabric paired with the comfort of pants? Sign this lazy girl UP! It's the easiest solution for anyone whose day is more 9-to-9 than 9-to-5. Slip a non-bulky HEATTECH turtleneck underneath and a chic moto jacket on top, and you're basically free to roam around outside for countless hours in the cold, too."
The best spot in all of Soho for people-watching on a Saturday:
"There's this funny French term called flânerie which basically means 'to aimlessly walk around a city.' My boyfriend and I had one of these types of sauntering Saturday afternoons recently. It started with brunch in The West Village at Tartine. Afterwards, we wandered to Soho, grabbed some coffee and a chocolate chip cookie from Maman, and hung out on the steps at the corner of Crosby and Howard. It's the best spot to people-watch in the city, IMHO."
Alex's picks for a not-so-basic brunch:
"Dimes and Café Henrie in the Lower East Side are both perfect for a healthy Saturday brunch. But every now and then a gal's gotta indulge. I live in Astoria, so my main spots are in Queens. I can subsist on Venturo's Farro Bowl and Hangover Pizza. Queens Comfort is legendary, as are their doughnuts. And I dream of the polenta and eggs with crispy Brussels from Mar's."
How she doesn't let the cold get between her & a lil' culture (take notes):
"MoMA PS1 in LIC is a go-to. It always has great contemporary work on display and a solid outdoor space. Red Bull Studios in Chelsea is the perfect spot to swing by on a Saturday for a primer on the latest up-and-comer." ­
Alex wears: Jumpsuit, Uniqlo; Turtleneck, Uniqlo; Bag, Mark Cross; Coat, Uniqlo; Shoes, Golden Goose; Rings, Wwake
The 5 Things Alex Can't Live Without (Winter Edition)
 
1. Podcasts: "My brother just introduced me to the podcast 'How Did This Get Made?' and it's absolutely hilarious—the perfect entertainment for a chilly 40-minute subway commute from Astoria to Soho. I'm a big fan of the New Yorker Radio Hour and The Moth, too."
2. Uniqlo Ultra Light Down Jacket: "I'm devoted to working out most mornings and ran a half marathon early last spring (didn't necessarily think that one through!), so I have to embrace the outdoors during NYC's bitter winters. Successfully getting to a 6 AM class or running outside in the cold is solely dependent on wearing the right gear. Uniqlo's Ultra Light Down Jacket in Black is a wardrobe staple of mine. I comfortably ran my first 10-miler in it during one of those sub-15-degree days last winter. I'm inclined to slip it under my peacoat or leather jacket for added warmth, too. It's also coming with me on my upcoming trip to Bilbao and Amsterdam. The climate change between the two cities is posing a packing problem for my 'carry-on only' travel principle. Fortunately, the Ultra Light Down Jacket slips into my luggage without taking up much space, so I can comfortably fit in all of my other essentials."
3. Hydration: "This is a given, but I MUST drink tons of water/tea and moisturize! I apply my Vinoperfect after my shower in the AM and before bed. I also always spray Caudalie's Beauty Elixir afterwards–my skin seems to drink it up."
4. Uniqlo HEATTECH Socks: "I cannot speak more highly of warm socks. They are truly make-or-break."
5. The Perfect Bag: "I hate feeling weighed down by a bulky bag, so I carry a tiny Saint Laurent envelope purse on the weekends. There's not much room for anything more than the absolute necessities like my phone, keys, and credit cards."
---
FRIDAY NIGHT
---
Tatiana Bravo
Media Planner
10:45 PM, Chinatown
Time elapsed outside: 2 hours
What an average Friday night looks like:
"Friday nights are either super chill, or I'm out till four in the morning dancing and eating literally any form of pizza. There's rarely an in-between! My nights generally start with a late dinner, and then either a pregame, or going straight out. Before dinner, my roommate (and best friend/soul sister) and I blast music while trying on outfits and getting ready in our rooms."
The constants in her going-out look (plus, what you'll find stashed in her bag):
"On a colder night, I'm definitely wearing some sort of fun statement coat, like this big down one from Uniqlo. It really depends on my mood, but my holy trinity is a leather jacket, bomber, and anything fur. I like to have fun with the way I dress up when I go out.
"I travel pretty light when I'm out, but I always have a Jo Malone sample of Dark Amber and Ginger Lily, some sort of lipstick (generally a bold darker lip or a nude), and my wallet. I also collect matches (even though I don't smoke) so there's generally some pretty restaurant matches in there."
Tatiana's favorite late (late, late) night eats (& highly specific pizza orders):
"Pizza and mozzarella sticks. In times of desperation, I don't discriminate, and will head into pretty much any diner. In these cases, grilled cheese usually gets added to the mix. If I have my pick, I am all about Artichoke Pizza (at least two slices, one artichoke and one meatball), or Joe's Pizza (pepperoni with ranch on the side)."
Why she embraces New York winters:
"I love the NYC weather, because it lets me actually wear fun, different coats out that I feel add to my outfit. The down jacket is having a huge moment right now, and Uniqlo has a ton. They look really cool styled with jeans and heels, a turtleneck, and some serious jewelry. Plus, the ones in their HEATTECH line were actually designed to retain heat."
Her tips for a night out that makes the most of the season:
"A few of my favorite spots have fun winter-y things for a night out: ice-skating at The Standard is actually really cute. I love sitting out with friends, snacking and drinking hot cocoa. Drinks at Laduree can be really cute too, because they provide blankets. And who doesn't love macarons?! If we're having a calmer night, late dinners are fun because we just sit and drink and eat for, like, ever. Bar Pitti, Sant Ambroeus, Bread, and Tacombi are all walking distance-ish from my apartment, so they have become go-tos."
Tatiana wears: Coat, Uniqlo; Clutch, Sarah's Bag; Top, Uniqlo; Earrings, Jennifer Fisher; Rings, Loquet; Jeans, Uniqlo; Shoes, Manolo Blahnik; Socks, Uniqlo
Tatiana's 5 Favorites for a Friday Night Out (Winter Edition)
 
1. The Jane: "The music here kills it, because they range from old-school classics to rap to Top 40 hits. They let everyone dance on all the furniture and tables, and it feels like you're partying at your great-uncle's very fancy and strangely decorated estate."
2. Up and Down: "A club with flashing lights and the best of rap = an extremely good time. The stairs on the way up make for a fun selfie, and they frequently have cool performers. It's also spacious and enables running around, which I appreciate."
3. Electric Room: "It's on the smaller side, but I like the intimate feel and the fact that the alleyway leading up is all graffiti. It feels very CBGB meets Meatpacking, and they play the best of the best throwbacks."
4. Cafe Select: "Really cute for drinks."
5. Paul's Baby Grand: "Admittedly, I have only been here a handful of times, but every single one has been a night to remember. They also have a no phones-ish policy, which I like. Basically, I just like to dance."
---
TUESDAY MORNING
---
Emily Ramshaw
Senior Editor, Features
11:29 AM, Soho
Time elapsed outside: 4 hours
What you can find Em doing on any given workday:
"This is the most annoying answer, but there really isn't any such thing as an average workday for me. That said, there are certain things I do almost every day: I write (stories for the site, as well as a whole lot of emails); I edit other writers' work; I go to a lot of market appointments and meetings with potential subjects and PRs; and I am on set for shoots a lot, styling and interviewing. In other words, I'm running around all the time and spend a significant amount of my day on the subway or battling pedestrian traffic (for better or for worse)."
How she makes freezing AM and afternoon work commutes easier:
"When I'm walking, I listen to podcasts. My favorites are the New Yorker Radio Hour, Lit Up, and the Moth—all generally nerdy, but also very soothing when everything around you is chaos. When I'm on the subway, I read rather than listen to anything because it drives me crazy having to be constantly increasing the volume. I get a lot of reading done on the subway—and it makes squishing into someone's armpit on the L train a little bit more bearable.
"I'll also add a HEATTECH item wherever I can—I'm a big fan of sneaky layering. Adding a paper-thin long-sleeve tee will make the biggest difference, and doesn't add any bulk to seasonal pieces like sweater dresses."
Her workday essentials:
"In my bag you'd find all the usual suspects: my wallet, sunglasses, a pouch full of things like lip balm, emergency concealer, and mascara."
Where she stops for fuel throughout the day:
"My most common stop is The Smile To-Go around the corner from our office for an Americano and something carb-y. Otherwise, to be honest, there's not a whole lot of stopping... My average is about 5 minutes late—so every second counts."
At the top of her NYC winter bucket list:
"I find the idea of ice-skating in Central Park incredibly romantic, but I haven't actually gone skating in years. It's on the list for this year!"
Emily wears: Jacket, Uniqlo; Dress, Uniqlo; Bag, Simon Miller; Shoes, Christian Louboutin; Sunglasses, Prada; Earrings, Jennifer Fisher; Choker, Lady Grey
Emily's 5 Workday Essentials (Winter Edition)
 
1. Uniqlo HEATTECH Tights: "These are a saving grace: I can wear dresses without getting hypothermia, and I don't overheat when I'm on an overheated train. Then I don't have to worry so much about the other stuff and can actually wear a dress and a bomber jacket because I feel like it and not because it's cold outside."
2. Sunglasses: "Sunglasses are among my most important accessories. My eyes tear in the cold like crazy, and to avoid serious eye-makeup challenges, I wear sunglasses as a mediator."
3. Uniqlo Turtleneck Dress: "A high-neck turtleneck is key: if my neck is cold, I'm cold all over. And it's my opinion that turtlenecks look good under everything."
4. Notebook: "I also have a notebook with me at all times."
5. Coffee: "I have caffeination outposts all over the city: Variety close to my apartment in Brooklyn; La Colombe in Tribeca."
---
More HEATTECH products to shop:
---