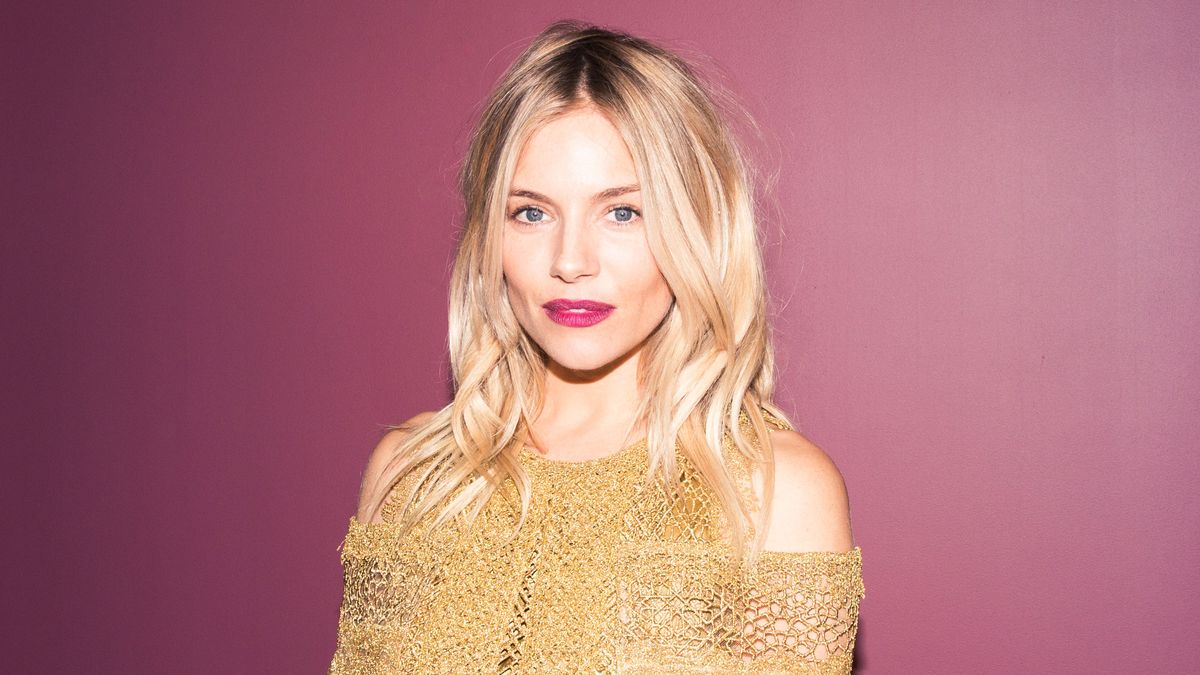 Celebrity
Sienna Miller on British Style, Knickers, and Her Beauty Routine
She's part of Burberry's epic Christmas film, and is even cooler than we imagined.
Alec Kugler
The very best thing about Sienna Miller isn't her flawless style, or literally perfect hair. It's not even her oft-imitated shoulder tattoo that's a cluster of tiny stars. It's actually not even the fact that she's an incredible actress, even though she is. It's that she's unbelievably friendly and warm, and beyond relatable. She, too, spent the weekend spreading love at rallies around NYC! She, too, feels weird about her hair, and doesn't *always* wear a bra! She is the actual dream, and we got the chance to sit down with her to talk about her role in Burberry's take on a Christmas film, The Tale of Thomas Burberry.
Which, because Burberry always goes the extra mile, is directed by Asif Kapadia, who brought us the Amy Winehouse documentary Amy. It also co-stars Domhnall Gleeson, Lily James, and Dominic West. It. Is. Incredible! "I've worked with Burberry on and off for years," says Miller, who stars as Thomas Burberry's (played by Gleeson) first love. "I love the brand and I love the people involved. This was a really creative take on Christmas films. Asif is incredible, and the cast, Domhnall, Dominic, and Lily are all friends and an amazing group of actors. On every level it was something I wanted to do. They shot on film so the color grading was gorgeous. I love how new it was, how unlike a Christmas film it was. It felt grand and big and sweeping and epic!"
---
If you haven't watched the film yet, please do so below, but before you do, read on to find out all about Sienna's style and beauty essentials, and her go-to gift when there's been a teensy bit of procrastination.
The essentials of British Style:
"Burberry does amazing tailored coats and tweeds. I think that their outerwear is incredible, Burberry really does represent British style as a brand. But I think that British style is kinda a combination of a little bit scruffy, with a cool piece of tailoring. I think if an English person is going to be top-to-toe smart, they'd always have one piece that's slightly beaten up mixed in and vice versa. If you are wearing a really glamorous dress, maybe a really beaten-up coat."
Which pieces she relies on for that signature British mix:
"I think a vintage piece will always [do that], it just carries a weight to it or a history to it that switches things up. I've got an old [vintage] coat that I love, or a scarf, or jewelry that belonged to my mother. I keep things! I'm a bit of a hoarder with my clothes [laughs]. I still have things I used to wear, like, fifteen years ago. I like adding that to contemporary stuff. I don't want to look modern or totally new top to toe."
The few things she *always* packs:
"I always pack in 10 minutes, always. I'm a whirlwind! [With 10 seconds, it would be] knickers and a bra—actually, I don't really need a bra, unfortunately—my face wash and things like that. What do I pack? Nice socks! A cozy blanket. A big jumper, a couple of T-shirts, a couple of pairs of jeans, a dress and some heels."
How she gets that hair and that skin:
"I'm not particularly loyal to any one brand [of skincare]. I'll just sort of switch it up all the time. [But] my hair... I have too much hair. Which sounds annoying to people who don't have enough hair, but I've spent my life trying to squash my hair down and make it hang. I'll wash my hair and put a beanie hat on. I've actually got this really nice shampoo from Oribe at the moment that I've been using, so it's softer than it ever normally is. There is also an oil by Windle & Moodie that smells really beautiful that I put in in the end after I've washed it."
Because it's the holidays, the best gift she's ever given:
"I don't know! I think the gifts that are the best are when I've made someone a photo album and gone back over an entire friendship and got them printed and laid them out. Something that has thought and sentiment. I also gave my best girlfriends a pair of Shanghai Tang silk pajamas last year! That was amazing."
How to do last-minute gifting like Sienna Miller:
"Pajamas! I buy people things that I want to receive. I'm boring. I like knickers, socks, and pajamas. I love getting those things! And, like, an aromatherapy bath oils or bath salts. Girly, nurturing things. I will just, if I'm stuck for inspiration, go to those places. Cozy things!"