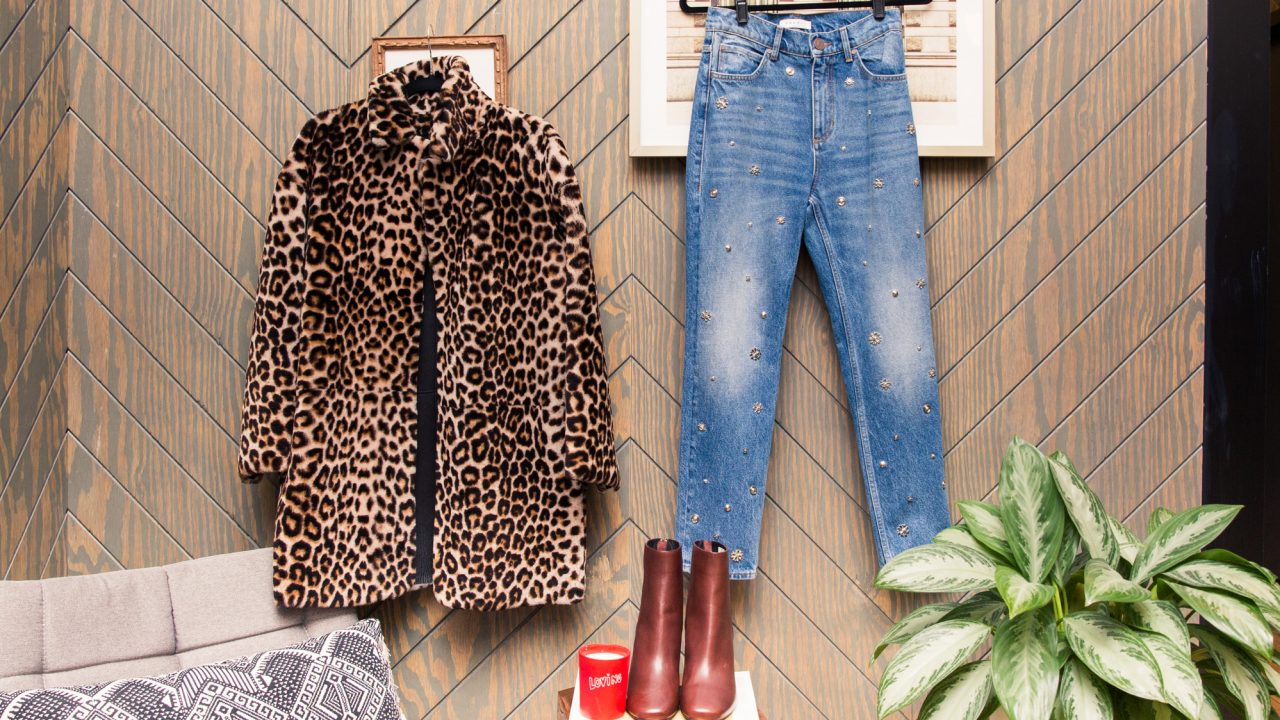 The Perfect Weekend Getaway—in Toronto
Everything you need to see, eat, do, and most important, wear, during a weekend in The Six. In collaboration with Sandro.
We get it, we get it: you want to move to Canada. Specifically, Toronto. And why wouldn't you? We have Drake, a world-class food scene, and an endless network of neighborhoods to explore. If that's not enticing enough to get you to hop on a plane, we're not sure what is.
As it turns out, you're not the only one. This fall, Sandro (you know, the Parisian brand whose collections look like the exact wardrobe of every effortlessly cool woman that calls the City of Lights home you can think of?) is moving to Toronto (and opening a new store in the Six). To make things just the teeniest bit more comfortable for our friends opposite the Atlantic, we've put together a sample itinerary (and an inimitable, chic Sandro-style wardrobe to do it all in) to get you started. After all, before you commit to the move, you should probably dip your toe in the proverbial waters of immigration by spending the weekend, and living like a (very indulgent) local. Don't say we never did anything for you.
FRIDAY
 
Morning: Fly into Pearson (or Billy Bishop via Porter!), and convince your Uber driver to make a pit stop at Yorkdale Mall's East Expansion Wing before heading to your hotel. In a city where, despite our claims to the contrary out of fear of being cliché, it's pretty damn cold a lot of the time, you'll need outerwear, and more pressingly, options. Make a beeline for Sandro to stock up on the following Parisian essential items: an army green bomber with leopard lining, a mid-length ivory fur coat, and a leopard-print faux topper, plus embellished denim, a slinky velvet slip dress, and a good, sturdy pair of heeled boots to pair them with. Consider your Toronto uniform sorted.
Afternoon: After heading to the hotel—we recommend calling The Drake your home away from home for the weekend—re-jeuje yourself with the assortment of Malin+Goetz products waiting for you. Take one cream sweater, and throw on a pair of jeans. Easy!
Stroll up to The Federal for a late brunch. Unless you want to promptly be thrown out of the country, we recommend you start with a Caesar (we take ours with tequila—they also serve them with a Cool Ranch Dorito to snack on). We talk about this place ad nauseam at Cov HQ because it's SO. DAMN. GOOD. Just…take it from us.
Once you finish up at The Federal, stroll Dundas West. Hit up Soop Soop for all the best international magazines and streetwear-y things from Alpha Industries and Richardson; Easy Tiger for Catbird jewelry, Maison Louis Marie candles and Dusen Dusen homeware; TKVO for cute tchotckes with meaning; Art Metropole to see what local artists are up to. Oh, and VSP for the best selection of consignment designer stuff, like, anywhere (we're talking Sonia Rykiel, Givenchy, Miu Miu, Céline…). Or Archive Wine Bar for their meat and cheese plates and a glass of whatever's good (probably a rosé from Provence). If you have time, make your way up to College to peek inside Mellah for their incredible and well-curated selection of Moroccan rugs, and Souvenir for ceramics and endless #content opportunities.
Evening: Here's where things get fun. Go back to the hotel, take a bath, drink one of their very fancy cocktails, like the Penicillin. Throw on your velvet slip dress and bomber (because that whole masculine-feminine, lingerie-meets-streetwear dichotomy = always a good look), and head to somewhere like The Black Hoof (nose-to-tail charcuterie), Ufficio (Italian with the best octopus), Miss Thing's (Polynesian), Union (a bistro that, after a few glasses of Bordeaux, will have you swearing up and down you're at some bistro off the Left Bank). Or there's always Enoteca Sociale if you're feeling fancy (and in the mood for pasta), or Hanmoto if you're feeling rowdy (and ready for Korean fried chicken). Once you're sufficiently stuffed, you have your pick of bars within walking distance (ish—or at the very least, a quick Uber away): Camp 4, Unloveable, Pharmacy, Northern Belle, Bambi's, Libertine.
SATURDAY
 
Morning: How are you feeling? Not your finest? Same. Channel your inner French girl and remedy that by sleeping in, and then getting dressed in those sparkly embellished jeans, and your leopard-print coat and a bright lipstick—that way, no one will clock your under-eye circles. It's a look that accomplishes the seemingly impossible—coming off as cool, sleek, and effortless all at once. Once you're dressed for the day, start things off with brunch at Colette Grand Café: come for the unreal pain au chocolat (don't sleep on the Chia Smoothie bowl, either), stay for the elegant space (and snag a table on their patio if you can). 
Afternoon: Still feeling rough? Get thee to our pals at Gee Beauty. Indulge in one of their incredible facials, or just to pick up a few new skincare goodies to try out back at the hotel. Take a peek inside 6 by Gee Beauty around the corner, too, and get a custom Le Labo blend as the ultimate luxurious souvenir. Get your art fix at the AGO, or head west to take in the works on display at contemporary galleries like Cooper Cole, Clint Roenisch. Then head down to Parkdale to crawl some of the city's best vintage: 96 Tears, Public Butter, Penny Arcade, Three Fates and more (the best part is the hunt, no?). 
Evening: Take a rest at Alo, Bar Isabel, or Bar Raval—three of Toronto's bestbestbest restaurants. Or, if you want to rub shoulders with Toronto's glitterati, go to La Societé, where the champagne and oysters flow and there's enough butter to keep even the most ardent Francophile occupied. Or try Nuit Social for wine, cheese, meat and other nibble-y things. Get dressed up in your white fur, some heeled boots, structured jeans and a tee (balancing out that fluffy coat with something a little more pared-down is essential for a more downtown vibe). Eat until you can't anymore, and then eat some more.
Rather than bar hop, tonight, settle on one spot, and stick to it. Maybe Le Sélect for a bottle of champagne (the restaurant turns into a very lively, very Parisian clubby space), Cold Tea in Chinatown, or Shameless Tiki Room for, well, an experience.
SUNDAY
 
Morning: Grab your Sandro bomber (black, embroidered with swallows, for extra cool girl intrigue), a burgundy bag that fits all of your essentials (a Parisian never overpacks—that would be trying too hard), and get out there! Grab an almond croissant and espresso at Nadège's Queen West outpost, or adult pop tarts and twinkies at the Sam James Coffee Bar across from Trinity Bellwoods, plus coffee (duh). Eat it in the park, with a magazine or book you pick up at Type. Like a little slice of Paris, only in Toronto. Brave the brunch line at Saving Grace for their insane waffles, or be on your merry way and stop at Greenhouse Juice for a smoothie (which not enough people know about—they make them in the back. Just ask.) and browsing succulents and other pretty things at Crown Flora.
Afternoon: Wander around until you hit Kensington Market. If luck's on your side, it'll be Pedestrian Sunday and you can wander the streets willy-nilly. Grab yummy vegan bakery goods at Bunner's, fantasize about a Pinterest-perfect life at Good Egg, browse the array of incredible vintage along Kensington Avenue, grab an on-tap kombucha at The Witches Brew (lord knows your gut needs it), or just wander aimlessly, until it's time to head back to the hotel, grab your bags, and head home. Come back soon?