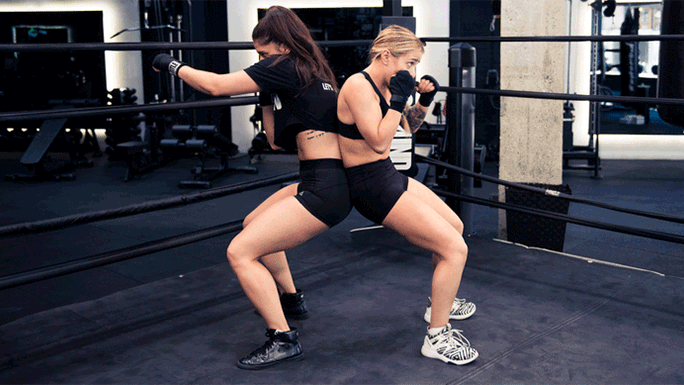 In 60 Seconds
How to Avoid Political Family Fights in 60 Seconds
Good news: you *can* go home for Thanksgiving!
Let's say you're #stillwithher, but your weird old uncle Ted believes in "Making America Great Again." Or maybe you felt "The Bern" hard, but your very own parents were pro–Trump. Thanksgiving is going to be pretty awkward, huh?
Well, it doesn't have to be! On one hand, you could abstain from family gatherings where you're sure to end up screaming at one another over Thanksgiving dinner altogether. Friendsgiving is looking pretty good lately, right? On the other hand, what are the holidays without family?
If you're facing a potentially tense and deeply uncomfortable holiday season, we feel you. So we contacted Myka Meier, founder of Beaumont Etiquette, for tips on how to deal with potentially non-ideal situations—like if weird old Uncle Ted says something you find extremely offensive over turkey and stuffing, right before he starts ripping Hillary apart over her emails (leave it alone, already, please!). No matter what sub-optimal social scenario you might encounter over the holidays, we have you covered. According to Meier, "Etiquette is all about respect and consideration of others." Here are Meier's eight tips on how to deal.
---
1. Be Upfront
 
"Try the Honest Abe approach: Be direct, straightforward and honest from the start. From the very beginning of the conversation, it's okay to simply say, 'Uncle XX, I respect you are passionate about your beliefs, however, as we share different ones, I think it's best you and I don't talk about politics and just enjoy family time.'"
2. Agree to Disagree
 
"Change the subject to something everyone agrees on. Simply saying 'I understand you have a perspective on this and thanks for wanting to share, however I think we'll need to agree to disagree on this one. Now, I know we can agree on XX... how about we chat about that.' Remember, you can't help what other people think or say, but you are in charge of your response and reaction. Avoid raising your voice. It's easy to do, but also one sure way to escalate any situation."
3. Move On
 
"If a conversation you're uncomfortable with starts, don't chime in, and instead change the subject as fast as possible. If you change the subject by saying you're not comfortable talking about that topic and the other person is being an aggressor, asking you why you don't want to talk about it, you can simply say, 'As we don't agree, I think it's best we don't get into further details on it. It's okay that we feel very differently on this topic and let's leave it at that.'"
4. Ignore, Ignore, Ignore
 
"Try the 'Invisible Earmuffs' play. If it's a fleeting comment here or there, pick your battles and simply ignore it. Bite your tongue and go to another room, redirect conversation, or simply act as if you didn't hear it."
5. Accept What You Can't Change
"Don't try to change someone's political views. Just as you wouldn't want someone to try and change yours. The key is to respect the person's right to have their own opinion. Etiquette is all about respect and consideration of others."
6. Prevention is Key
 
"If you're the host (but ONLY if you are the host), at the beginning of the meal or party raise a toast to thank everyone for coming and in a witty and lighthearted manner, address politics before it comes up. 'As we're a family of strong beliefs and opinions, tonight I ask that we leave politics at the front door and only enter with an aggressive appetite for turkey and nothing more!' It both sets the tone for the event and essentially tells guests to play nice and save politics for another day."
7. Take a Break
 
"Take a breather: If someone has brought up an offensive point, without being dramatic (keyword!) simply excuse yourself and go for a bathroom break or to see if you can help out in the kitchen. Think before you speak: It's easy to say things in the heat of the moment that we'll later regret. Take a deep breath, think about what you say before you say it. Remember: No matter what, at the end of the day, maintaining your relationship with your family or close friends should be the most important outcome."
8. Be Kind
 
"Don't make, or take, things to a personal level."