Fitness
How to Get Victoria's Secret Angel Abs
Elsa Hosk's, to be specific.
As we realized when we worked out with Jasmine Tookes and Josphine Skriver last week, it takes a helluva lot of work to get in Angel condition. As fellow VS Angel Elsa Hosk reminded us when we saw her at Flex Studios this week, parading around in underwear for all the world to see requires a certain amount of my-body-is-a-temple dedication. "We're in lingerie all year round," Hosk laughed. Not a laughing matter: she's at Flex every single day. "When I reach the two-week mark, I'll add some extra stuff," she told us as if already working out every day wasn't a big enough deal. "I'll go for a run in the morning, too, and double-up the workouts." With that said, she also knows her packed regimen is a lot: "I try to listen to my body."
So if you're one of the types who watches the VS Show every year and uses it as motivation to get to the gym, now is your chance. Flex instructor Jenn Seracuse had Hosk break down some ab splitting, Pilates-inspired exercises that, again, if done with the dedication of an Angel, might actually give you the kind of toned tummy that looks oh-so-natural on her.
---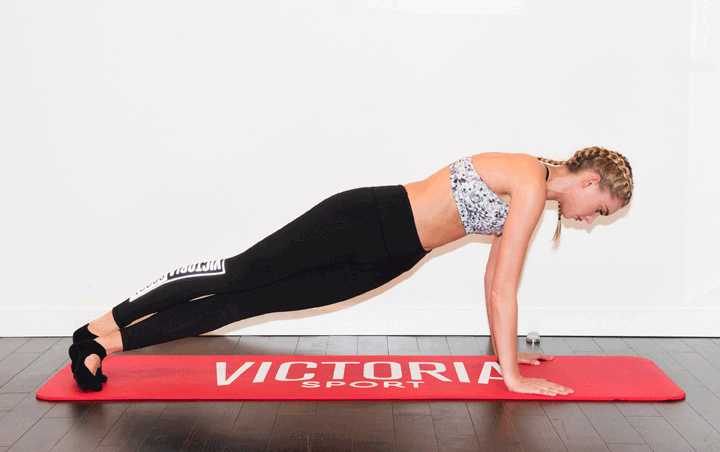 "This is a great way to tap into those deep internal obliques that tighten the waist and create that hourglass shape. Start in a plank position, cross one leg in front of the other, rotating the hips so the front leg and hip are below the other. The heels will drop to the same side as the front leg and hip will open to the opposite side. Exhale to round and lift the spine—think of bringing the ribs to the hips and contracting the obliques. Inhale to lower back to the plank, maintaining the rotation of the hips. Repeat for 30-60 seconds; repeat with the other leg."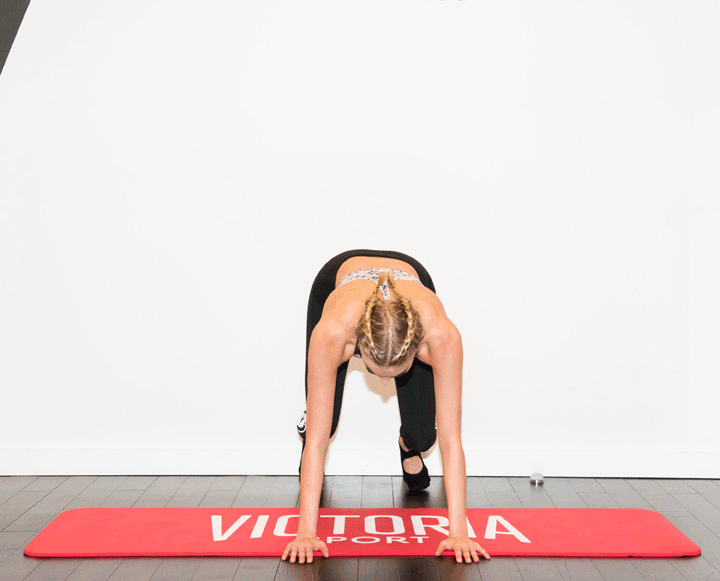 "This exercise will not only help you tone your obliques, but it also gets your heart rate up by adding in some cardio, which will help you shed extra layers and reveal your waistline. Start on all fours with your knees underneath your hips, and your wrists underneath your shoulders. Exhale to engage your abs and lift your knees to a hover off the mat. Kick your right leg under you and across to the left as you rotate your hips. Drop your left heel to the mat. Simultaneously, reach your left arm up. Return to the all-fours hover position. Repeat for 30-60 seconds on the same side. Rest for 10-15 seconds and repeat with left leg."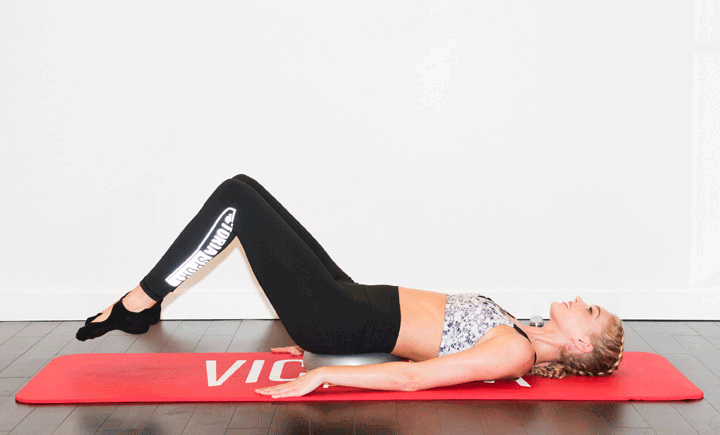 "This move incorporates balance and stability, and is a great way to challenge your core. This exercise in particular also really targets the lower abdominal area. Start by lying on your back with the Pilates ball under your pelvis (it should be halfway between your lower back and your glutes) and with your arms long by your side. Lift your legs to tabletop position (knees over your hips at a 90-degree bend) and slightly round the lower back, balancing on the ball. Keeping the spine and ball completely still, exhale to lower the toes down towards the floor. Inhale to bring the legs back up to tabletop position. Repeat for 30-60 seconds. For an extra challenge, try reaching your arms overhead."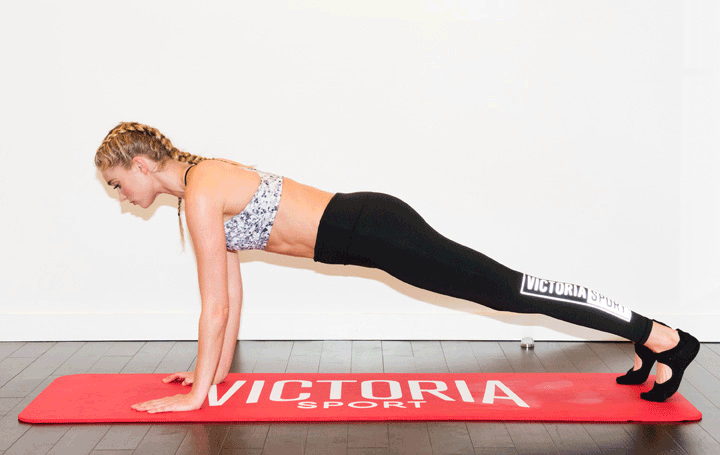 "This exercise is great for core stability and it taps into the deepest layer of the abdominals to keep your spine still as you move back and forth. It will also get your heart rate up! Start in a plank position. Simultaneously move one knee and foot, and your opposite arm forward (as if crawling), then come back to plank position. Repeat with your opposite arm and leg. Keep alternating for 30-60 seconds. For an extra challenge, keep your foot off the floor as you bring your leg forward."