WWWRN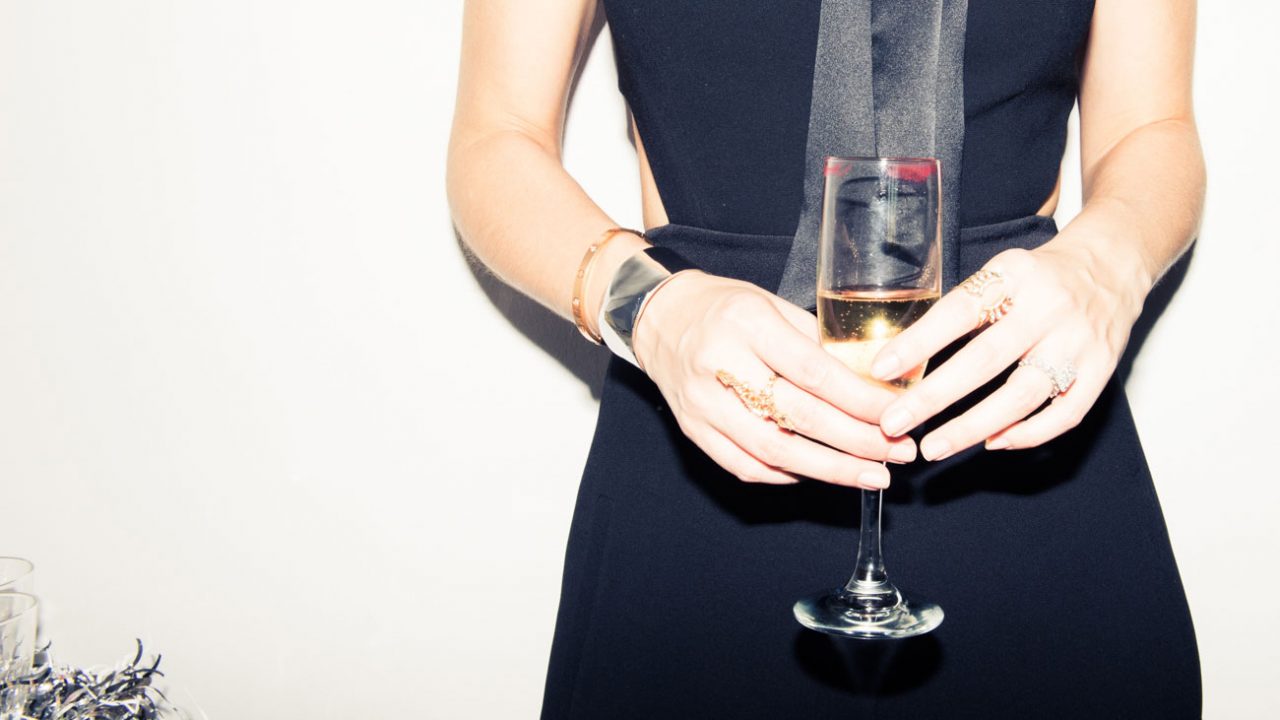 Editor's Picks: We're Going Out
As in, out, out.
This week has given us extremely little to celebrate. But you know what? The best way to show the powers that be that we aren't crushed or defeated is to keep living life and throw it back in their big orange faces. So to that end, we're going out this weekend in a very big way.
And because we never do things by halves, we're not just stepping out in our usual jean-and-sweater combo (no matter how fabulous the sweater); we're going all in with metallic pants, red lips, and star-studded shoes. Here's everything our editors are wearing to party hearty this month.
Alicia Cesaro
Senior Editor
1. Charlotte Tilbury Wonderglow: Whenever I'm *doing* my makeup for an event, I like to really take my time with skincare beforehand, since I (like almost every makeup artist we've ever interviewed) think glow-y skin is the best foundation. A little massage with Charlotte Tilbury's Magic Cream followed by this Wonderglow primer-slash-illuminator-slash-elixir of life makes my skin look as dewy as someone who works out and drinks green juice on the reg.
2.  Delpozo Shoes: Blue suede slingbacks, dotted with embellished stars. It's literally impossible to feel anything but festive while wearing these Delpozo beauties. Which I plan to do all season long.
3. Mark Cross Bag: I'm anti-bag most of the time—especially at parties (the champagne flute/canapé/iPhone balancing act is hard enough). But if I don't have my official license and lipstick holder (my, um, fiancé) around, then I've no choice but to carry one, preferably a bright red, top handle (plus shoulder strap for later!) version.
Laurel Pantin
Editorial Director
1. Rodin Lipstick: Nothing makes me feel more in the party mood than a swipe of bright lipstick. After meeting Linda Rodin recently (she was wearing this hue), I became convinced that the number-one thing I could do to be just like her is wear lipstick every day. Or at least to a party.
2. David Yurman Pinky Ring: I recently had one of these in my possession for a shoot, and while I couldn't wear it outside, I let it chill on my pinkie for a few hours, and I've never wanted to own a piece of jewelry more.
3. Markus Lupfer Dress: The thing I love about this dress is that it's festive, but doesn't scream "party." It would look appropriate at a friend's cocktail gathering, and at a black-tie winter wedding (with the right accessories…).
Jodi Taylor
Assistant Editor
1. Unravel Project Metallic Leather Pants: If you know me at all (I'm sure you guys are starting to get a pretty good idea), you know that I have quite the thing for leather pants. And if you know anything about leather pants, you know that finding the perfect pair is almost impossible. Hence why, when I laid eyes on these babies, I knew right then and there that they were going to be glued to my body for the next, well, ever.
2. Edie Parker "Jean" Park Clutch: I mean, if I'm going to be wearing metallic pants 24/7, I may as well have a clutch to match, no?
3. Kat Von D Blood Crimson Everlasting Lipstick: If you have yet to try this lipstick, you have yet to live. It stays on as if it was damn well painted on, and the colors are to. die. for. I'm picturing the blood crimson color with my metallic paints, and I'm liking what I'm seeing.
Noah Lehava
Senior Editor
1. Magda Butrym Sequin Dress: Who is crazy-ecstatic that sequins are now work/day appropriate? ME! I imagine wearing this to work with distressed vintage denim and white sneakers. Then, slipping out of the jeans and swapping to a colorful heel for one of the 432 after-work holiday parties I have over the next two months.
2. Marco de Vincenzo Braided Heels: I try to get away with exposing my toes for as long as humanly possible (I'm a bona fide sock hater) and these comfy but super chic braided heels are like duvet covers for my feet (kinda).
3. Becca Shimmering Skin Perfector: Every single time a professional makeup artist touches my face with this stuff (it's a mainstay in most kits), I'm left with the glowiest skin. It's probably time I got my own bottle.
Meagan Wilson
Editorial Manager
1. 3.1 Phillip Lim Sequin Turtleneck: Have you ever seen something more party-ready in your entire life? I had a visceral gut reaction when I saw this, meaning my need for this thing goes deep. I consider sequin-silk turtlenecks every bit as essential as others would, say, a camel cashmere sweater.
2. M.A.C. Extra Dimension Skinfinish in Doublegleam: M.A.C. recently released the prettiest, shimmeriest editions of their Skinfinish highlighters and they are everything. I've taken to tapping on the shade Doublegleam on the high points of my face (um, am I a YouTube beauty guru?) before going out. You can use a little, or build it up to what are basically disco balls on your cheekbones and either way, it's the prettiest thing ever.
3. Dinosaur Designs necklace: My favorite trick in the entire world is to put some sort of chic-y statement necklace atop an otherwise boring, relatively basic outfit to trick everyone into thinking I'm a minimalist when I'm really just lazy.
Part of the series:
WWWRN