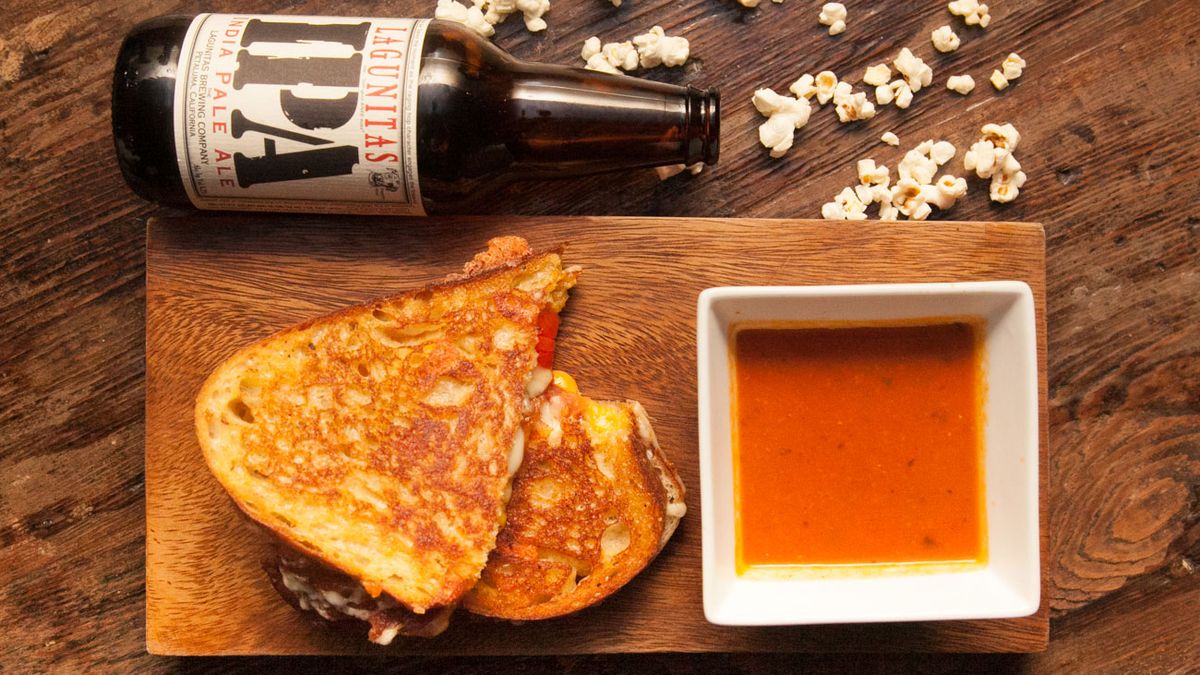 Food
They're inspired by countries to move to, if worse comes to worst.
When we think of this year's Presidential Election, calm is probably the last word that comes to mind. And when we think of November 8th, party is absolutely the first word that comes to mind, because, let's face it, the only thing worse than panicking is panicking alone. Also, this has all been stressful and we deserve to celebrate it finally being over! Although no one is quite sure what surprises election night might bring, you can be positive that your guests will come ready to drink (or already drunk) and prepared to find comfort in food like never before. To transport them to a different place and begin the brainstorming process of what country to move to (Canada, anyone?) if a certain someone is elected, here are four recipes inspired by different countries to help inspire you and your guests.
---
 
Take a quick trip to Mexico (and take advantage of the lack of wall...) with this delicious salsa recipe from our friends at La Esquina.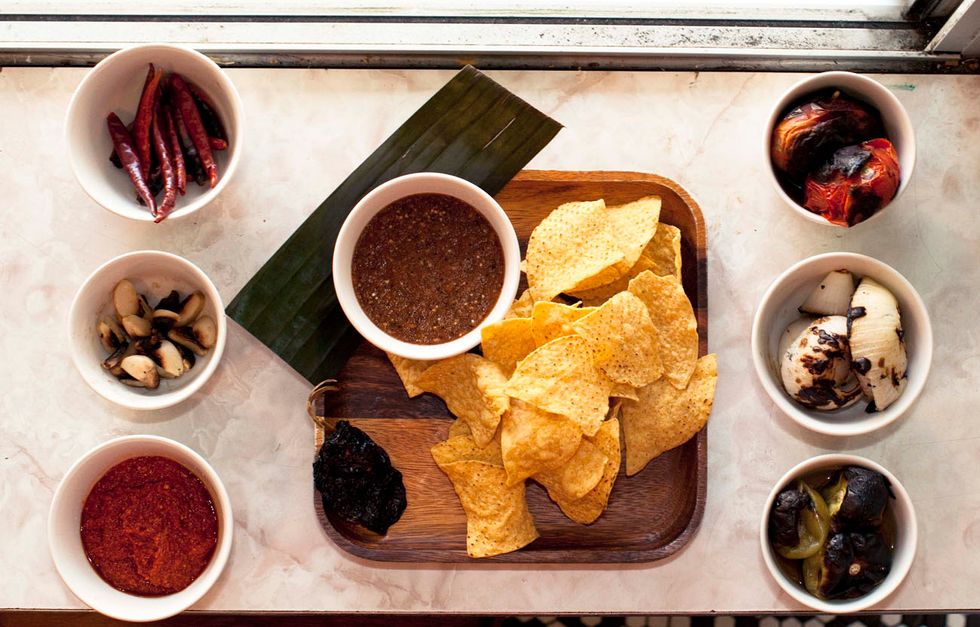 INGREDIENTS
310 grams roasted tomatoes
310 grams roasted tomatillo
87 grams roasted white onions
4 grams roasted garlic
2 arbol chiles
2 ancho chiles
6 grams salt
1 gram Mexican organic cane sugar
PREPARATION
 
1. Roast all veggies (350°F) 'til they get a nice charred color.
2. Toast all chiles (separated from each other).
3. Pour all chiles in boiling water for about 10 minutes ('til the chiles get soft).
4. Separate into two batches and put all ingredients into a blender, using some of the chile water.
 
Add a Mediterranean twist with these Zucchini chips from Jack's Wife Freda (Her rights, btw?! Just as important as Jacks!)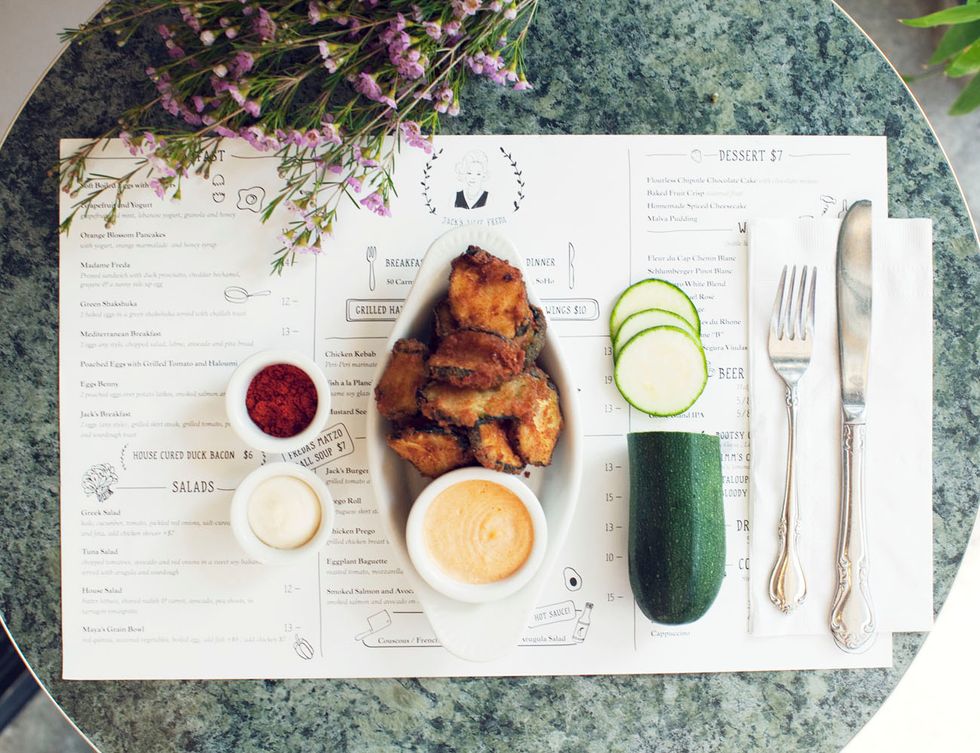 INGREDIENTS
FOR THE CHIPS
4 to 5 small zucchini
2 cups all-purpose flour
3 cups seltzer water
1/4 cup corn starch
Panko (Japanese bread crumbs)
1 teaspoon salt
1/2 teaspoon pepper
3 cups olive oil (or vegetable oil)
FOR THE AIOLI
1 cup prepared mayonnaise of choice
2 tablespoons lemon juice (fresh if possible)
1 tablespoon smoked sweet paprika
PREPARATION
 
1. Cut zucchini into half-inch slices.
2. Make a batter by whisking the flour, corn starch, salt, pepper and seltzer water in a large bowl.
3. In a food processor with the blade attachment, add Panko and grind down for 1 minute and transfer to a clean bowl.
4. Begin the breading process by adding the zucchini to the batter until each chip is coated well, transfer to the bread crumbs until the zucchini is covered completely.
5. Lay out all chips on a sheet pan.
6. In a large pot add oil; using a thermometer, bring temperature up to 350 degrees; turn down heat to maintain the temperature.
7. Fry chips on each side until golden-brown in color.
8. Transfer to a paper towel and salt.
9. In a mixing bowl add mayo, lemon juice and smoked paprika. Stir to combine.
10. Serve smoked paprika aioli with the zucchini chips.
 
Remember that the Chinese inspired this amazing Hemsley & Hemsley noodle dish (and did not invent climate change as a hoax… Ugh.).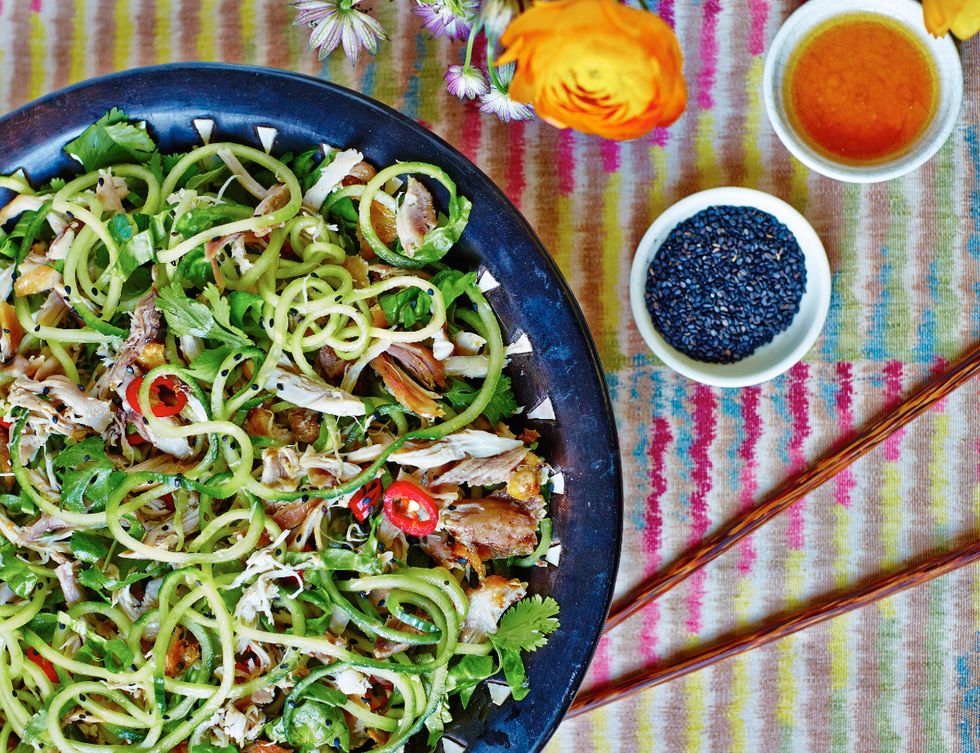 INGREDIENTS
FOR THE SALAD
2 tbsp. black or white sesame seeds
2 cucumbers
1 small head of romaine or cos lettuce, shredded into ribbons
1 small head of pak choi or 150 g Chinese cabbage, shredded into ribbons
3 spring onions, thinly sliced
a handful of fresh coriander, roughly chopped
250 g cooked shredded chicken
FOR THE SESAME DRESSING
5 tbsp. sesame oil (not toasted) or extra virgin olive oil
2 tbsp. toasted sesame oil
Juice of 1 lime or 3 tbsp. lemon juice
2 tsp raw runny honey
1 tsp tamari or sea salt
OPTIONAL
1 finely chopped red chili to garnish
PREPARATION
 
1.Gently toast the sesame seeds in a dry pan until fragrant.
2. Use a spiralizer or julienne peeler to make the cucumber noodles. Or use a regular vegetable peeler to slice the cucumbers lengthwise into wide pappardelle-style ribbons. You might want to cut the long, spiralized strands in half to make them easier to eat.
3. Prepare the dressing by whisking together all the ingredients in a bowl or shaking them together in a jam jar.
4. Add the lettuce, pak choi, spring onion and coriander to a bowl.
5. Pour over the dressing just before serving and mix everything together (hands are best).
6. Plate up with some shredded chicken and top with toasted sesame seeds. Serve immediately.
 
And maybe bring it back home to the U S of A by making some American grilled cheese sandwiches à la Blind Barber, because if we're being honest, America is already great (and delicious).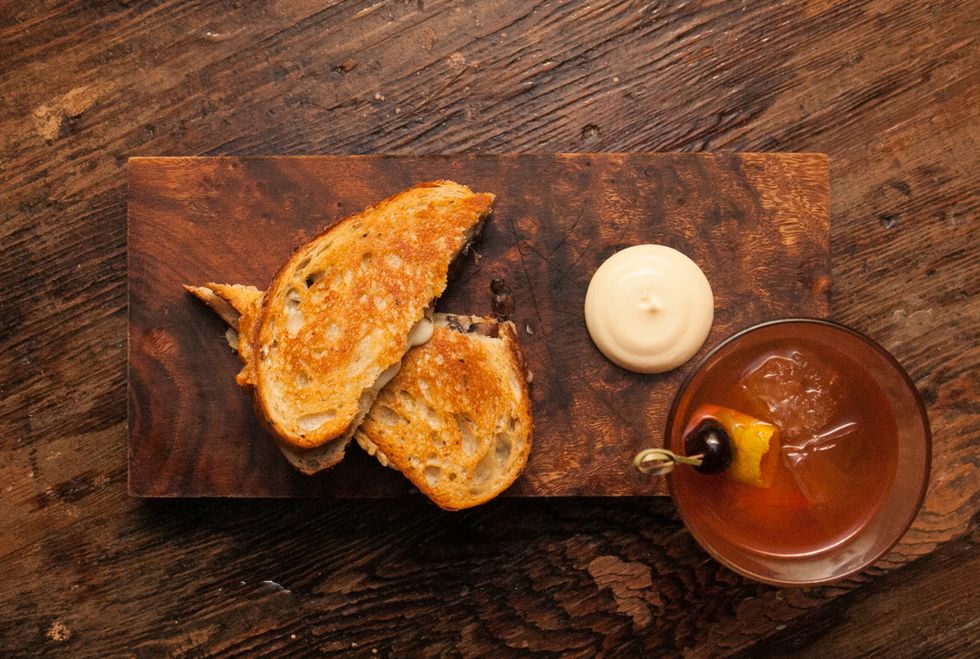 INGREDIENTS
roasted broccoli
cheddar
smoked Gouda
bacon
garlic
PREPARATION
 
1. Using a non-stick pan, preheat pan over low to medium/low heat. This ensures a more accurate cooking time.
2. Apply margarine, not butter, to both sides of the bread and assemble the smoked Gouda and cheddar in melt-able pieces.
3. Add broccoli, bacon and garlic to your liking.
4. Flip the sandwich every 30-45 seconds or so, checking on the bread's crispiness on each side to ensure that it doesn't burn and that all of the cheese melts. Total cook time should be no more than 6-8 minutes. Let it sit for 30 seconds to a minute to ensure that all the cheese melts without cooking the bread.
5. Cut it in half for the perfect grilled cheese.