Down to Party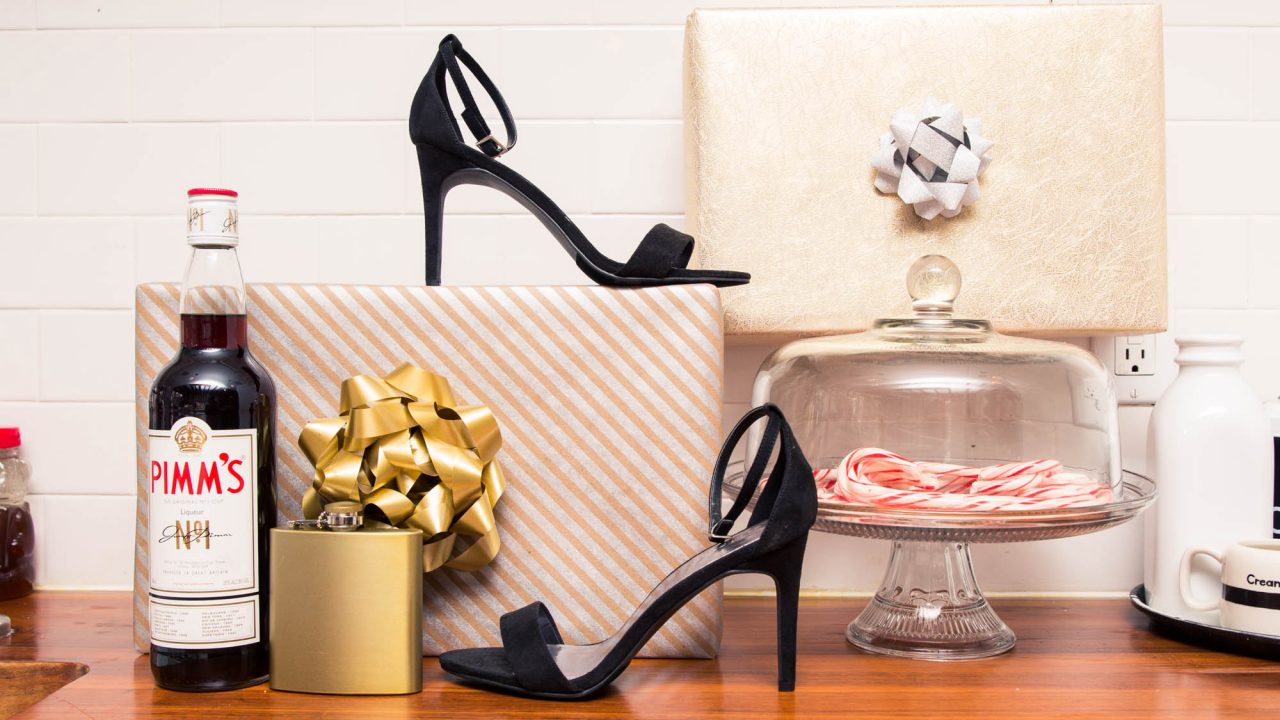 What We're Wearing Home For The Holidays
It may still be November, but we're already in the holiday spirit. In collaboration with Joe Fresh.
The most wonderful time of year for us consists of eating our weight in snowflake-shaped sugar cookies; trying to avoid eating more of said cookies (and the truckloads of other tempting treats that land in our offices); drinking far too many glasses of Aquavit (if you're wondering, keep reading) with our family; hoping it's the perfect mixture of freshly fallen snow on a sunny day so that we can spend some time outdoors (while swaddled in puffer coats and scarves); and wrapping ourselves in the cosiest clothing to park ourselves in front of the fire with a cup of hot cider. Whatever your perfect season celebration and relaxation entails, like us, you'll be doing it with the most important people in your life. So cheers to that!
Emily Ramshaw
Senior Editor
1. Black Jeans: My family's annual "Christmas Eve" celebration is usually held in early December and really involves drinking too much Aquavit (an extremely strong caraway-flavored alcohol from my family's homeland, Norway) and eating ribs. Here's hoping these jeans will help me from consuming too much of the latter.
2. Black Sandals: Because the only time I can get away with wearing sandals in the deep, dark winter is when I'm spending the whole night next to a roaring fire—like I will be for that night. Plus, they give me that much more height in a room of very tall, loud people (my family).
3. Red Sweater: Festive, warm—the perfect, non-cheesy Christmas sweater.
Alicia Cesaro
Senior Editor
1. Silk Blouse: Whenever I head home around this time of year—or anytime, really—I tend to pack as light as possible. Sometimes, too light, because I'll end up at my parents' house in Rhode Island with nothing but the outfit I wore from work on the train that day and some other random things shoved in a bag. This shirt easily works for drinks with friends and dinner with family.
2. Merino Turtleneck: Another perk of being at home means wearing one sweater the entire weekend and not caring one bit. Especially when the majority of the time is spent going from the couch to the fridge.
3. Jeans: Outside-world coffee breaks call for actual pants, not college lacrosse sweatpants—weird, right?—which is where these jeans come in. And if I can get away with wearing just the three aforementioned pieces in a long weekend, I'd call that successful packing.
Laurel Pantin
Editorial Director
1. Black Puffer: This year, I'll be spending the holidays with my husband's family in Chicago, instead of in Texas with mine. Cue: the warmest puffer jacket I can find.
2. Off-White Sweater: When I pack for the holidays, I usually bring one extra-cozy sweater, one pair of jeans, and one pair of sweatpants, and wear said sweater both with my jeans, and sweatpants (seems Alicia and I are on the same wavelength). Yes, it's an incredibly lazy way of dressing, but it's the holidays. Lay off me.
3. Chic Scarf: When you're spending all your outdoor time swaddled head to toe in extreme cold-weather gear, you should have one or two extras that look chic and dressed up. This sweet printed scarf ticks that box for me.
Jodi Taylor
Assistant Editor
1. Black Velvet Cami: My holidays are spent at home with my family, and when I'm lounging around I like to be as comfortable as humanly possible (maybe due to the fact that I'm constantly snacking over the holidays—obviously, what else would one do?). This top allows for just that, plus it still makes me look fancy. Win-win.
2. Grey Jeans: The key to traveling home for the holidays: packing light. Considering my entire wardrobe is made up of all neutral colors, this pair of grey denim is *perfect* for pretty much every outfit.
3. Black Belt: Packing light means simplicity. I can add this belt to jeans and a tank, a skirt and a sweater, or even a good oversized dress. Consider it the holy grail of accessories.
Meagan Wilson
Editorial Manager
1. Coated Denim Skirt: Holiday dressing is tricky. On one hand, it's the collective last gasp of, uh, society; everyone is endlessly exhausted and thus wants to basically be swaddled in clothing as comfortable as possible, facing society be damned. Simultaneously, it happens to be the time of year you're likely getting in facetime with eeeeeveryone in your life, especially those most likely to grill you with questions about the most inappropriately intimate details of your life. To boil down the predicament into a sentence? You need to feel cozy, but impressive enough. Enter a skirt that's both easy and forgiving to accomplish that.
2. Black Booties: The easiest way to add height and polish is unequivocally a pair of black ankle boots.
3. Grey Cashmere Sweater: Add one into the mix for ultimate coziness, only in, well, cashmere rather than a crumb-and-stain-covered hoodie. (Joe Fresh quite literally has *the* best cashmere selection... Don't sleep on it.)
Noah Lehava
Senior Editor
1. Flats: I have to say, I love wearing flats. They're comfortable and these are pretty enough to take me from the office to all the after-work holiday parties.
2. Velvet blazer: If I could get away with wearing exclusively velvet all season long, I would.
3. White silk blouse: The absolutely most versatile and chic item in any wardrobe is a white silk blouse, IMO. I would wear this one with a sequin or a pleated crushed velvet (told you I was obsessed) skirt. Or, anything else.