Celebrity
Suki Waterhouse & Best Friend Poppy Jamie Launched a Bag Line & It's Adorable
So is their friendship.
Travis Schneider
As far as we're concerned, starting a business with our best friend would either be the best thing ever or a complete and utter disaster (something about trying to maintain a budget between the two of us sounds scary). But for Suki Waterhouse and her BFF Poppy Jamie, the situation is decidedly the former: starting a business together has been the best thing ever. And we mean that in multiple ways. Best for them because they get to hang out together and call it work (and if the fits of laughter that went on throughout our interview and photo shoot are any indication, that's a great time); and good for us because we get the fruits of their labor: the adorable, customizable bag line, Pop & Suki. All the *Insta-girls* (aka their girl squad) already love it (Cara Delevingne, Georgia May Jagger, Paris Hilton and Lucy Hale are just a few who have posted their customized bags on their feeds), and now we do, too—largely because you can inscribe the camera-bag style in whatever way you choose, and because it comes in *that* shade of pink. The nicest part of the new line (there's also a supremely useful tote-bag style), is that it feels like a celebration of friendship, down to the Best Friends charm you can share with your bestie. And then there's the co-founders, who truly are best friends forever. We mean, just look how they talk about each other… (We swear we didn't prompt them to be so lovey-dovey—this friendship love affair is the real thing.)
---
They met at a bar:
Suki Waterhouse: "It was very dark and misty... I saw this girl with a big laugh and a big smile and we were just really drawn to each other. I never find anyone who's quite up to par with dancing, but she was."
Poppy Jamie: "I saw this girl in this incredible pink outfit—it was by Emilia Wickstead, I still remember 'til this day, it was so unbelievably beautiful—and I remember that as the outfit of my dreams, and this girl must be too. It turned out I was right."
Relationship status:
SW: "We're married all the time. If you look our birthdays up in The Book of Relationships, it says, 'Best for marriage.' It makes a lot of sense."
PJ: "It's like we're Mom and Dad, and Pop & Suki is our baby. I actually got told that we were in a past life together."
What it's like to work with your best friend:
SW: "It's wonderful. I really wouldn't have it any other way because I'd just want to kill anyone else."
PJ: "It doesn't feel like work. Recently, now that everything's manifested, and we've worked so long, to have someone that you can squeal with over all the excitement is just the best. You get each other even more excited."
SW: "Poppy's got an amazing gift of connecting people—she's a real charmer. You can ask Poppy anything, she's got a number for anything and she knows everyone. She's amazing at connecting people and organizing things."
PJ: "And Suki's been so immersed in the fashion world for so long that her knowledge of fashion is insane. She's looking at me like I'm crazy, [laughs] but it's true!"
SW: "I'm sorry, I think I have a terrible fashion sense."
Why customizable bags:
SW: "We started with wanting to do fanny packs because I had this really great fanny pack that I found at a vintage store in L.A. We were on Pinterest for a while just gathering things."
PJ: "We love [to] celebrate how people can be individuals [with customizable aspects]..."
SW: "Also, to make it accessible. I didn't know anywhere else where you could do custom bags [at this price]."
PJ: "We love customizable [sneakers], and thought, 'Imagine if you could transfer that model onto handbags, and be able to really make yours, yours.' That was a really cool concept to us. I'm obsessed with my pink camera bag and I have Pop on the bottom."
SW: "I have ones that are just plain. I actually love having a plain one with a luggage tag that has SW on it."
PJ: "I love attaching my luggage tag to my tote because it adds a little extra element and my tote is my staple—for the laptop, gym clothes, everything you could possibly fit in a bag… Suki and I are the most disorganized girls, so we have to bring around the kitchen sink with us wherever we go. I need to try to be tidier."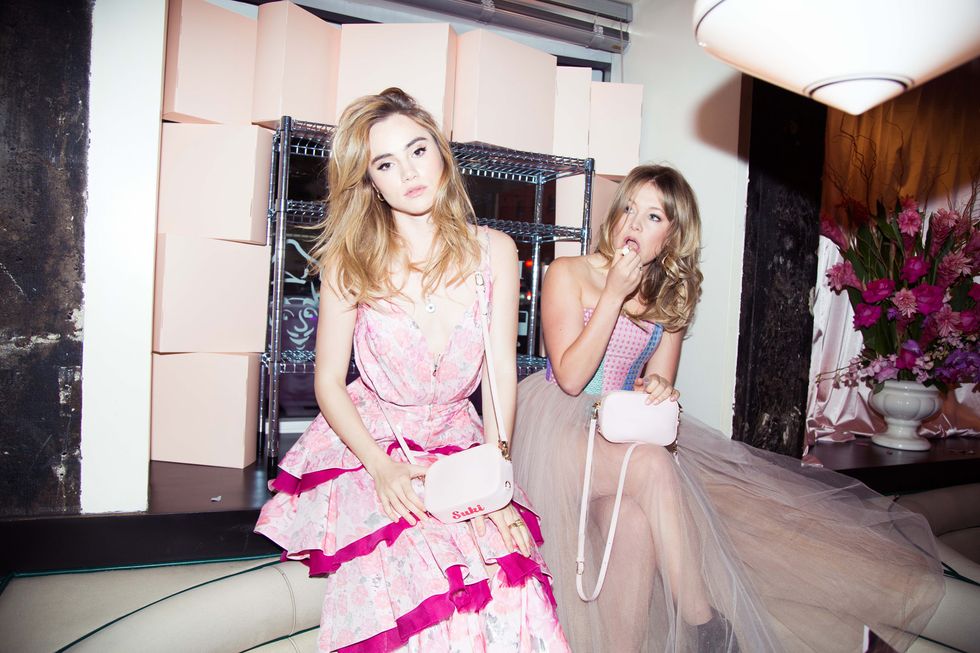 So what exactly do they carry in their bags?
SW: "Poppy carries a lot more than me. Poppy has multiple bags…"
PJ: "I have a laptop, outfits, makeup, phone charger…"
SW: "I just carry cash and hotel key cards and credit cards… But Poppy's got a full bag of makeup in her camera bag. I actually stick my 35mm camera in there too—fun pun with the camera bag…"
How their style factors into it:
SW: "We're both squealing, fluffy, pink girls. I've always been the girl who wants to go out in a sprawling tutu, as well as being really tomboy-ish sometimes. Poppy's just a squealing maniac who loves pink as well."
PJ: "I wanted to steal these insane Jimmy Choo sneakers from her, but she lost them and they don't make them anymore."
SW: "I haven't stolen anything from you…"
PJ: "There's nothing you want to steal?"
SW: "I want that high-necked Topshop T-shirt of yours."
[laughter]
The one person they still want to see wearing their bags:
PJ: "Hillary Clinton. I'm with her."
How they spend time together when they're not working:
SW: "We like going on adventures."
PJ: "We love camping."
SW: "We love a camping trip in the garden. We go to my parents' house in Chiswick and camp for the night in the garden and act like we're 15 again. Or 11. And we make fires."
The emoji that they think best represents the other:
SW: "Poppy would be the pink heart wrapped up like a present because she's a gift in my life every day."
PJ: "Aw, that's so sweet! Suki would be the balloon because she lifts me up."
SW: "I don't know how you just came up with that!"