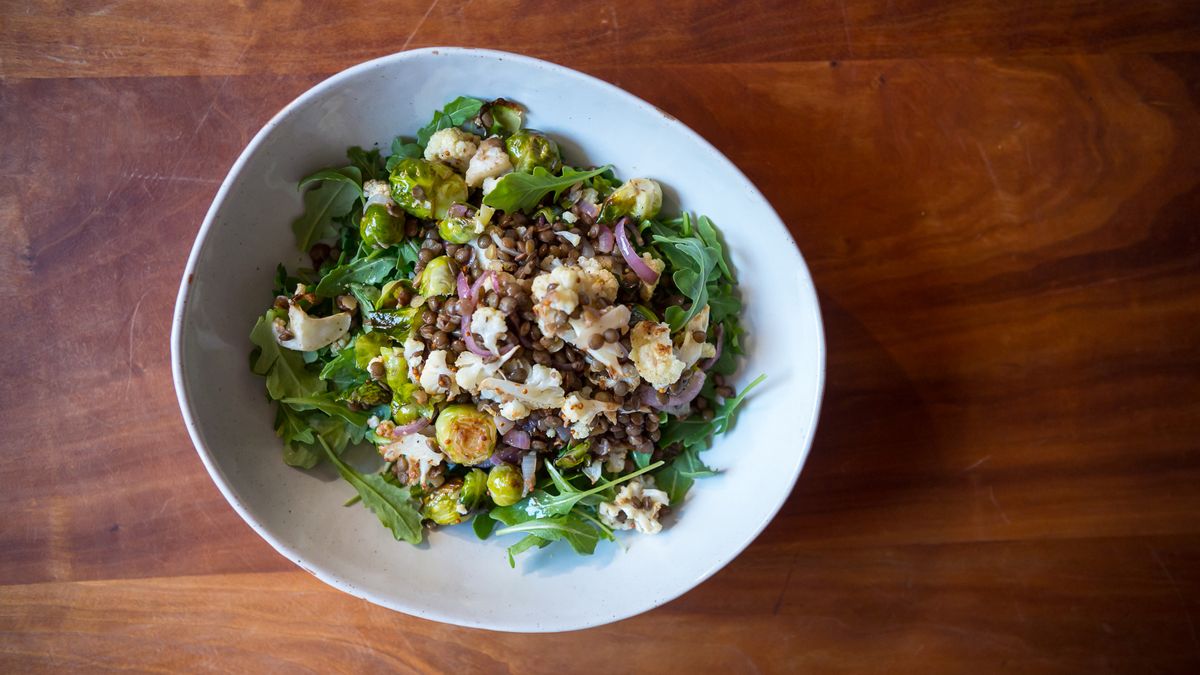 Food
Greenhouse Juice Co. knows what's up.
Daniel Kim
It's the time of year where we want every meal to be warm and comforting. Salads are no exception (weird as "warm salad" might sound), and we've come to realize that when done properly, a warm salad is downright delicious. We got word that our ever-healthful friends at Toronto's Greenhouse Juice Co. are coming out with a cookbook (!!!), so we figured it was only right that we turn to them for a tasty warm salad recipe that we can eat all winter. Greenhouse co-founders Hana James and Emma Knight cooked up (literally) a recipe just for us that, by the looks (and taste) of it, we're going to be making for the rest of our lives—or at the very least, until spring thaw. Yeah, it's that good. Prepare your pots and pans, you're about to blow your roommates/S.O./in-laws/yourself away with this one.
---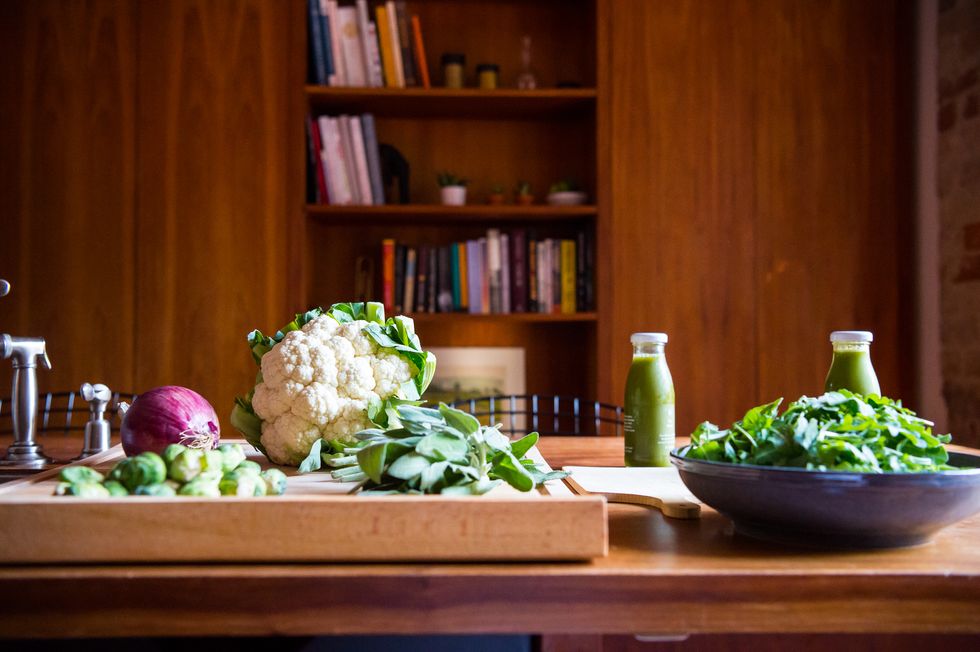 1 cup brussels sprouts (trimmed, halved if large)
1 cup cauliflower florets (chopped)
1/2 small red onion (peeled and cut into thin strips)
3 tablespoons olive oil
2 cups French lentils
1 tablespoon fresh sage (chopped)
2 big handfuls baby arugula
Coarse salt & pepper to taste
VINAIGRETTE
 
1 tablespoon grainy Dijon mustard
1 tablespoon white or red vinegar
1/2 tablespoon full-bodied red wine
1/4 cup olive oil
Touch of honey
Coarse salt & pepper to taste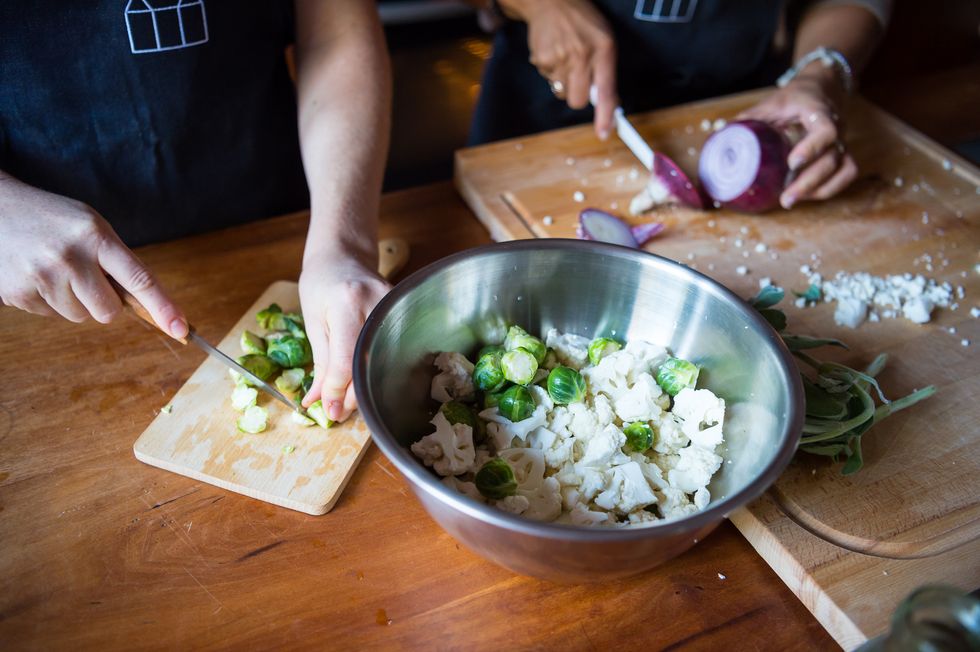 1. Preheat the oven to 400°F.
2. Place 1 cup of dried French lentils in a fine mesh strainer and rinse them. This will yield roughly 2 1/2 cups of cooked lentils: 2 cups for this recipe, and a 1⁄2-cup buffer because, frankly, you never know. Place them into a pot with 2 1/2 cups water and bring to a boil. Reduce the heat to a norm core medium-low and cook for 25 minutes or until toothsome but not chewy.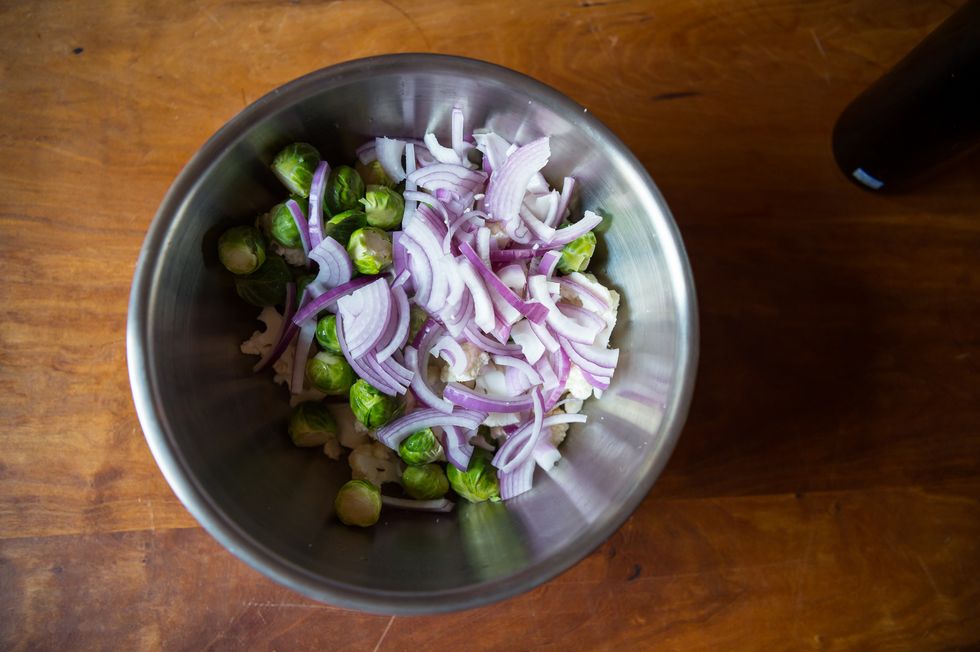 3. In a mixing bowl, toss the trimmed brussels sprouts, cauliflower florets and sliced onion with 2 tablespoons of olive oil (or enough to lightly coat the vegetables), a pinch of salt and some ground black pepper. Spread the vegetables on a rimmed baking sheet (it can be lined with parchment paper if you're organized like that, or go commando if you're bold) and roast for 18-20 minutes or until softened and slightly golden, mixing them around with a wooden spoon after 10 minutes.
4. Spread the chopped sage on the baking sheet, drizzle it with 1 teaspoon olive oil and a sprinkle of salt. Toast for 5 minutes, or until crispy and aromatic.
5. To make the vinaigrette, pour yourself a glass of full-bodied red wine. Splash some into a small bowl and use a miniature whisk to combine it with the dijon, vinegar, honey, and olive oil (if you only have regular-sized whisks, consider expanding your collection). Add salt and pepper to taste.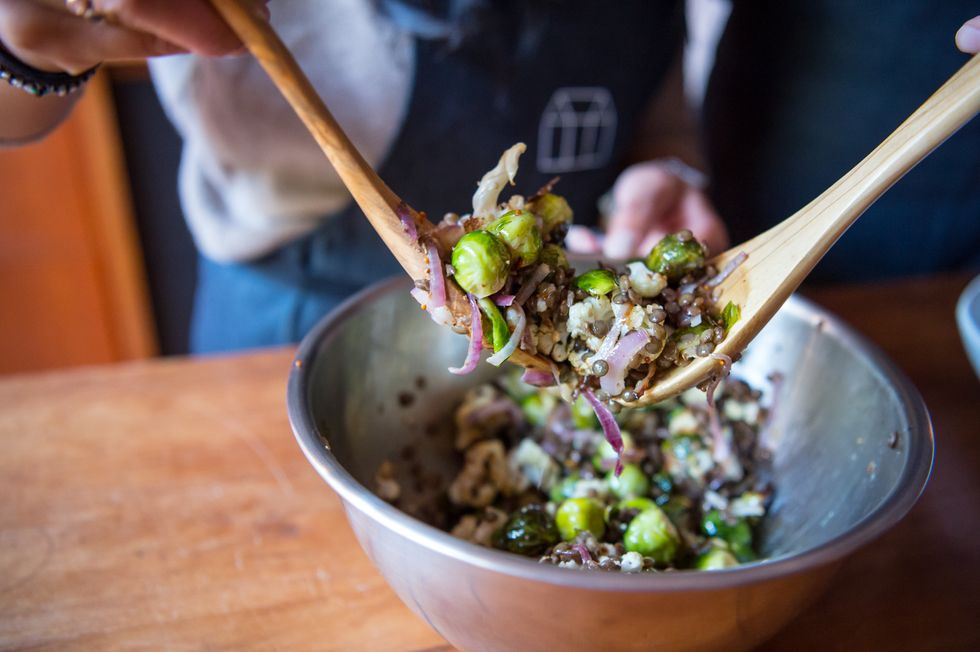 6. Combine your roasted vegetables with the lentils, and toss in vinaigrette until just coated.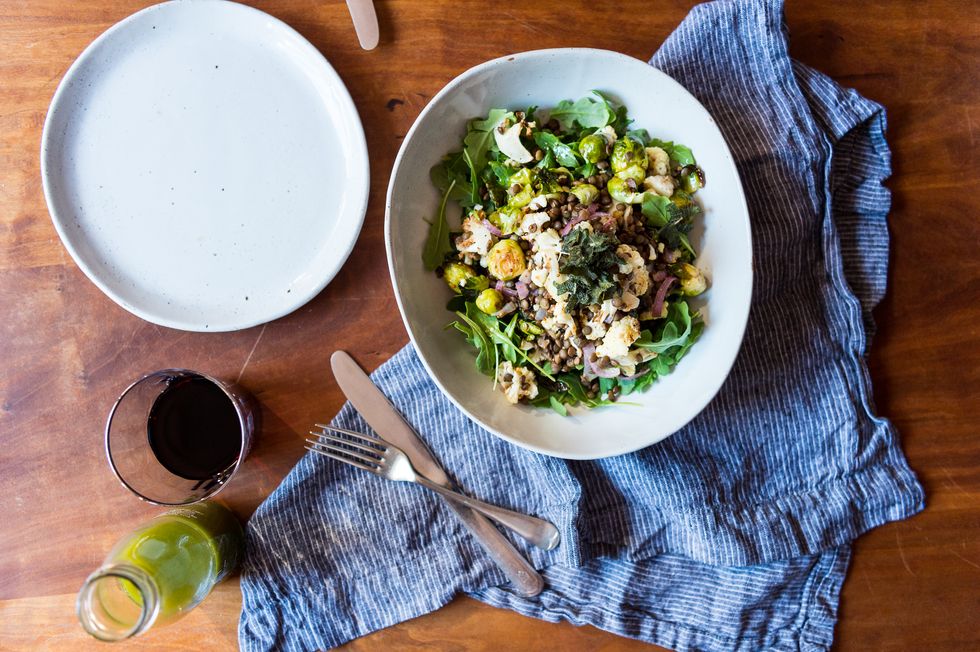 7. To serve, place the baby arugula (adult arugula can be bitter; draw your own comparisons) in a shallow serving bowl or on individual plates, and drizzle with the remaining tablespoon of olive oil. Arrange the vegetables and lentils on the bed of arugula, and top with the toasted sage and another sprinkle of salt and pepper. Serve with what's left of the wine and a hunk of crusty bread. Voilà: a warm, nourishing salad is served.