Fashion Week
How French Singer SoKo Does Fashion Week
By sitting front row and wearing CHANEL, for starters...
Stephanie Mark
Let's play a little game, shall we? Truth or Dare?
If you said "Dare..."
---
...Imagine a better scenario than hanging out of The Peninsula Hotel terrace, sun glaring on a September day, right smack in the middle of Paris Fashion Week—peering down at the sartorially-peacocked-out editors racing from show to show below. French singer SoKo—who had a successful acting career before turning to music in 2007—is perched up on the railings beside you, decked out in head-to-toe CHANEL Cruise 2017. Good start, right?
It only got better from there—think: three outfit changes, all creations from the maison's Cuba-inspired collection, which we were emphatically documenting. Starting off in a white button-down blouse with encrusted palm tree and pineapple pins and progressing into a classic pink tweed blazer thrown over a "Viva Coco Cuba" tee, which she paired with a green sequin bag (because, of course). Her final look was an all-black rose-embroidered top she accented by tying an oversized silk scarf bow.
Like we said, imagining anything more perfect is next to impossible.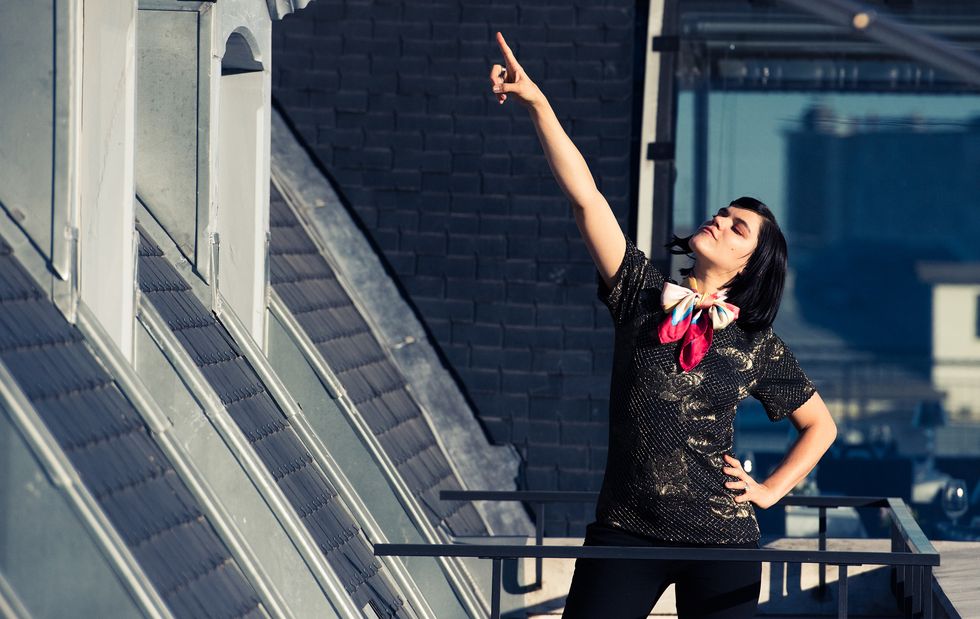 The truth is you're about to see SoKo everywhere. But as much as she isn't new to the scene—she's actually been on the indie pop circuit for nearly a decade, and has just released her latest album with all its expected introspective, dark, and beautiful songs—she's finally starting to get the attention she deserves, not only for her musicality but also for her unique, refreshing style. And she counts Karl Lagerfeld (*cough* so much CHANEL *cough*), Giambattista Valli, and Stella McCartney as fans, who regularly save a front row spot for her at their shows. NBD.