Alessandra Ambrosio's Guide to Los Angeles
Eating cake and talking pasta with the Victoria's Secret Angel.
Models
You find yourself in the land of reiki, turmeric tea and cryotherapy with a world-famous supermodel slash actual Victoria's Secret Angel—only the first place she wants to go is Sweet Lady Jane, the widely-loved bakery that specializes in sky-high tiered cakes. Nothing's wrong with this picture (in the least)—it just wasn't quite what we were expecting when we heard Alessandra Ambrosio wanted to show us a few of her favorite places in Los Angeles, y'know?
After we'd gotten our fill of desserts, it was off to browse Fred Segal before posting up next door at Revolve Social Club (we gave a mini-tour of the members-only space on Snapchat) where she personally walked us through the entirety of her Ale by Alessandra line with the brand (it's new for the holidays, and it is *good*). Here, her favorite pieces from the collection, how she's prepping for the upcoming Victoria's Secret show in Paris (watch this space: we'll be there, too), and the rest of her Californian must-sees and dos (including the best pasta in the entire damn city).
---
"At Sweet Lady Jane, I love an afternoon tea; I love drinking green tea and having a piece of cake. It's not every day that I do it, but I love taking my kids there, or when I have friends in town visiting, or my family, I love taking them there—or I'll buy a nice pie. They have beautiful apple and cherry pies. There's this salon nearby where I get a manicure, so sometimes I'll pop by and get a piece of the cake. Not too near the Victoria's Secret show, but after the show, from December to the holidays [laughs]. And I just love going there. I call them and I reserve three or four pies and cakes for Thanksgiving.
"I really love the Triple Berry Cake, and I don't feel so guilty, because it has all those antioxidants in it, so I'm like, 'Okay, I just had all the berries!' It's so yummy.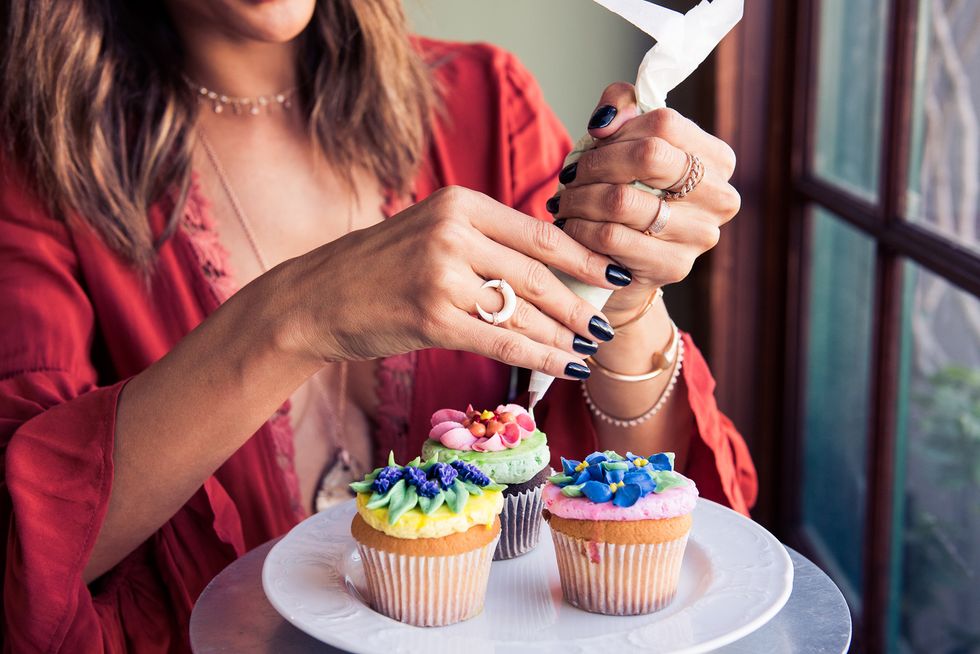 "I like M Café for healthy food. I usually have the salmon bowl with some brown rice and some veggies, and it's very healthy. Or, they have some salads and green juices. I love going to Kreation Juicery and Juice Crafters. Every day I have a fresh juice; I'll do a green juice or sometimes I'll do a protein smoothie.
"One of my favorite restaurants here is Gjelina. It's an amazing restaurant in Venice, and that's my favorite spot to go.
"The most special restaurant to me is Giorgio Baldi. It's the best pasta. When I have a special occasion, I love going there."
"I've been shopping at Revolve for a long time and I love what they do. All the clothes that they have are so affordable, everything is trendy, and it's very current, so you don't feel guilty buying something. They approached me and asked if I wanted to create a collection with them, and I was really excited. They're in California, so I can be with them all the time, I can meet with them, and I love the way that they make clothes. It was perfect.
"[The collection is] bohemian-chic, a little bit of rock and roll, flowy dresses for the day, sexy dresses for the night. That's what I wear, and I just love making something cute for girls to wear.
"I love going to Forward by Elyse Walker. It's in Pacific Palisades, and my daughter studies a block away from there, so sometimes I'll just go there before I pick up my daughter. That's my favorite place. Also, Curve is a great boutique. Fred Segal is a classic. Before I lived here, I used to go there all the time and it's such a great collection of things.
"I like walking on Melrose Place, it's a very charming street and they have the costume place there. There's a great place to do facials there, and the best boutiques. Isabel Marant, Chloé, there's so many."
"I get everything done when I'm out of the city—for massages, and my hair, everybody's from New York. I'm usually on the road and they do my hair color and cut my hair. I've been working for a long time, and since I became a model they still do everything for me so I actually never really go to a salon. There's one facialist here, Terri Lawton, she's great."
"Right now, there's one month to go before the Victoria's Secret show, and I started working out with Tracy Anderson about a month ago, and I really love it. There's a lot of dance moves, a lot of lifting ankle weights, working out the butt, and a lot of cardio, and I love it. I'm so into her, I go to the studio and sometimes I spend an hour and a half to two hours there. It's so good because they put the music on really loud. I used to hate doing cardio, and this is the first time I'm actually loving it. You just feel like you're in the club dancing, pretty much, but I don't have the energy to go to clubs and dance all night, so it's nice to sweat and be healthy but do something that I love."
"Right now, when I have friends coming to town, I love taking them for dinner at Catch, that's my favorite new spot. At nighttime, there's a great ambiance with music, and drinks, the food is delicious there, and the place is just gorgeous. You can be outside with your friends, it's just a great place. I love having brunch at the Soho House in Malibu. I love being by the beach and being there for brunch, and then maybe go to Nobu at the end of the day to watch the sunset. Those are my must-gos. The good thing about L.A. is that you need to be outside. Overlooking the Pacific Ocean, the sunsets are the most beautiful so I'm always posting pictures of sunsets because I cannot contain myself.
"[From the collection, I'd wear] the nighttime dress, with the lace-up on the side; I love that dress because I just feel that it's gorgeous to wear for any special occasion. It's chic and sexy and it has the beautiful side lace-up detail, it ties on the body, but it's comfortable too. You can still move, you can go out and dance if you want, but if you just want to go to a beautiful dinner or event, you can do it."