Sneaker Week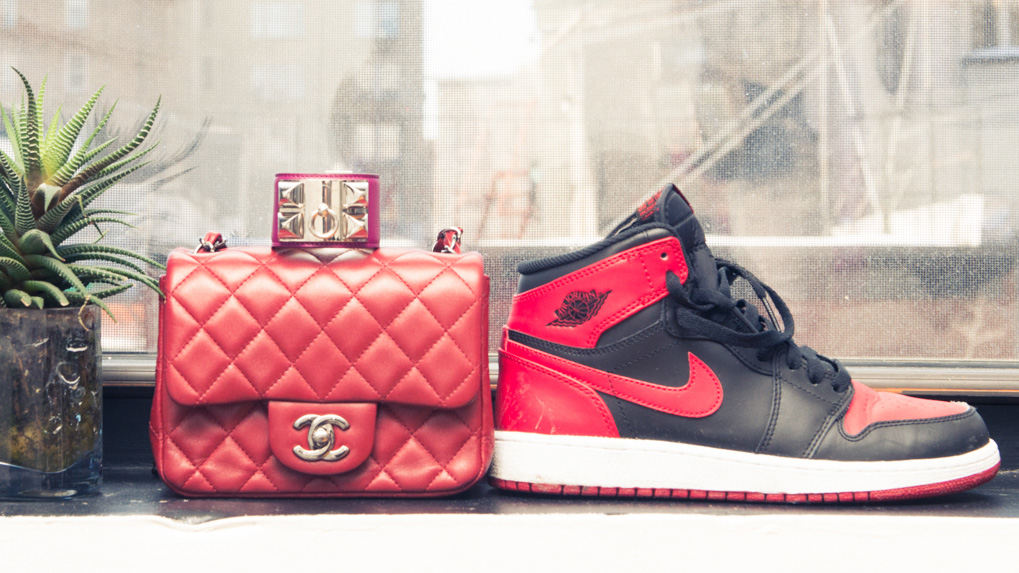 How We Dress Up Sneakers For Any Event
Because you're crazy if you think we're wearing heels.
At this point in Sneaker Week, you're probably a little tired of the word. To be completely honest, we are, too—but we're not tired of wearing them, thinking about them, or writing about them. In fact, we'll go to extreme lengths to avoid having to take them off (see Jodi's comment about wearing them with a Balmain mini). But they're not just comfortable—wearing athletic shoes (see what we did there?) in a setting where they might not naturally be the most obvious choice implies a certain confidence and stylishness that we're totally down with.
And so, here are all the things we're pairing with our...uh...tennis shoes, so that we can literally wear them anywhere.
Emily Ramshaw
Senior Editor
1. Baume & Mercier Watch: Want to feel like an adult? Wear a watch. It's honestly as simple as that. Any juvenile sneaker vibes will immediately be counteracted.
2. Equipment V-back Sweater: Keeping on the comfy, but *refined* theme, a sweater (in cashmere) is key. Extra points for the V-back detail on this Equipment style.
3. Prada Pants: I like a pair of fancy-looking (but very comfortable) wide-legged pants with my sneakers. This Prada pair is like a high-fashion printed iteration of track pants and therefore perfect in every way.
Noah Lehava
Senior Editor
1. Moncler Leather Sneakers: These don't need an explanation. They are the real hero of this look.
2. Derek Lam Sweater: A good cozy knit is a cornerstone in my closet. I love this one especially because it manages to remove any granny connotation with clever cutouts and a sleek fit.
3. J Brand Black Skinny Jeans: You know how we always ask our Cov friends what they have in bulk? Yeah, this would be my answer.
Laurel Pantin
Editorial Director
1. J. Crew Teddie Pant: I've mentioned my all-time favorite jean on this site many, many times (it's the Levi's Kick Flare, FYI), and now I'm revealing my other secret favorite trouser. It's J.Crew's Teddie pant—just stretchy enough to be comfy, cropped, flared, and slightly high-waisted. In other words, they're perfect and they *look* like work pants, but *feel* like yoga pants. If I'm going to wear sneakers, I'm not throwing on some tight, awful, uncomfortable thing on top.
2. Topshop Blazer: I love this blazer. On Topshop's website it's styled with nothing underneath and it's heaven. This would look excellent with my pink Teddie pants, a pair of white Vans SK8-Hi, and….
3. Baume & Mercier Watch: ...a gorgeous watch. Three steps to looking like a grown-up in sneakers!
Alicia Cesaro
Senior Editor
1. Chloé Top: Luckily, in our line of work we can basically wear anything, anywhere. It's probably the only industry where jeans and sneakers are red-carpet appropriate and after-work events don't require a change of shoes. So dressing up means throwing on a silk blouse, like this billowy satin one in the prettiest shade of lavender.
2. Jonathan Simkhai Culottes: My rule of thumb when dressing up sneakers, since I wear them almost every. single. day., is to pair them with pieces I would have previously worn with heels, like these culottes.
3. Nike Sneakers: Yup, my silver shoe (and sneaker) obsession continues.
Jodi Taylor
Assistant Editor
1. Filling Piece Mid Mondi Ultra Black: I am dying to own a pair of these sneakers, and once I get my hands on a pair you better believe I will be wearing them absolutely everywhere, fancy dinners included.
2. Balmain Draped Satin Mini Skirt: When looking to dress something up, what better way to go than Balmain? This skirt will allow me to show off a little bit of leg, while I remain comfy as hell in my sneakers.
3. Yves Salomon Fox Fur Jacket: Forget about a cozy chic sweater, I'm pairing this stupidly amazing fox fur jacket with my skirt-and-sneaker combo. It's pretty much the icing on the cake for any outfit—all I need is a plain turtleneck underneath and voilà, I'm ready for any event.
Meagan Wilson
Editorial Manager
1. Jacquemus Coat: I've said it probably one million times, but a fancy-ish, kinda cool coat is really the key to getting away with wearing whatever sad-sack combination you slap together on mornings when you just. can't. deal., which usually involves sneakers of some kind. Jacquemus' outerwear tends to be the non plus ultra of this highly specific need.
2. Stella McCartney Skirt: I stayed away from pairing sneakers with anything skirt-y for an unsubstantiated fear of looking like Avril Lavigne (Converse with poufy prom dresses is a '00s trend I deeply hope is never resurrected). This Stella skirt, however, was made for dressing up clean, white sneakers.
3. Stephen Webster x Tracey Emin Necklace: When in doubt, always add a fancy piece of jewelry.