Sneaker Week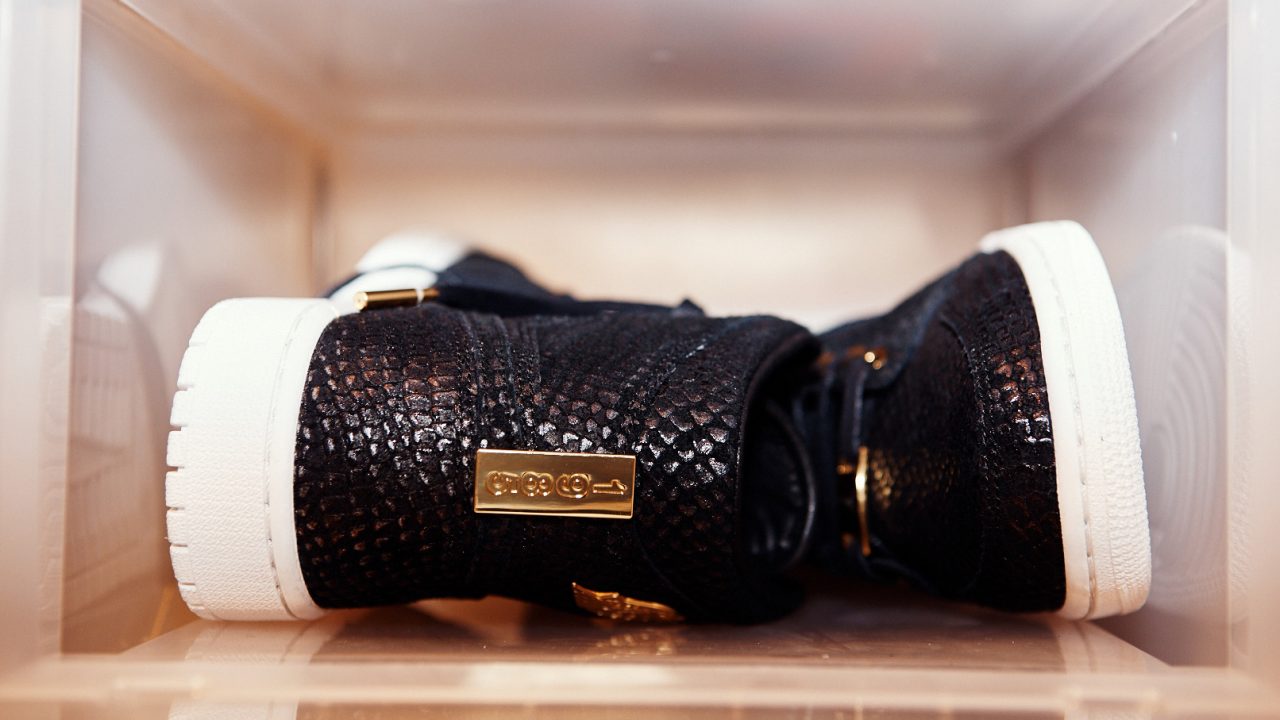 All The Crazy Ways Collectors Store Their Sneakers
From aisles of clear plastic containers to drop-front boxes.
You know those dividing-the-world-into-two-camps memes that are so spot-on, you can't believe you never thought of it that way before? Like the two polar-opposite types that either have 1,352,325 unread emails versus those who can't stand the sight of a little red "1" hovering on the corner of their messages icon. Sneakerheads should have one of their own: the ones who wear their sneakers to death, and the ones who keep them so pristine they could be on display in museums (and sometimes end up there). But whichever circle they fall under, they share one common trait: they love shoes. So we went to some of our sneakerhead friends, whose collections are the best in the world, to find out how they categorize, store and keep their prized footwear.
To Preserve or To Wear?
"I try to keep my sneakers relatively clean, but I'm not the type to not wear them in order to keep them new. I think it's lame to have things and not wear them, otherwise it's just a waste. I like being able to wear my favorite pieces and not worry too much. Obviously you're not going to wear something like a Yeezy Boost in the rain, but I'll wear them any other time. And I'll retire my sneakers before they get too run-down—it's never a good look to have shoes that are super worn-out!"
Storing Technique
"I keep half of my sneakers at home and half of them at my office because I don't have enough room in my apartment for all of them! I keep them in my closet and hallway at home and I'm not too picky about how they're stored. I only stuff the toes of my sneakers that don't keep their structure very well. At work, most of them are under my desk and some are in boxes. I used to throw away all my shoe boxes but some of them are really nice, so it's hard to part with them. Ideally I'll have a big enough place to store them on shelves on a wall, kind of like a sneaker store!"
The Art of Maintenance
"I'll usually wipe them down with a Jason Markk wipe when they start to get scuffed up. Sneakers like a Nike Presto that are usually fabric get dirty very easily, and if you spill anything it'll show up right away. If that's the case, I'll just pour Jason Markk cleaner over them and scrub it out, rinse and dry. For shoes that have deeper stains, I throw them in the washing machine. They usually hold up well but some might unravel and fall apart, so it's best to Google what shoes you can and can't put in the machine."
The Name Of the Game Is...
"Organization. It has to be key. The reason I use the clear boxes that you can see through is not because I want to be the coolest guy in the world. For one, it helps with being neat, and I'm a Virgo, so I'm a neat freak. I have to find what I'm looking for, [which is] where the clear boxes come from. If I keep stacking sneakers on top with the cheap-ass boxes, [it's a] domino effect—everything falls, I'm pissed off and I start crying in the middle of the floor."
The Non-System System
"No, [there's no system]. I know where everything is; I remember where I put it."
Isimeme "Easy" Otabor
Buyer for RSVP Gallery; Consultant
Storing Strategy
"I store my kicks pretty normally, I guess, just put them back in the shoe box and store them in my closet for organizational reasons so I don't have shoes spread all over the place."
Keeping Character
"Usually [I don't clean the shoes after I wear them]. I'm about every sneaker [having] a little dirt and scuffs [to] add character."
His Shoe MO
"Don't keep them fresh. Wear your shoes, get them dirty and enjoy them. No shoe lasts forever."
Time-Saving System
"I wear [my shoes] to the ground! With that being said, if I really love the pair, I will definitely get a second and put them in storage until it's time to break out the new pair. Older sneakers that I don't wear anymore, I leave in their boxes. Anything in my current rotation will be on the shoe rack. Let's just say my collection is one big mess. If I was smart, I would have been organizing and categorizing them from day one, but who has time for that?"
Wear Them Hard
"Truthfully, I love beating up my sneakers. They're meant to be worn, you know, on your feet, out in the wild. If you don't wear them hard, you'll never have any good stories of how they got that way. For cleaning in the past, I've used a Magic Eraser, which is actually low-key amazing and the Jason Markk shoe-cleaning kit. But again, who has time to clean their sneakers?"
Mike Camargo
Sales & Marketing Consultant
Box Switch
"I switched to drop-front boxes really recently because the other lid containers are hard to access when you're stacking 15, 30 pairs. Now I can actually get to a shoe. It used to take me so long to get dressed because I couldn't get to what I want, and I end up wearing the same shit all the time. It's like the cereal aisle."
Multiplication is the Key
"I hate how now sneaker collecting has become this super [prissy] thing. My nephew's really into sneakers, but he'll get one, refresh it, and then trade it for one. It's like nobody's wearing their shoes. It's this thing where it's like, 'I'm gonna get it, I'm gonna sell it, I'm gonna flip it.' I'm not about that. That's why I have 10 pairs of something, because I'm going to beat the shit out of it, and I'm gonna wear another one, and I'm gonna wear another one. I've literally gone and bought 13 pairs of one shoe because I'm going to wear the hell out of it."
Dennis Todisco
Owner, Hand Over Fist Consulting
Keeping the Character
"The trick is really just to not worry about [cleaning your shoes]. I have a pair of Jordan 1's that are super worn-in, but I can remember all the countries I've taken them to. Certain silhouettes look better beat up a little, it gives them character. At the end of the day, just wear your shoes and have fun. Don't take it too seriously."