Career
Fashion industry, listen up: He shared all his secrets with us.
Alec Kugler
Emily Ramshaw
Andy Dunn might be the ultimate, wildly successful tech startup entrepreneur: he speaks in sound bites and buzzwords as though he's about to step onstage at a TED Talk (which, honestly, makes for a lot of valuable takeaways when you're talking to him one-on-one); he's brimming with advice (you don't even need to ask); and he remembers just about every moment of his story in minute detail (which is full of fortuitous "accidents"). And it's true: Dunn is wildly successful. In 2007 he launched his company with a Stanford MBA classmate—it doesn't get more tech startup-y than an origin story like that. Thing is, at face value, Bonobos (Dunn's company in question) is a fashion company—it's a retailer that makes well-fitting, easy-to-buy-and-wear clothes for men (in other words, the place where the men in your life who hate shopping might actually like shopping). Why should we care? Because it's Bonobos' model (direct-to-consumer, almost completely digital save for their Guide Shops, fanatical customer service, excellent fit) that sets them apart. Like most entrepreneurs, he's best at explaining it—suffice it to say we wish we thought of it first. The thing is, all Silicon Valley ribbing aside for a second, talking to Dunn about Bonobos and how it revolutionized retail is fascinating. Evidently, he's a good case for why the fashion industry should be taking cards from Silicon Valley's deck where risk (and big change) equals major, multimillion dollar rewards. And honestly, if you ever get a chance to see Andy Dunn talk at a TED Talk or a conference or anywhere, you should totally go.
---
Bonobos actually started as an MBA project:
"[Bonobos started as] my co-founder's class project [while at Stanford for our MBA]. For a year and a half, he was talking about how men's pants don't fit and he had this crazy idea that he was going to make better-fitting pants. He was headed to Brazil for a wedding at our midterm break, and right before he left, he was like, 'Should I go to Brazil for this wedding or should I go down to L.A. and buy fabric and start making pants?' He'd done this project which asked, 'Do you like your pants?', and the answer for most guys was no. Why not? They don't fit that great. And do you love shopping for them? No. So what do you wear? The answer is basically, 'I wear denim whenever I can unless I have to wear pants.' Brian's insight was that if, just for example, you're playing sports and you have bigger thighs or a big butt, pants don't fit properly.
"As it turns out, Brian canceled his Brazil trip and went to L.A. to buy fabric and found a pattern maker in San Francisco. He had this core insight that he was going to make the pant with a curved waistband which better fits your anatomy at the top—you can grade the thigh to the waist in different ratios that accommodates a more athletic build."
And that's where Dunn came in:
"I'd spent my years [at Stanford] absolutely falling in love with the culture around the consumer internet in Silicon Valley. If you think about the context, we were there from '05-'07. Facebook launched in '04. Then Twitter launched in the Valley by Evan Williams and Jack Dorsey. LinkedIn was this new networking thing we were all using. It was the rise of the consumer internet.
"Then Brian came along with these great-fitting pants. I was like, 'Wait a second. Maybe this is the internet-driven company I've been looking for, but in a really new way where we would actually sell and tell stories and have great service with a physical product.' Not to be self-aggrandizing, but in 2007 that was a very contrarian and new idea. This was pre–Casper and pre–Warby Parker, pre–Everlane, pre–Dollar Shave Club; pre-everything that is what I call digitally native brands. Meaning, they are born online, but they actually are not e-commerce companies, they are brands that are creating a physical product delivered via a digital-first experience."
And then came the investors:
"I went to our professor Joel Peterson, who was the chairman of JetBlue and an amazing career investor and company builder. Joel and I met at six in the morning, which was way before my best hours. I pitched him on the idea of taking these great pants and building a digital brand to deliver them and in doing so, offer what I thought would be a better customer service experience because it was digital-first. My first job out of college was working for a consulting firm called Bain. In my second year I was assigned to work in Dodgeville, Wisconsin, on Lands' End—I saw the amazing direct-to-consumer apparel culture of Lands' End, where it wasn't just about the physical product, but it was also about the customer service. The idea was that the digital brand could actually create a customer experience that your consumers could be maniacal about because it was going to be not just great-fitting pants, but great customer service. We got to the end of the meeting, and he hadn't said anything, so I got kind of nervous. Then he said, 'This reminds me of my first meeting with David Neeleman from JetBlue in that you are going to go into a category that's a little bit stagnant and reinvent it.' He said, 'I'd love to invest.' And he immediately started negotiating against me. I was like, 'What just happened? Now my professor and I are in negotiations? This is really scary.'
"The following Monday I met with a really storied professor of ours who grew up in venture capital. I didn't ask for money—ask for money and get advice; ask for advice and get money. We got to the end and he said, 'I'd love to invest.' I wanted to be like, 'Are you kidding me?' But instead I was like, 'Okay, great! How much?' He said something that really stuck with me: in the history of innovation, many ideas are really contrarian at the time. They sound stupid almost. Better-fitting pants sold over the internet? It just sounds dumb. But it's a really innovative idea. So I moved to New York that fall, just with the sense that the company should be built here. This was the dream! Let's not just prove we can reinvent a category in menswear, but reinvent a way to build a brand."
What Bonobos does differently (and why old retailers can't catch up):
"To deliver on fit you can't just serve one body type. You have to look at all body types and figure out how many silhouettes you need. In our case it's four or five. Then, within each silhouette we offer really deep sizing. We offer 37 waist and inseam combinations—it's really a custom fit. There is no way to do that in a store because you can't stock it. For old brands, the legacy model is stores with stock and stock rooms. From an assortment perspective you have to re-engineer your entire assortment to offer all these fits, colors and silhouettes. The incumbent players can't do the innovation because of the legacy infrastructure of the company. New players could, which is why we are trying to move so quickly. We want to be the next great American menswear brand. Great brands are a way of building a sustainable business: I think of Patagonia, Tesla, Apple and CHANEL. If you build a great brand, other people can knock you off, but there is something more exciting about being with that brand that is the best at it. So we have to be known as the best across the fit and the service."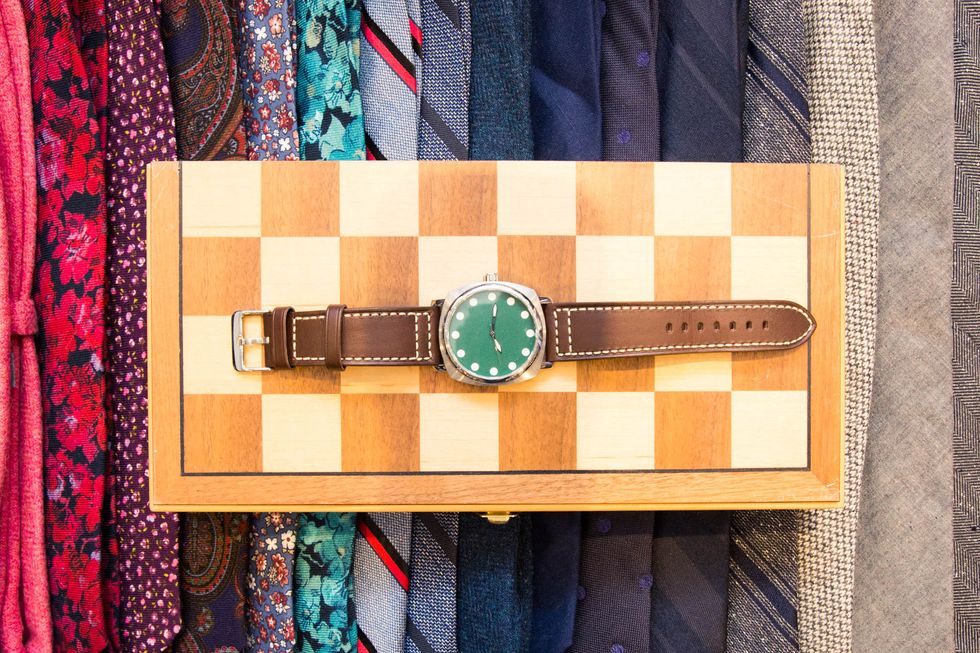 The special part of their brick-and-mortar Guide Shops:
"The Guide Shop is a one-to-one experience [where you make an appointment]. The greatest retail innovator of the last 15 to 20 years was Steve Jobs. When he started opening up Apple stores they put him on the cover of Businessweek and said 'The Beginning of the End' because the idea that a technology company would open stores… And now they are the most valuable stores in human history. Part of what was so cool was the Genius Bar. Which is the idea of creating appointments and one-to-one time. Our whole 'guy chat' model is built on that. You can't shop here without talking to a human and the humans here are empathetic and energetic people with a really good point of view about men's fit and men's style. We can do something that I don't think any menswear brand does, which is instead of saying, 'Look like this,' we can say, 'Look like you and let us help you look like you.' That's the concept behind the brand. We are running a campaign right now that says 'Style is an opinion, fit is fact.' That is the way we think about the appointment: establish the fit and try to figure out the opinion.
"Opening the stores was a total accident. We put two fitting rooms in our lobby to learn how we were doing with development of our second product, shirts. Once we spent four years perfecting pants, we said all right, let's go into shirts and let's deliver on the same concept as amazing customized fit in shirts without the weight and the hassle of custom clothing. What happened blew my mind! Guys started coming in, trying on our clothes, and buying stuff, placing e-commerce transactions right on our website with the help of a guide, and then they walked out.
"Two insights: one brain-dead simple and one totally revolutionary. Guys still want to touch, feel and try on clothes. The part that was revolutionary was that they didn't need to walk out with the product. Everyone in our industry had told us that instant gratification was so important. If we could do the fulfillment for the customer instead of asking them to walk out with bags, we could flip something that people thought of as a benefit and position it as a burden. Why do you want to do your own fulfillment when we can do it for you? Why don't you instead go back to work? Go to dinner! Go the gym. Take your wife on a date. Your clothes will show up at your office or at your home the next day. That was a radical insight because all of a sudden we could totally reinvent retail stores. We can be the first apparel store in human history that doesn't carry stock in the store. And paradoxically, in doing so, deliver a better experience than if we had it. The store is marketing, but it's also service."
On "valuable customers" and humane retail:
"Over time we would love everyone to shop online and come to the Guide Shops because the most valuable consumers are the ones who touch the brand in multiple ways. If you've received a catalog and you've come to a Guide Shop and you shop on the web, that is our very best customer, engaging in all three channels. The ninjas [customer service representatives] are supporting the web trying to make the whole e-commerce experience humane across the board."
The future of retail:
"Sometimes the future is rooted in the past, which is sort of counter-intuitive. If you think about old school menswear, it was about the tailor around the corner and that one-to-one relationship you had with that person. We are bringing that back. We do believe it's the future, but we would prefer people to not think that for a while [laughs]! But it's too late—the cat is out of the bag. For a while people were like, 'What the hell are they doing?' Now, from what I understand, there is a lot of folks trying to figure out, 'Okay, what does the future of retail look like for us? How do we evolve what we are doing?' Or 'How do we think about going back to the past via a technology-enabled model?' We are a technology-enabled retailer. The core product that we are selling isn't a tech product. The core product that we're selling is an amazing customer experience that is a bundle of great fit and great service. But we wouldn't be able to do it without being technology-enabled. We had to be digital-first so we could build this bigger assortment of fit. If we weren't, we wouldn't be able to think about building a great human capital team like the ninjas. We wouldn't be able to reinvent retail with stores without stock that paradoxically gave a little better service. The whole experience is enabled by technology. But at the core of what we do, we are a men's brand."