Food
The Superfood We've All Been Sleeping On
Move over, kale—here comes the kiwi. In collaboration with Zespri.
Alec Kugler
Meagan Wilson
It's no secret by now that every few months, like clockwork, there's some new supposed superfood that's seemingly inescapable. It's the subject of a zillion Instagram posts, headlines, and is suddenly a star ingredient on menus everywhere. Well, we're calling it now—kiwis are about to be that superfood.
Consider it the unsung hero of the produce section: the kiwifruit is loaded with good-for-you nutritional benefits, it's surprisingly transportable, and, well, it's delicious. For instance: did you know that just two green kiwis have the same amount of fiber as a bowl of bran cereal? We didn't, so we're going to go ahead and guess you didn't, either. Two SunGold kiwifruit contain as much potassium as a banana—and three times (!) the vitamin C of an orange. But there's more: kiwifruit also contain actinidin, a natural digestive enzyme found only in kiwifruit, which improves digestive comfort by breaking down proteins. As if that wasn't quite enough, both types of kiwifruit are one of the few natural sources of folic acid, which can boost your mood *and* are low-GI (aka Glycemic Index, also known as how the carbohydrates in a food affect blood glucose). Need we go on?
---
While the kiwifruit is endlessly convenient in the fact that all you really need to do to eat it is cut one in half and scoop it out—it's almost like it was created with our love of bag and desk snacks in mind—we knew we had to find a way to work it into one of our go-to smoothie combinations, too. And so here, a potassium-loaded smoothie that's the perfect pre-workout, pre-workday, or pre-anything snack. We used a combination of Zespri Green and SunGold Kiwifruit—the former has fuzzy skin and is on the tangier side, while the latter is smooth, tropical, and sweet. Just compile your ingredients, blend, and enjoy.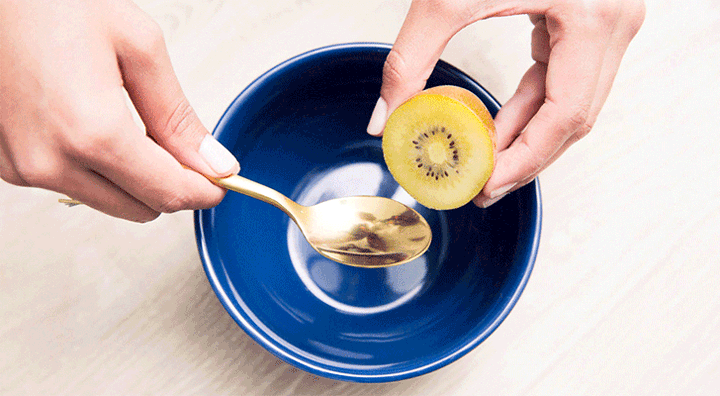 INGREDIENTS:
1 cup almond milk
1 cup orange juice
2 Zespri Green and SunGold Kiwifruit, peeled & chopped
1 banana, sliced
1/2 cup ice cubes
2 tbsp protein powder
1 tsp honey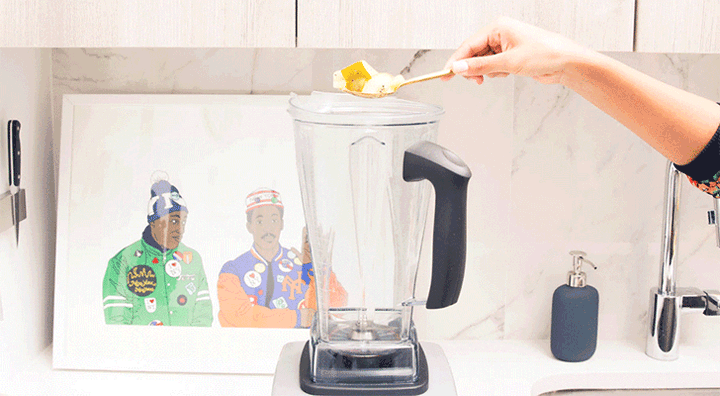 HOW TO:
Blend all ingredients in blender on high for 20 to 30 seconds or until smooth. Serve immediately.