Career
Brides' Editor-In-Chief On The Biggest In Bridal
Keija Minor told us everything that goes into being EIC of a bridal magazine, and it's way more than we expected.
Here's a few facts we didn't know—30 percent of brides get engaged between Thanksgiving and the New Year, with 21 percent of them saying "yes" in December alone. Which means you're about to see a lot of overjoyed pics in your various feeds (or, might want to have a manicure during that month—just in case…).
If that thought freaks you out a little, let this serve as reassurance that it shouldn't. According to Keija Minor, the beyond cool Editor-in-Chief of Brides (a magazine so chic, we read it year-round—betrothed, or already married, or not), the era of the Bridezilla is decidedly over. As is the antiquated idea of your wedding being the ceremony for your father to pass you off to another man to have and to hold and coddle and dandle till death do you part. The fact that same-sex marriage is (blessedly) now legal in the US should be a signal of that fact in and of itself, but hearing it directly from the most respected voice in the bridal industry was doubly reassuring.
Beyond a greater shift in the bridal world, and a reawakening to the fact that, as she put it, "Wanting to go through life with a partner doesn't make you less of a feminist," we learned that Minor is a boss. She's got her eye on every page of one of our favorite print titles, as well as on every. single. aspect. of their print properties. Oh, and did we mention Brides also has a handful of extension brands she's also involved in? When you consider that brides make up one of the most engaged (no pun intended) audiences on the web to date, you'll start to see how major this is. Being a jack-of-all-trades is a requirement of being an editor in chief in 2016—read on to see what we mean, and what the most compelling (and liberating!) trends in both weddings and bridal dresses are for the season.
---
How 'engagement season' impacts their schedule:
"The busiest time at Brides starts now with bridal fashion week, and then just gets progressively busier through the end of the year. Engagement season starts with Thanksgiving and picks up through the Holidays because 30 percent of brides get engaged over the holiday season with 21 percent getting engaged in December alone. This is really our busiest time—what happens is people get engaged and then they start planning. They scoop up all the magazines and they go to the websites, so really the fourth quarter is our busiest time."
Whether weddings are recession-proof and what that means in a changing publishing landscape:
"We are a business. So I don't know if there is any business that can say they aren't affected by market conditions. Weddings continue to happen; people will always get married, and that is a good thing for us. But I think we are cautious of the fact that maybe since the recession people may spend more money than they have ever spent before, but they are looking for value in a way they weren't pre-recession. So just being conscious of that in our business helps our audience, but I don't know that there is any company that's not affected at all by the economy one way or another—even if it's just through the lens of giving their audience information. They know that their audience is affected by it, so we've got to address it from that perspective. And then with media everything is changing and business evolves and so we have to evolve with it."
How internet has changed the publishing and wedding game:
"As with every editor's job, a lot of my focus has shifted to digital, social, video and to everything else, as opposed to just being about print and everything else sorta being on the side. Everything is the focus. Someone recently asked me if digital was more of a focus than print, and I think everyone just has more things to focus on now.
"Digital has been big for us for a while, I think just because our audience is such an engaged consumer. They get engaged and they want as much information as possible, and really don't tire of it when they are engaged. What we see is their consumption of other media trails off a bit or drops off a bit during their engagement period because they are so focused on this. Digital opened up an avenue for us to give our brides more and more content. What we found is that people have always been more hungry for content in this area, especially because most people have never planned a wedding before who are reading our magazine or coming to our site. So they are really looking for guidance as opposed to just surfing for fun. Digital has been big for us for a while."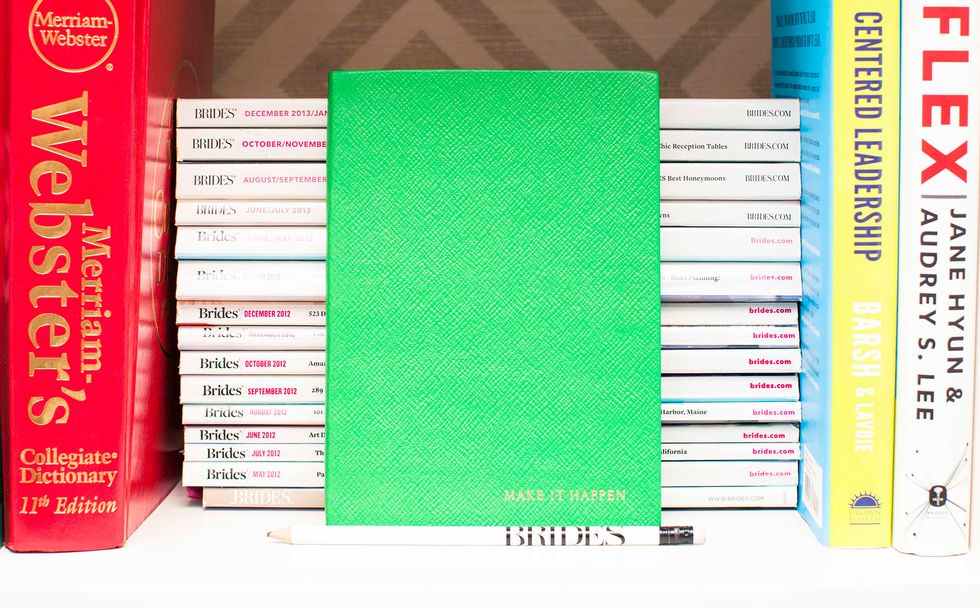 "In a nutshell, five years ago I would say that 95% of my time was spent on print. Now digital takes up as much time, and social takes up increasingly more time."
How the Editor-in-Chief role has changed in the last five years:
"It has completely changed. I got in this game because I love words, and the visual, and shaping the magazine—and [five years ago] we had time to do that. That was a luxury compared to what we are doing now.
"I would say the percentage of time that I am spending on print versus everything else has definitely shifted. I've had to let go a little bit of that and make sure I have an amazing team in place, which thankfully I do, and let them deal with the micro issues. Quite honestly, there is a little part of me that loves dealing with stuff like crafting a Hed and Dek but now it's more like signing off on a Hed and Dek because I've got to look at what we are doing on the site and what we are doing for video and work on some larger, more strategic issues while also talking about what we are doing with Snapchat. We've got a partnership with Snapchat for this bridal fashion week, and we're all excited about partnering with them. This is the second market we've done it, but this time it's a little bit more of a larger partnership, so that is exciting.
"In a nutshell, five years ago I would say that 95% of my time was spent on print. Now digital takes up as much time, and social takes up increasingly more time. I'm a pretty private person, so more when I talk about social it's the brand's social which I'm actually super focused on."
How the bridal mentality is changing:
"It's a great time to be a bride, because couples are really having the wedding they want as opposed to the wedding their parents wanted them to have. They aren't ordering by number and having it at their country club. People are putting a lot of personality and thought into their wedding, and there is less pomp and circumstance—it's more about having a really good time with your friends. That makes it exciting and relaxing in a way, but I think that people think of weddings being this stiff, traditional thing that is entrenched in the traditional roles of men and women and the father giving the bride away to her husband. We are in such a different place now as a society and we're seeing that in weddings."
"One of the biggest trends for the last two or three markets has been sexy!"
Can you be a feminist and still want a big, beautiful wedding?:
"We talk about this a lot. The whole thing comes to a dowry or just a father passing his daughter on to this man who is then going to take care of her for the rest of her life. There has been this idea that if you get excited about your wedding or if you want to adopt any of those traditional elements maybe you are seen as a bit of a throwback. But that's not the case at all.
"Brides are making as much, often more, than the person they are marrying now. It's really about partnership. I think it's okay to be excited about your wedding without feeling like a throwback or you're being anti-feminist. I'm a feminist and a woman who leans in and there is nothing wrong with it. A lot of what it's about now is celebrating this moment with the people who helped you get there and the people who helped your partner get there and then having this great party and experience for your friends.
"I think the days of Bridezilla and that idea being the running commentary [about weddings] are over. We're seeing brides who care so much more about the experience that the guests are having than anything else. They want them to have fun. They want to serve them an amazing meal. They want to have an after-party and continue to hang out with their friends. It's not about the giving of this woman from her father to her husband. It's just not the case anymore—hasn't been for a while! But it's going to take a while to shed that reputation a little bit. Wanting to go through life with a partner doesn't make you less of a feminist. Because these leaders are holding their own."
The biggest dress trends of the spring/summer 2017 market:
"This season, 3-D florals continue to be big, and high-low hems were an emerging trend. One of the biggest trends for the last two or three markets has been sexy! We are seeing that across the board now. There's a lot of illusion, which is like this clear sheer to give that sort of barely-there coverage. It's comforting to know you have fabric there but it's still sexy because it's revealing to certain degrees. We have some people who are doing a little sexy, we have some people who are doing a lot of sexy. We've definitely seen a lot of that in the last couple of years. The off-the-shoulder trend became really popular last year and I think we will see it continue. Then interesting backs—back detail has always sort of been around, but with illusion becoming such a popular trend we really saw designers really have fun with the backs. For so much of the ceremony and reception your back is facing people, and we have seen a lot of beading on the illusion which is nice, and open backs certainly are too."
Which emerging designers she's excited about:
"There are so many. I would say Yolan Cris out of Spain, they are sisters, and they have some really interesting collections the last two years and have a real distinct style and point of view. Speaking of sexy, Mira Zwillinger and Inbal Dror out of Israel, they've done some really interesting things in that space. I say that to people, in a few years we could have a Tel-Aviv bridal week. There are some really interesting designers in Israel!"
What it takes to be Editor-in-Chief:
"I think the key is being a jack-of-all-trades and accepting five years from now this job could look totally different. This job is different now than it was five years ago. My advice would be, don't ever say something is not your job. Because it may not be your job right this second but it could be your job in a year, or part of your job at that point, because technology is evolving. Everyone is expected to do more with less and there are only a certain amount of hours in the day. Any opportunity to learn a different way to connect with your audience, jump at that chance. Because people are going to be expected to really know how to connect with their audience across so many different mediums, so many things that aren't even out yet. Who knows what the hot social platform will be in five years. So learn as much as you can. Take advantage of every opportunity and if you have the mindset of 'that is not my job,' banish those words from your vocabulary."