How an Editor at One of Streetwear's Biggest Sites Does Mornings
In Collaboration with Bobbi Brown.
Makeup
Trailblazer
noun / Trail·blaz·er / |'trālˌblāzər/|
a person who makes a new track through wild country, a pioneer; an innovator.
They (whoever 'they' are) say that mornings are important, because they set the tone for the rest of your day. For that reason, we've become obsessed with discovering the nitty gritty of successful women's morning routines—do they start by hitting the gym? Hitting the snooze button? Meditation? A copy of The New York Times? What lipstick do they reach for when they need to feel like they can take on the world? In collaboration with Bobbi Brown, we're spotlighting a few of our favorite women (& very familiar faces) who've actually earned the title trailblazer, and taking a closer look at how they start with their days. 
---
Emily Oberg is a trailblazer. Okay, so maybe she isn't forging a new track through wild country exactly, but she is forging her own career path—one that ten years ago wasn't even an option—all while still working a 9-5 as Complex's Editorial Producer. Yeah, you can color us impressed, too.
So who better to meet with than Oberg, who also founded the brand, Sporty & Rich (NBD), at her brand new Williamsburg apartment (complete with balcony and stocked vanity) to chat about her all-encompassing role at Complex, creating the first issue of her very own print magazine, and how she can get out the door in the morning with winged eyeliner and perfect skin, in twenty minutes flat?
"It's empowering for girls to have a skill set in addition to having a strong social presence."
Surrounding yourself with people who keep you inspired:
"I have a lot of creative friends who do really interesting things, so just having conversations with them about what they're into, what they are looking at and getting advice about how they see me helps me stay inspired. Surround yourself with people who are creative and have good ideas. And of course Tumblr and Instagram inspire me, I love the Explore page lately because there are so many cool things I screenshot and reference them later. Just living in New York keeps me inspired because everyone's always doing something cool and it's always so pretty."
Creating her own brand & magazine, while still working a 9-5:
"Six months after I started working at Complex I saw that people liked what I did and my style. I wanted to branch out and make an extension of that. At first I was overwhelmed with the job because I had no prior experience, but as I got the hang of it I realized I can do this and I can take on more. I'm still on camera for Complex, but I have my workout show, and I'm working behind the scenes directing, which is what I want to do.
"I expanded the brand into [Sporty & Rich] magazine earlier this year, it will be released twice a year. We released the first issue in May 2016 and I'm working on the second one now.
Right now the Sporty & Rich product line is hats and bags. I want to start doing phone cases and fun things like that. It's a lot of work for one person, but I like to do everything myself or else I feel like it's not done right. I'm working towards expanding the brand as a whole into something bigger so I can eventually just work for myself, that's my goal."
On keeping balance despite 24/7 social media:
"I don't think I have a specific balance, it's a lot of work, but that's what makes me happy right now. I don't mind working on the weekends doing other shoots, video projects, and the magazine. I'll grind for now and hopefully I can enjoy it later.
"I download the Headspace meditation app, which a lot of people recommended. I like starting my day with it just to get a clear head. I like to shut off from work in the mornings, I don't check my emails when I get up, I want to have that separation. I know a lot of people are always on email and talking about work and I want unplug and have a relaxing morning. I'll start with water with lemon and then it takes me twenty minutes to get ready."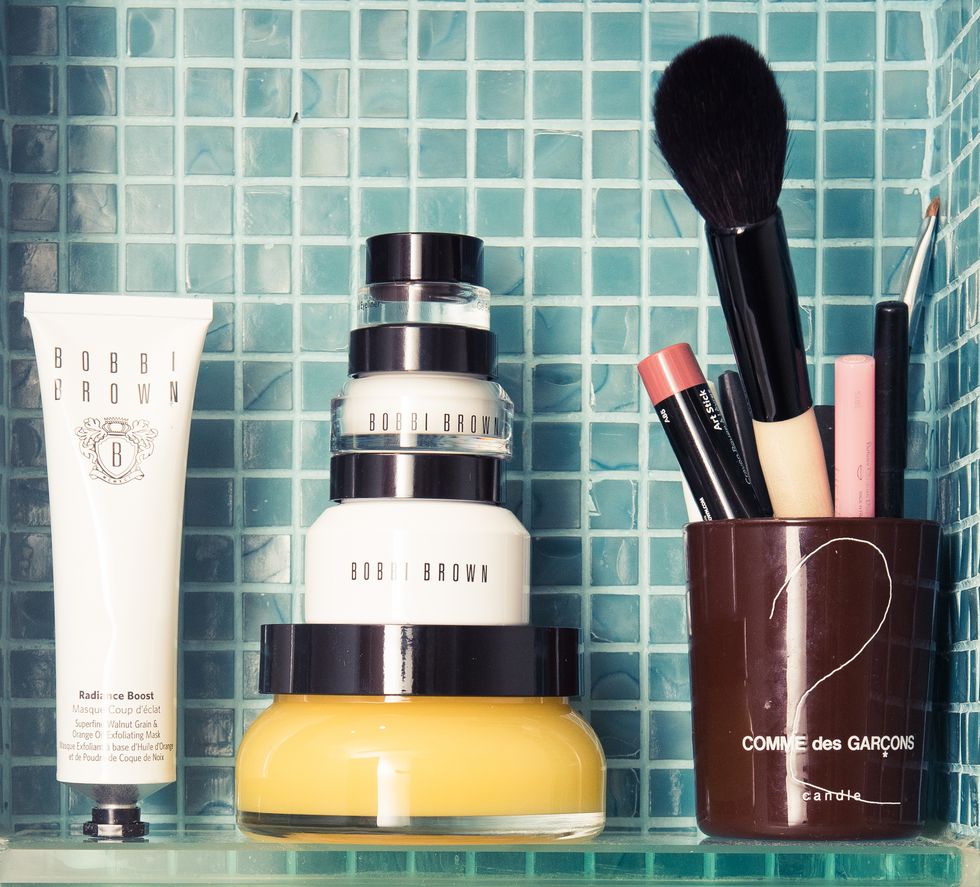 Her morning skincare routine:
"I wash my face with an organic pineapple cleanser and Bobbi Brown Extra Face Oil—I'm obsessed with face oil and I've tried a few but sometimes they're too thick and oily. I prefer a light one, and this one absorbs well. Then I apply a sunscreen over that—I'm obsessed with not having my face in the sun. I used to tan all the time but now I'm afraid to. Then I follow with blush (if my skin needs it), Bobbi Brown Long-Wear Gel Eyeliner, and that's pretty much it. Because I have lash extensions I don't need to do much there, just a little mascara on the bottom.
"I think just having good skin and good products on my face [is important], like moisturizers and eye creams, I love stuff like that, and a good face mask if my favorite. I just think looking as much like myself as possible [is best]. I feel like people always try to look like someone else or they try to change their face too much. All the contouring, it's so crazy, I think it's a bit much. I feel better when I just look like my natural self."
"Advice is something that you already know but need to hear from someone else."
The makeup look makes her feel best:
"The look I have on is a winged Bobbi Brown Gel Eyeliner in Espresso, powder blush, a bit of highlighter and their Brow Gel. I like to play up my eyes with makeup because I think the eyes are what you notice first. A lot of people on camera wear a ton of makeup, but I don't like to put that much on, even when I'm on camera for Complex. When I'm going out, I use primer and I'll add more Gel Eyeliner on top just to create a heavier look, and then add a red or coral lip."
Why Instagram followers aren't everything:
"It's empowering for girls to have a skill set in addition to having a strong social presence. There are a lot of girls who have tons of followers and engagement online but if you deleted their Instagram what would be left? I love selfies and all of that but Sporty & Rich magazine is important and an expression of me. Creating something concrete just makes me feel like I'm contributing and I'm using my skills in a useful way."
The best advice she's received:
"When I was going through a hard time and asking for advice someone said, 'Advice is something that you already know but need to hear from someone else.' It's so true, those are things in the back of your mind but you just want confirmation from others that it's the right idea or decision. Ultimately, you know what's right for you, no one else can tell you that, no one can say one right way to do something. It's up to you."