Hairstylist Frankie Foye Says Perms Are Coming Back
Diane Kruger and Bella Hadid's hairstylist talks her favorite products and how the industry is changing.
Hair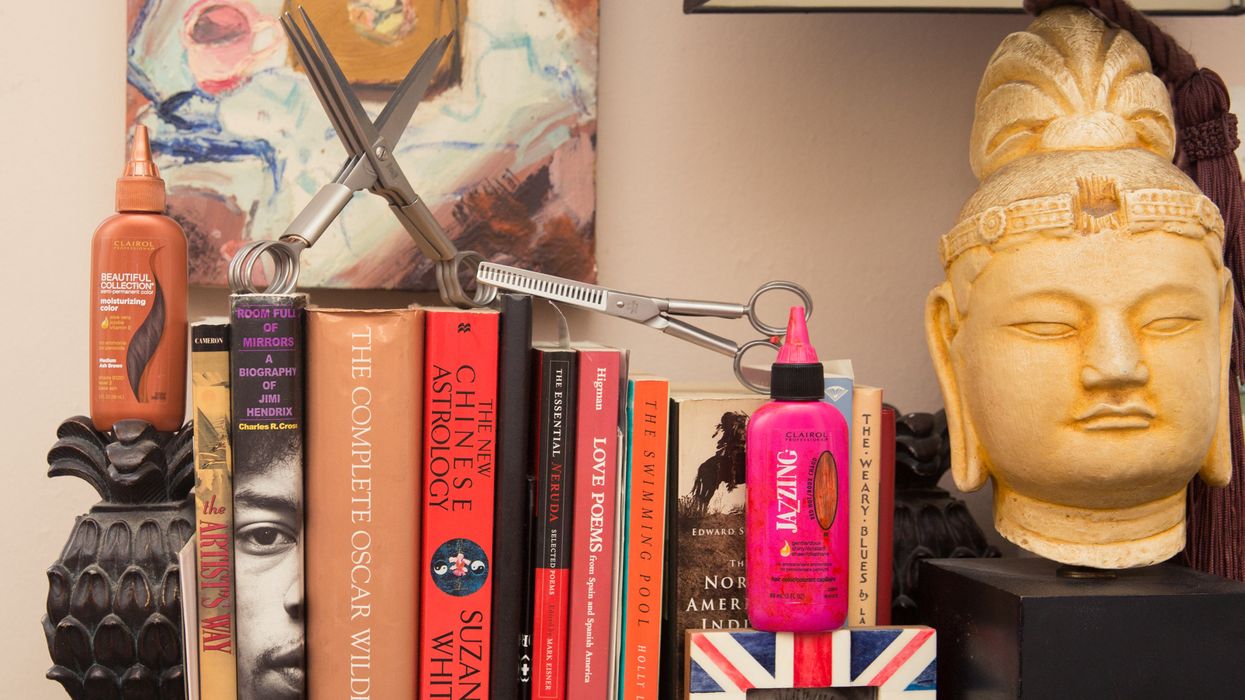 You know a shoot is going to be good when: A) pretty much the moment you step through the door, a glass of chilled Pinot Grigio is poured for you. B) The location of the shoot is the most charming, eclectically-furnished West Village apartment—think a hot pink door painted with color hijacked from a Saint Laurent runway show, a flea market chair reupholstered in Paul Smith fabric, and walls littered with oil paintings found on the side of the road—so much so that a certain *very* famous director scouted it for his upcoming movie. And C) Frankie Foye—hair stylist with a legacy that goes back to the days of working backstage with other hair legend Guido Paulo for Alexander McQueen's first Givenchy show, and has since worked with everyone from Debbie Harry to Bella Hadid, Karlie Kloss, Alessandra Ambrosio (and, like, every other Victoria's Secret model), Shania Twain (!!) and most recently Diane Kruger—is the subject of said shoot. Things got a little wild—a reputation Foye has to uphold—when we sat down to talk first jobs, working alongside greats like Richard Avedon, and how the industry has changed throughout her career.
---
How blonde highlights influenced her career:
"My earliest memory was sitting behind a girl in homeroom in 1974, who had the most dazzling beautiful blonde streaks and it just used to mesmerize me. College was not an option—I came from a family of ten from New Hampshire, we were very poor, I had a single father. I just lied about my age when I graduated high school, went to a hairdressing school, lived with my sister in an apartment, worked in a restaurant and put myself through school. I got hired in a salon immediately and, you know, it was the '70s, it was exciting, it was all about perms, bleach and bi-levels. I always had money in my pockets when my friends didn't."
Her first job was a bit unexpected:
"I was an intern at Adam Schuman, who was a platform artist. He would do trials and shows and I got very interested in that. I had purple hair and shaved hair (it was asymmetrical), I just volunteered for everything and learned that way. Then I moved to Boston and I got a high-end job on Newbury Street, which was boring as hell. One night, when I was partying with my friends, I walked by this salon that was open 24 hours—it was a black salon and I thought, 'Wow this is where I want to be.' It was the punk era so I had a shaved head and I went to the owner and I said, 'I want to work here,' and he said, 'well, okay, we could use a haircutter.' So I sat in my chair; no one would sit in my chair—this place was packed [but no one would come to me]. A barber, a braider, relaxer, wash and set, everything—I was mesmerized, the beads and the braiding of the beads. One day, there was a 2 ½ hour wait because we used wash and set men back then as well. So this guy said, 'I'll take the fucking white girl.' So from that point, I was booked solid and I made cash hand over fist. You could work 24 hours if you wanted to. The clientele was amazing. It served me later when I started doing shows and couture because I had the braiding, I had the thermal styling down, I knew my way around all the black models—[and could deliver] quick, fast results."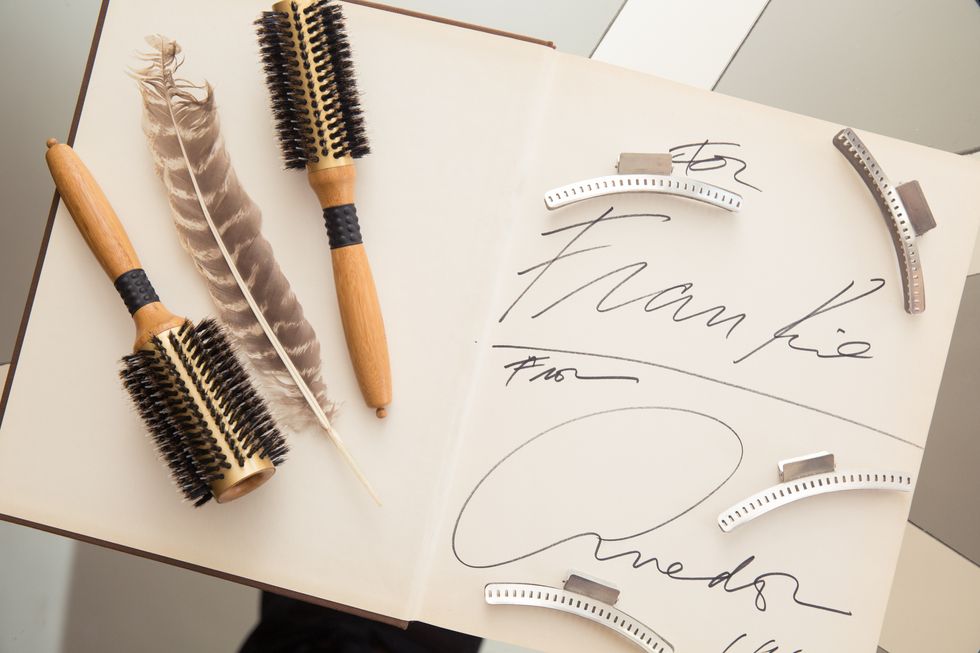 The photoshoot that marked her big break:
"My big break was when I worked for a month with Richard Avedon at Pier 59 studios, standing beside him shooting for Versace on an 8x10 polaroid (with a shredder beside the camera). All the polaroids that he wasn't using were just being discarded because people were stealing them—they knew they would be worth something. He or his people caught onto it and no matter how much you ripped them apart people were still able to put them back together, so he got a shredder. It tortured me to look at it but I understood. I still remember the 8x10 polaroid going through a shredder, it was unbelievable. As a result, he signed all my first edition books. I have every one of his first edition books signed to me—we had a great relationship."
The job that changed her life:
"I was one of the captains on Guido Paulo's team for the very first Givenchy show that Alexander McQueen did. The fitting lasted four days. We did a pompadour that extended out in the front and the back was extremely flat. [Paulo] would walk around with a ruler—the degree of this pompadour in front had to be exactly the same on every girl. Val Garland did the makeup—it was a powdered pigmented lip, so no one could eat, drink or talk. It was torture but once they hit that runway, it changed my life."
The difference between being on set and backstage:
"They both present interesting challenges I would say. You have to shift your personality. The set is more of a team, a family, and about timing. The show, you only get one shot. You have to learn shortcuts, you have to maintain your personality, you have to stay alert and awake because sometimes you're up for days. I bring those skills to the set, which is why I'm fast—I have shortcuts, I know how to organize my assistants in order to make everything more time efficient and the end result more perfect."
The repertoire she has with Shania Twain:
"In the middle of her book cover shoot, Shania Twain shouted at me, 'Frankie! The right side of my hair has not looked right all day long!' Everyone was gasping, you know, you could hear a pin drop. There was like 1000 people on set, the publicists were fidgeting. I said, 'Look, here's what we're going to do, don't pay me for the right side, just pay me for the left side.' She burst into laughter so hard! She said, 'Okay.'
"Another time, the director stopped the shoot—Shania was on a horse in an agave field—so he said, 'Cut! Frankie, I'm not a fan of hairspray.' Now, this is a country video, okay, last time I checked, and she was on a horse and it was humid as hell. So he said, 'I'm not a fan' so I said, 'Okay sir, I won't be using any on you.' The whole crew started laughing and he was horrified, so mad. [Shania] said, 'Good for you' and I'm like, 'Could you help me out?' and she said, 'No, that's your battle, you have to learn how to fight these battles yourself.' She taught me so much, so many shortcuts about doing hair and dealing with tough, high-pressure, not-enough-time situations."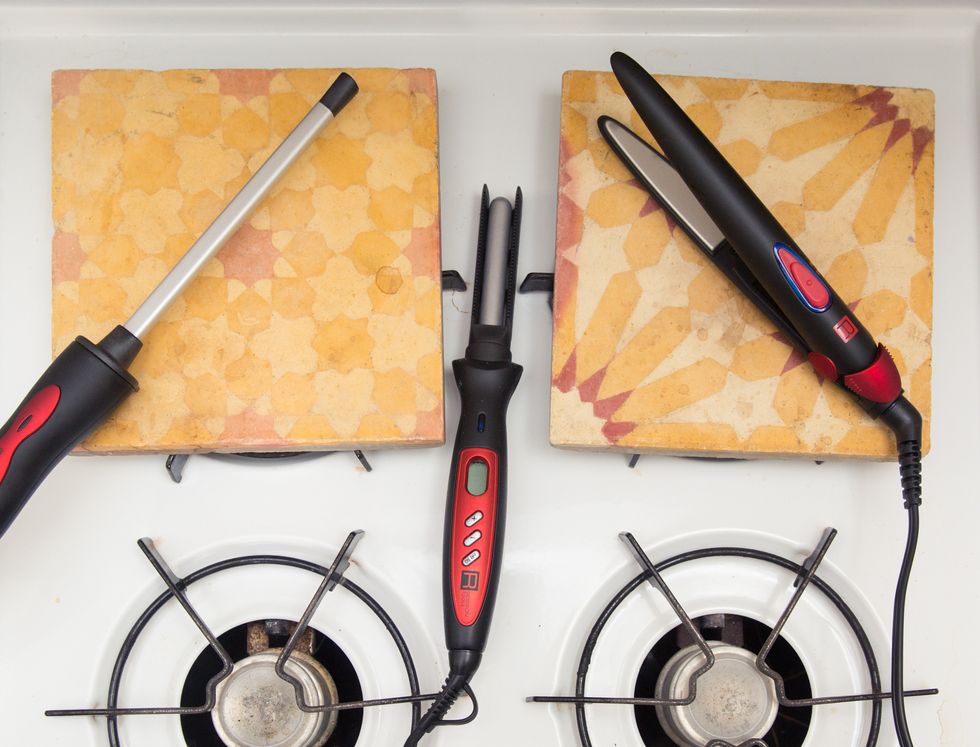 On her dream subjects:
"Tina Turner. That's my girl. That to me is the epitome and I would love to bring that back on someone. Rihanna could rock it, Beyoncé could rock it. Jourdan Dunn and those girls could instead of the pin straight flat irons, let's go textural with the blonde tips, beautiful. Patti Smith, Stevie Nicks, Jane Fonda, these are the styles that I want to bring back. I want to work with Cate Blanchett. I just worked with Diane Kruger, I want to continue to work with her because I have ideas for her. I worked with Jennifer Nettles and now she's my girl—I'm constantly changing and doing her hair,color and cut."
How things have changed over the years:
"Two things have changed: the digital age has changed the speed at which you see the image and also there's no exclusivity. Everyone sees the image, not just the photographer, and there's a lot of opinions flying around the set, so the photographer really has to hold his own. Secondly, a lot of models are turning into brands. Two of the models I work with, Karlie Kloss and Alessandra Ambrosio, have their own brands. They are kind of my bosses—I call them the sexiest bosses alive. They bring me on their European shoots when they work for other brands. Ale by Alessandra, I'm in on that, Karlie brings me on for the MET, Klossy, Adidas and Swarovski. They now have the power to hire, they're in control of their images. I'm thankful for that because I started with these girls."
Her favorite products:
"I love a lot of mousse, but my favourite is TRESemmé because it doesn't have a lot of silicon in it. Mousse bougies up with hair, cuts down the gravity and you can move it all day long. It's kind of dry, so you might need a little bit of glossing after but it absorbs humidity, holds curl and it's brushable. I love European L'Oréal Elnett because it's different than in the states. The Living Proof line is amazing. In a pinch, as far as a smoothing or finishing cream goes, I like Jergens hand cream (unscented). It's cheap, available and not greasy—it just gives hair a little bit of dirt and grit."
The hairstyles she wants to see make a comeback:
"I want haircuts to come back, like layers and heavy bangs. I love nothing more than to cut the hair before I do a shoot, like when I did Alessandra [Ambrosio] for Brazilian Vogue and Harpers. I cut it that day and it became the whole cover, not to mention people were talking about it. I just cut it off, we didn't use extensions, we didn't use tricks, we just used her hair.. So I want real haircuts to come back, beautiful cuts with layers, and shorter lengths. Never again with the long, ropey mermaid extensions, I can't.
"Wavy perms are coming back. I hate the right off the curling iron look, like the Elaine Benes curl—I call it the sitcom curl, that's out. Wavy perms are coming back and the solutions are much more gentle, they just give that texture that I'm talking about."