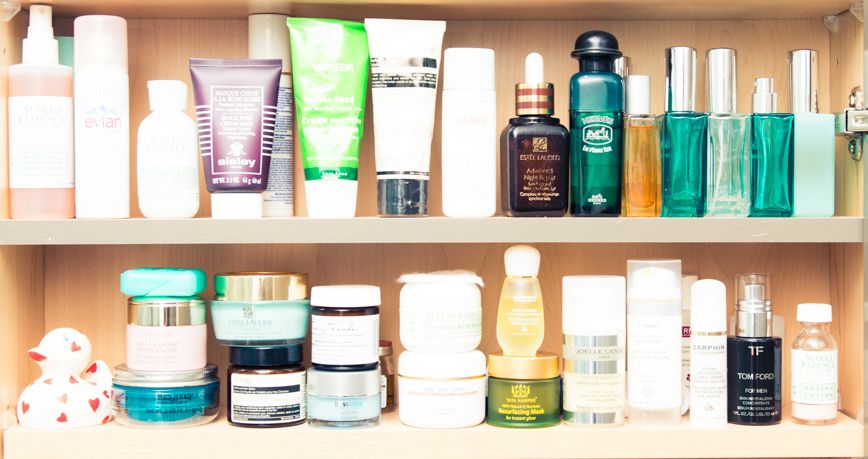 Skin
These are not the granola formulas of past. (And they actually work.)
In all honesty, there are a lot of things I've done to up my health game and slowly make as many aspects of my life as green as possible—food, household supplies, skincare, you know the drill. And while it's a no-brainer to buy organic versions of the dirty dozen produce and replace most of my cleaning products with less chemical-laden ones, my beauty routine hasn't been as easy to convert. Yeah, I use coconut oil to remove makeup and moisturize, and love good-for-you brands like Ren and raiding the beauty aisles at Whole Foods whenever possible, but deodrant, friends, is in a word: tricky. An in-office Cov poll came up unanimous: we're scared of aluminum in our deodorants, but we're also scared of sweating, and worse, smelling. A quick breakdown (and Google search) only threw me further into the Scared of Antiperspirant Camp. The main ingredient in antiperspirant—a.k.a. the one that prevents you from perspiring—is an aluminum-based compound, which is a carcinogen. And this essentially stops your glands from sweating by blocking them. Which is no bueno.
My own mission to find an organic deodorant that would let me live my best life (and the reason for writing this story, really) began after visiting Tracy Piper at The Piper Wellness Center where we discovered that the lymph nodes near my breast were blocked and not draining properly. The cause: the aluminum in the drugstore deodorant I've been using since I was, oh, 15? As one does, I immediately ran home, threw it away, and began the hunt for an organic formula that was less granola, more glam (while still keeping my personal hygiene intact). Here's what I found.
---
I came across this aluminum-free, organic (so orangic you can eat it apparently) deodorant thanks to Minka Kelly, who raved about their holi (Rose) No º4 scent on her Instagram after struggling to find a formula that still smelled good. According to Kelly, her armpits smell like roses, which is all you can really ask for?
We trust Dr. Hauschka with most of our face—from eye serums to peels. So it's kind of a no-brainer that I put the same trust in keeping my armpits in tip-top shape. There are two scents available, Sage Mint and Rose, and both "avoid the use of pore-restricting aluminium in favor of sage and witch hazel extracts, two naturally effective and astringent components for odor control."
Aluminum-free, natural, effective. All adjectives we want to describe a product we're going to use to replace our our go-to sticks. Like all the products here, it's not an antiperspirant, so while you'll continue to sweat ("it will not inhibit perspiration, plug sweat glands, or leach toxins into the lymph nodes in the armpits") it does naturally absorb and eliminate odor with the help of coconut oil.
This version is 100% natural and pairs antioxidants with anti-bacterial agents. For sensitive skin types, this is best because while it uses essential oils to fight odor, it also conditions and soothes skin with nice things like Japanese honeysuckle and goji berry. Fancy.
Korre's hypoallergenic version promises 24 hours of odor protection, which is A+. It also pays attention to the sensitive underarm skin by using all-natural botanicals to moisturizing and nixing all alcohol from the formula. So you can have soft as a baby's bottom armpits (y'know like the ones in allll those deodorant ads).