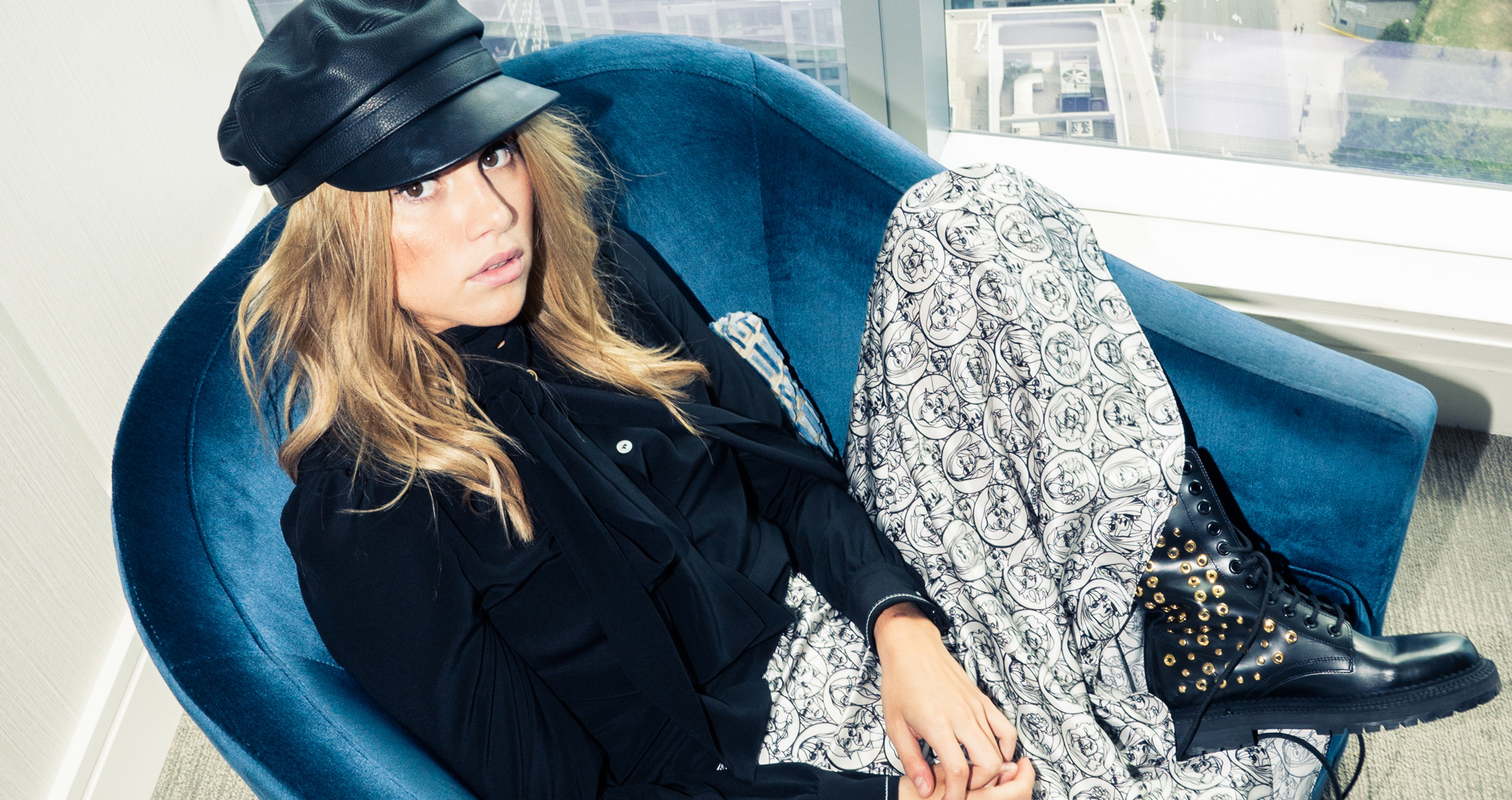 Suki Waterhouse On Her Most Challenging Role Yet
It included a desert survival kit of muffins and bananas.
If you've ever been to a film festival, or worked the circuit in any capacity for that matter, you know how much of a whirlwind it can be. Flights, press junkets, interviews, premieres, after parties, and repeat. But a film festival is also the time of year where everyone from, well, everywhere, comes together to celebrate filmmaking. This year, it's especially special for Suki Waterhouse, whose transition from modeling to acting is only just beginning. So we caught up with her in the midst of the whirlwind that is the Toronto International Film Festival to talk about her new leading role in Ana Lily Amirpour's The Bad Batch, a dystopian thriller love story set in the desert (alongside Jason Momoa, Keanu Reeves, Diego Luna, and Jim Carrey), the intense makeup she had to endure during filming (think cannibals and lost limbs), and why bananas and muffins saved her.
When a script comes with a forewarning:
"The script was a bit disarming. You're like, 'Wow, this is insane.' It changed a lot [throughout filming]—we rehearsed and worked stuff out. [Ana] Lily [Amirpour] would constantly be re-writing. She played each character—she just stood there and read every single bit of it out to me, which was cool because she really does have such a deep understanding of each character. I remember reading on the script, 'Do not audition if you're a wuss.' It said it was going to be incredibly physically demanding, and it was. From the moment I got cast, Lily said to me, 'I'm going to take over your life, it's going to be really rough.'"
On trying to challenge herself:
"I wanted to climb Everest—I wanted to do something hard and difficult. Honestly, everything about this film drew me to the role. Even before I met Lily, by watching her interviews, I knew to work with this woman would be insane. It's also really unexpected for me; to get a role like this and get to work with her when I'm just starting out and I've come from the world of fashion."
How it's been transitioning careers:
"It's a lot of fun. I feel so much happier. I feel like I'm in the right place. Everyone has a different path and I was obviously meant to do all of that before landing here. I'll still keep working in the fashion industry—I love fashion, I love working in it, and I'm starting up my own fashion brand. It's called Pop & Suki."
The hardest part of filming:
"The most challenging part of the role was being isolated. We were out in the desert—really, really far out in a place called the Salton Sea, where a lot of fish died because of the water concentration. It's smelly, it's really a place where people go to disappear and escape. So that was very isolating. I was also really nervous and scared—I was with all these very accomplished actors that were amazing and I felt like a bit like a fish out of water."
What it was like first meeting the cast:
"I met them in pieces. I met Jason [Momoa] first and then I met Keanu, he came around for rehearsal on a motorbike and walked in and I was like, 'Oh my god.' Then I met Jim and Diago on set. It's only really sunk in. It seems like it's somewhat normal when you're just dealing with people, but I literally got to work with some of the best actors all in one film."
What it was like going through makeup for her role:
"Long! When I first started going into prosthetics—I started going to casting to have my legs cast—I kept fainting. I would have to be standing up when they were casting my legs, and I would completely black out. It happens to some people—you overheat and you just go. I was quite worried about that, that I wasn't going to be able to get through the casting posses. I had to keep eating bananas and muffins before and then I got through it. It gets really hot out in the desert, so sometimes the fake arm started slipping off [laughs]. "
How she gets ready for a premiere:
"Today, I don't know what I'm wearing yet. I'm a bit of a last minute person. If I have a whole day, yeah, I go crazy. Go to the spa and get a facial, but it depends. Maybe a little glass of champagne [right before the red carpet]."