Dress, Tanya Taylor; Shoes, Dolce Vita
Shopping
Featuring some of our favorite spots in Soho, too. In collaboration with Dolce Vita.
Alicia Cesaro
At the risk of sounding completely and utterly...well, basic, if there's one way to get me actually excited for fall, it's through clothes and accessories. Blankety sweaters, wearing my favorite jeans again, throwing on a fresh pair of boots, that's what feels like a new start. And as much as I'm a summer person through and through, sandals just don't do it for me. I'd rather be barefoot (preferably in the sand) or in a pair of actual shoes, so if there's ever an upside to cooler weather, it's getting to shop for new ones to pair with the dresses I'm wearing now, and transitioning into fall (which really means just throwing more layers on) before sliding into full on winter uniform mode—black boots, jeans, black sweater. Every. Damn. Day.
So when Dolce Vita asked me to play dress up for the day in my edit from this season's collection, I was pretty excited (and yeah, I'm pretty sure I found the boots I'll live in come winter). Even if (full disclosure) it was a casual 95 degrees in New York City that day and I was fully sweating (TMI?) in that mohair jumper as I ran around Soho visiting a few of my favorite haunts—otherwise known as the places where I spend all my time when I'm not raiding Dior collections and balancing Chanel on limited-edition Bearbricks.  
---
I recently gave up coffee, I know, I know, cue all the gasps. So unsurprisingly, Cha Cha Matcha has become my (and everyone else's) go-to caffenation spot in the city (but really, they knew that was coming when they decorated the entire cafe in Instagram-bait pink and green). I like to come for an almond matcha either early in the morning before work or around 3PM when I *just can't anymore.*
I've never met a bookstore I didn't love, and McNally Books is no exception. The entire Cov HQ comes here for their coffee table books and in the midst of v. hectic Soho, this is a safe haven to kill some time and hide out. There's also a coffee shop inside (if matcha isn't quite your thing) and the employees give good suggestions, just in case you don't know what to read now that you've finished Sweetbitter.
You know those Sundays where you don't really know where to go / what to do / where to put yourself / maybe you just watch Netflix all day until you get the scarries? No, you need to get yourself up, copy the below outfit, and stroll over to Coming Soon New York, a design gift shop, otherwise known as the place where you will break your Amex and succeed in buying gifts for all your friends for the next fifteen years.
There's a zillion restaurants to try in the neighborhood, and attempting to eat at all of them is pretty high on my to-do list. But Mimi's is one of those discreet, you'd miss it if you weren't looking for it, spots tucked away at Sullivan and Bleecker. It's a little dark, with a chicken scratch written menu, and you go to just to pull up a bar stool, order a glass (or three) of Bordeaux and a bowl of gnocchi and call it a night.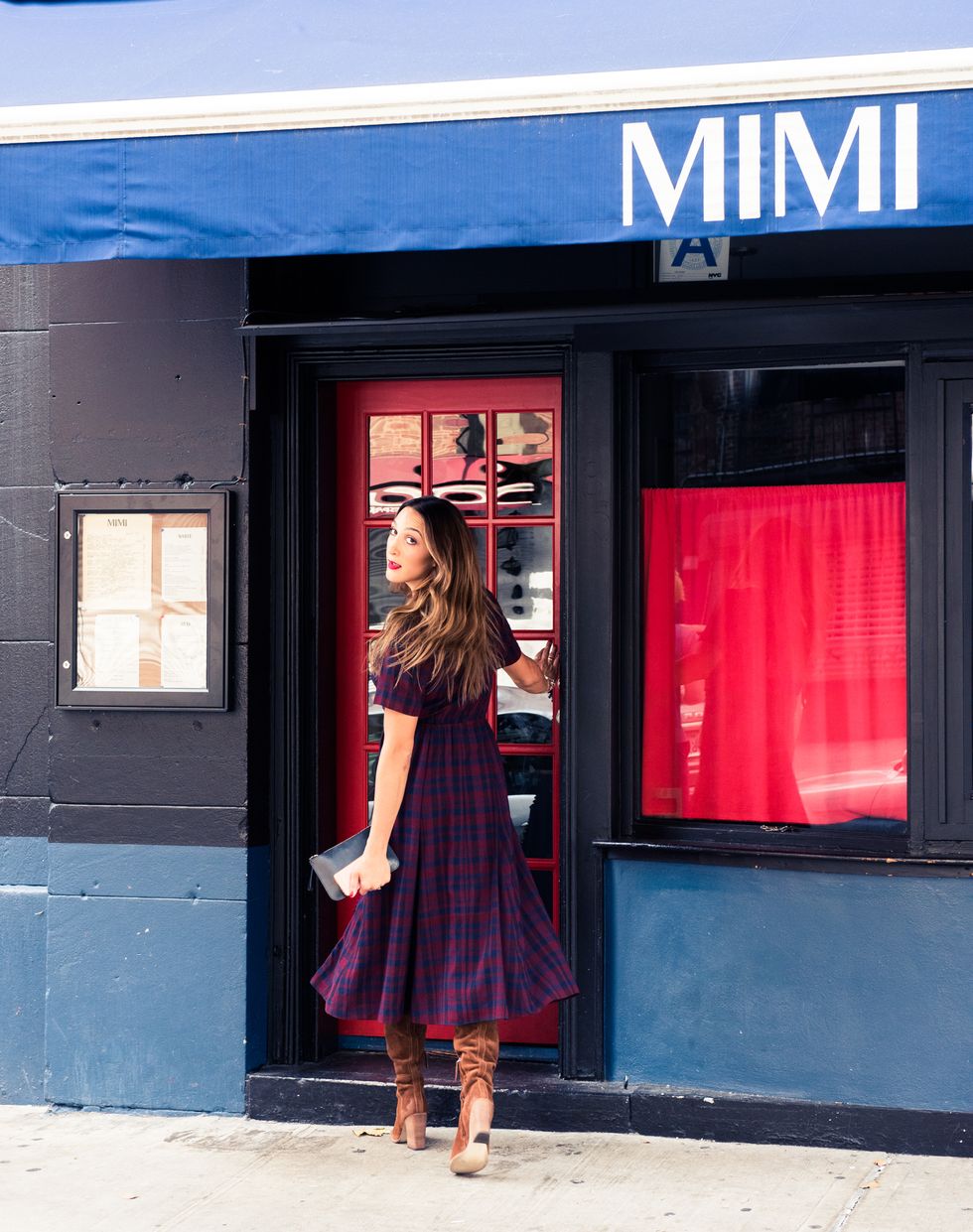 Every good work day, shopping excursion, or ahem, photoshoot, ends at Dirty French, the Ludlow Hotel's bar. The cocktails flow, there's great ambiance and plenty of couches to sit on while you sip the aforementioned cocktails. Think of it as your pregame for the rest of the evening.