Makeup
In collaboration with Michael Kors.
Renée Rodenkirchen
There are people in this world that can only be described as over-enthusiastic perfume spritzers. You probably have one in your life. As much as we're happy that you found 'your' fragrance and everything, we don't necessarily need to smell it from down the hall. Or from another room.
In our concerted, continued effort to *not* be one of those people, we consulted Jeanne Damas, also known as the Frenchest person in the world™, during our recent getaway to Greece. After all, scent was on our mind—we'd heard first hand from Michael Kors himself all about the inspiration and creative process behind his latest fragrance, Wonderlust; and the perfume was unavoidable. How did we go about wearing it without suffocating everyone? What's the best way to apply it before going out? How do we make it stay all day long, even during the summer? We had questions, and of course, Jeanne had answers.
---
Her daily fragrance application ritual:
"When I get just out of the shower or something, I like to spray a little bit and to walk through. It's perfect because it's not too much. It's a nice way to have the scent be like a second skin."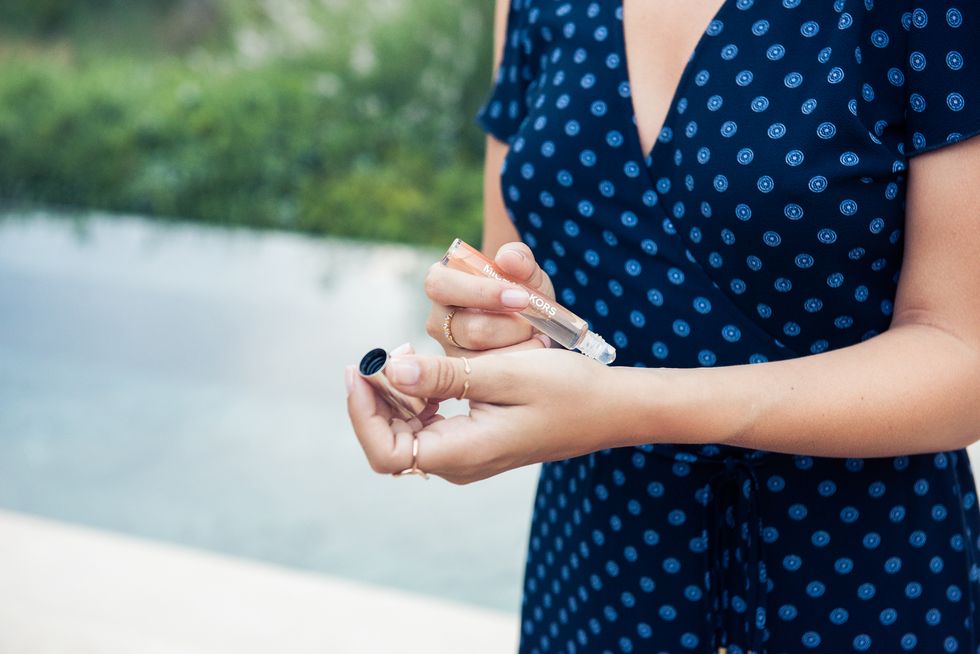 Why you have no excuse to ever leave home without it:
"The rollerball is very practical for girls, because when you go out, you always have these small bags. Even for the beach, it's cool you can still put it on there. It's very practique and discreet too, so I like it."
Remember your pulse points:
"When I go to the beach or the pool for the day, I like to put my perfume on my neck and wrists so that it lasts all day."
Think of every possible social situation:
"The best is near your ears, because when someone embraces you, flirts, argues, or whispers close, it always smells good."
How to reapply for a night out:
"Before a night out, I like to put some perfume on the back of my neck, and also in my hair. That way, when you dance and move, everybody can smell it and it's really nice. It's also perfect when it's hot in the summer, especially somewhere like Greece."
Always remember to bring one on vacation:
"I try to find a new fragrance for every trip I go on. Now, when I wear Wonderlust by Michael Kors it will always remind me of Greece, sun and happiness. It's a little bit spicy and floral at the same time, so the mix is perfect. It's sensual, but still summery."