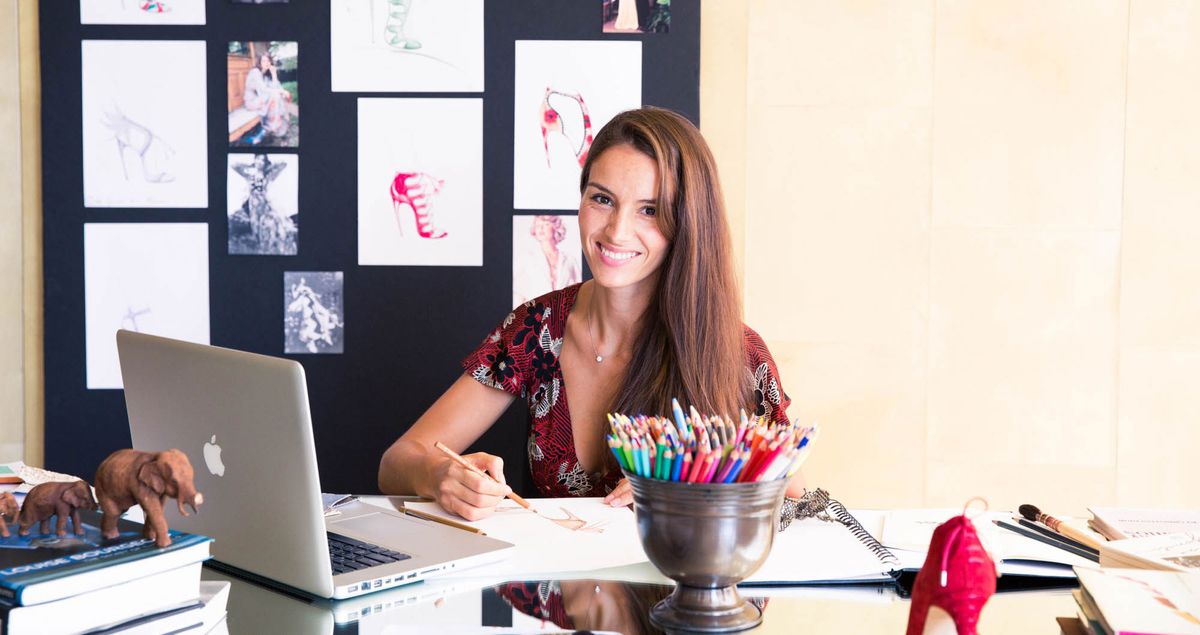 Fashion Week
She's bringing sexy back. Not that it ever left, really.
Alec Kugler
As much as we love over the top shoes (and trust, we do) there is also room in our hearts for more subtle pairs, too. The kinds of shoes that you won't have to shelve after one season in the hopes that one day they'll be fashionable again. This time, we're talking straight-up, beautifully made, timeless shoes—and for that specific niche, we have Chloe Gosselin. The French accessory designer prefers classic silhouettes, and feminine styles—but done in surprising materials and with interesting details. Mink trim, anyone?
The former model (TBH, we had a tough time focusing on the interview because she's Just. So. Stunning.) is currently up for the CFDA/Vogue Fashion Fund, and will be showing her spring/summer collection this Sunday. When we met with her in the midtown Manhattan penthouse she shares with her daughter and fiancé David Copperfield (yes, the David Copperfield—hence all the vintage carnival games and mannequins) we were totally sold on Gosselin's vision of sexy femininity. "These kinds of shoe are mostly designed by men—and they do it amazingly," she says, "but I think I bring a more feminine point of view to sexiness." And while she might not be a household name yet, we're holding plenty of spaces for her goods on the shoe wall of our dreams.
---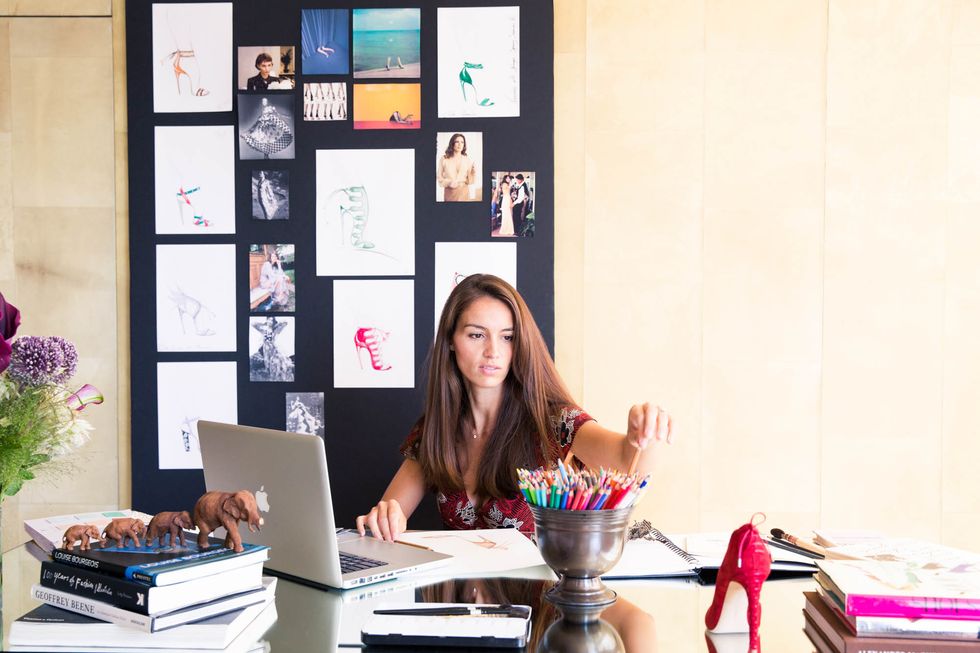 How to launch a shoe line:
"I launched in February 2014. I was always sketching as a kid, drawing and painting, but fashion was a zillion years away from me. I grew up in Normandy, and I was always drawn to fashion (even though nobody in my family was into it ) but I didn't think I could do it. I studied art to be a painter, and when I was in arts school I was with the fashion section. I became really good friends with the fashion students and would see them work and that really inspired me. After my modeling break, I wanted to go back to something creative—I wanted to do shoes so I went back to school here at FIT to study shoemaking.
"I always knew how to sketch but I didn't know how a shoe was built. I was always very passionate about Italian shoes, so I went to Italy and met with the factories and kind of dove into it and launched a line. It took me about two years to get it right and get something I was happy with. At first, the line was very small. I wanted to have signature styles that would still be here today with details and elements that would be recognizable in my collection. Since then it's grown slowly, but we've had support of a lot of celebrities and retailers like Barney's here in the U.S."
Creating a brand signature:
"[The shoes combine] a lot of elements. First, I always have exotics in the shoes. Then, all the shoes are named after poisonous flowers so I always have that thread through the collections and through the imagery that I create. I love Tory Amos' song 'Datura,' and the song is naming plants in her garden. In the song they're not all poisonous flowers but it started with that song, and now I always include flowers in my work."
How modeling helped launch her with her line:
"I would go to shows and I always loved it. With that lifestyle at a young age I was able to afford to buy the shoes that I loved. But even though there were a lot of brands that I liked, I felt like there was a gap for a classic shoe that had a little twist—combinations of colors that are unusual and unusual materials. I thought I had my own take on it."
On being up for the CFDA/Vogue Fashion Fund:
"It's a dream to be able to do it, but still to this day I can't believe I'm in. After you make the cut from the first round of applications, I think fifty people are able to submit the portfolio which is a lot of work. Then it's a one in five chance that you get in. I was in Italy, and I flew back to the US when the announcements were made. I didn't really know if I was going to come back here and have a chance, or if I would be disappointed. But the morning I got the CFDA results I was like, 'I gotta go, I have as much chance as anybody else,' so I flew in with my best friend. We waited from 10am to 2:30pm because they tell you that you might have a TV crew show up at your house; you dress nice and you're just...waiting. But then I got a FaceTime call from Steven Kolb. I didn't expect it and I was like, 'who's that number on FaceTime?' and it was Steven. I was in my bathroom, washing my hands. He said, 'Do you know who I am?' and I said 'Yes, I've been waiting for you all day!' But I was surprised!"
What the CFDA Design Challenge *actually* is (sort of, not really):
"Well I can't really tell you what's in the [wooden] box, but basically it's a design challenge that all the finalists get. We have to submit sketches that are going to be reviewed at the end of the month by Anna Wintour. In October there's a party where we reveal the silhouettes—it's fun! It's very secret, but it's fun because designers always have to compromise with the market, what the stores want, what the customer wants—but this is a chance to be truthful to your designs. The design challenge is great because you can go back to that super creative space. I'm having fun with it."