Career
Caudalie's Founder On French Beauty Secrets & Brand-Building
Turns out Mathilde Thomas has more than a trick or two up her sleeve. In collaboration with Caudalie.
Recently there's been a seemingly endless (and long overdue) stream of women disrupting (eye roll-y we know, but we're just trying to speak the language) the beauty industry. And we have endless respect for the upstarts shaking things up in a space that's long been in need of new life. But how do you build a lasting prestige brand that's known for the integrity of its products—to the point where the same product can be found on the counters and inside the handbags of every editor and model in the industry?
It turns out (did you see this coming?), there's pretty much no one better to consult on the question than Caudalie's Mathilde Thomas. For the uninitiated, Thomas, who co-founded Caudalie with her husband Bertrand, and who recently hosted us at her Hamptons home, possesses a very specific brand of Frenchness—the kind of thing that makes you want to drop everything in your current rotation and pull a "we'll have what she's having" when it comes to skincare products. Which is what lead us to peppering her with questions about launching the brand, all things 'je ne sais quoi', and the skin secrets you learn when your own line is informed by innovations from the Asian market (Thomas currently calls Hong Kong home). Besides, who are we to resist a beauty brand informed and inspired by the world of wine?
---
When she first knew she wanted to work in beauty:
"I knew I wanted to work in beauty at a young age. Growing up in Grenoble, a small village at the foot of the French Alps, my grandparents taught me the importance of skincare at a young age. My grandmother taught me skincare recipes with honey and avocados—it was all very inspiring. We started my skincare routine with a good moisturizer, and from there, I continued to fall in love with beauty.
"Growing up in France, I learned that good skincare is far better than hiding behind a mask of makeup. At a young age, my friends and I were warned by our mothers never to leave the house without first applying an antioxidant moisturizer with SPF in the morning, and to cleanse our skin morning and night. I also learned that a glass of red wine at dinner is always good for your skin—and your health!"
Where & how she launched Caudalie:
"It was at my family's vineyard in Bordeaux, Château Smith Haut Lafitte. Bertrand, my boyfriend at the time, and I were giving a tour to a group of professors. Professor Vercauteren, an expert in Polyphenols on the tour, had explained to us that throughout the winemaking process we were throwing away treasures. The seeds, skin, and the sap from the vines were all rich in ingredients that were good for your skin. It was there that Caudalie was created. We founded the brand in 1995 and the rest is history. We named it Caudalie, which in the wine world, is a unit of measure that counts the length of the wine taste on your palette. The more caudalies a wine has, the better it is."
How she defines French beauty:
"Beauty is an art de vivre [art of living] for French women. It is about choosing only the best and understanding that you are entitled to have a beauty routine that makes you look and feel beautiful at the same time. We know that less is more and there is no 'right' way to be beautiful. It's about how you feel about yourself, no matter what your age."
Her beauty icons:
"One of my French beauty icons is Brigitte Bardot—her thick blonde hair and Saint-Tropez sun kissed skin [made her] my idol at a young age. I love Juliette Binoche and Catherine Deneuve. Juliette positively radiates intelligence and rarely wears a lot of makeup."
The beauty trend you'll never see on a French woman:
"Big eyes and a bold lip at the same time."
The most rewarding part of her job:
"One of the most rewarding parts of my job is interacting with our Caudalie clients. I love speaking to women when we host events at our boutiques or at Sephora. Now I have women commenting on my Instagram feed and sending me messages letting me know how much Caudalie products have changed their lives. That is really special [for me]."
The hardest part about running your own company:
"When you own your own business, you have to be part of every detail. You really don't have much leverage. It's me, my husband, and our team members that work together as a family to be as efficient and effective as we can."
What people might not know about Caudalie:
"Caudalie is a member of 1% For The Planet—giving back is the fourth dimension of the product. We donate 1% of our net worth to NGO's around the world. In the US this year we made a commitment with the National Forest Foundation to plant 3 million trees in national parks across the nation in need of reforestation."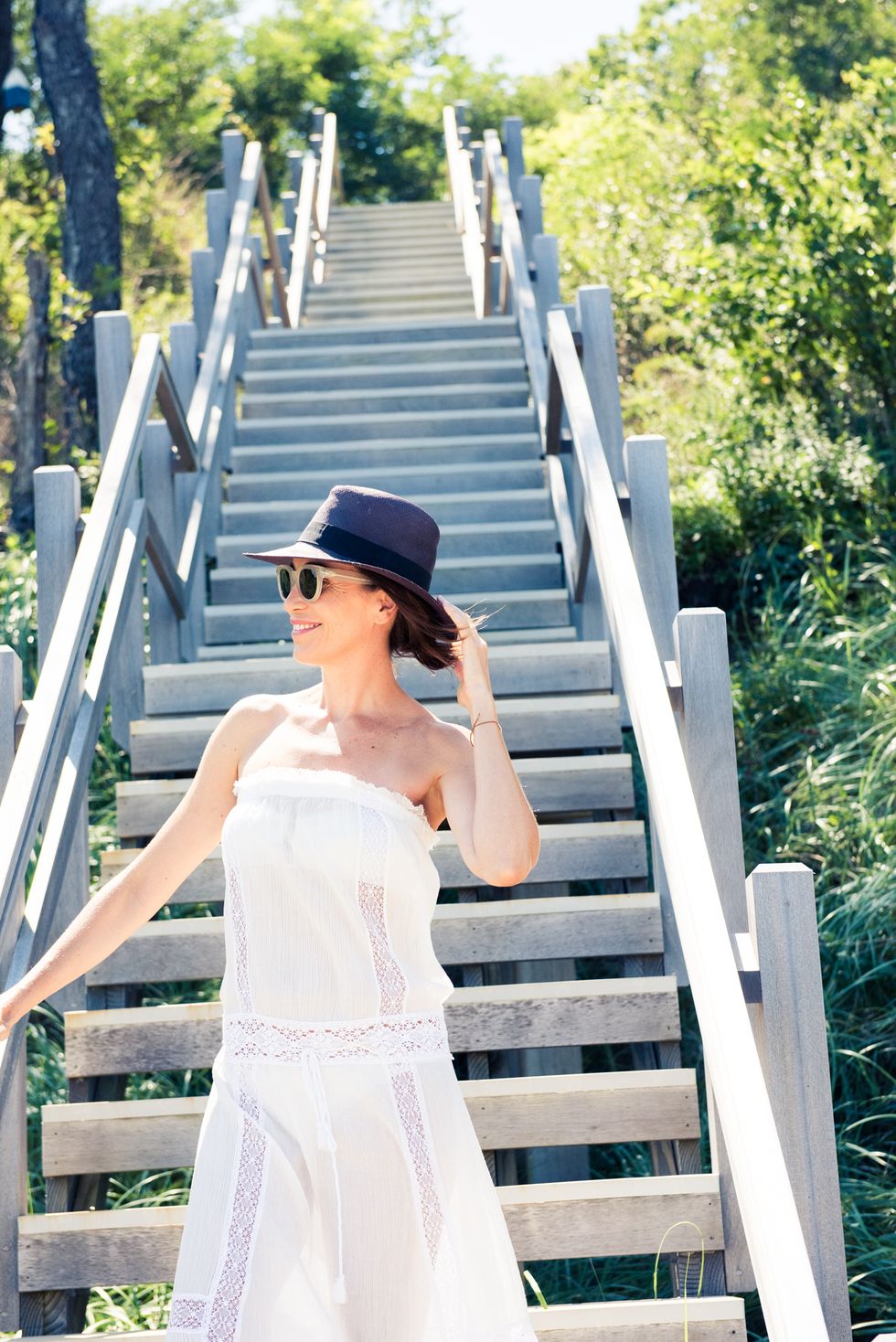 Her personal favorites from the brand:
"My desert island product is definitely my Premier Cru Cream. It's a one and done—it's rich in Polyphenols to defend skin against free radicals, Viniferine to brighten the skin, and Resveratrol to fight against fine lines and wrinkles. The scent is intoxicating. It's rose petals soaked in an oak barrel, as the roses are the guardians of the vines. And of course my Beauty Elixir, I love it. It's inspired by a formula created by the Queen of Hungary to lure her husband. It's a blend of rosemary, peppermint and orange blossom. It's a toning mist that sets makeup and provides an instant burst of radiance that tightens the appearance of pores."
The next big thing in skincare:
"I live in Hong Kong, and I'm inspired by women's desire to have translucent skin. We are playing with formulas that have a watery texture that can be layered right now. The Korean rituals are very innovative. I also love disposable sheet masks. We're starting to see this trend in the States as well."
What it's really like to work with your S/O (sounds pretty sweet, actually):
"He is my support system. We each have your own field of expertise and trust one another unconditionally. It's a huge strength."
The products in every French woman's arsenal:
"A facial cleanser, a serum, a moisturizer rich in antioxidants, sun protection and an eye contour [cream]."
How the industry has changed since the brand's beginning:
"The digital industry has taken over. The way clients shop has shifted from traditional brick and mortar to the web. Editorial beauty websites are now launching their own beauty brands. We are communicating faster and there is much more transparency with consumer than there ever was before. It's a consumer driven market."
The best career advice she's ever received:
"The best career advice I ever received was from my grandparents. 'The battle is on the battlefield and god is in the details. They encouraged me to talk to my clients rather than sit behind a desk."
The advice she'd give to any aspiring entrepreneurs:
"If I had to give advice to an entrepreneur I would tell them to stay focused! Start and finish projects. Keep determined and do good things. In general you need to be a genuinely good person if you want to succeed on a long-term basis."