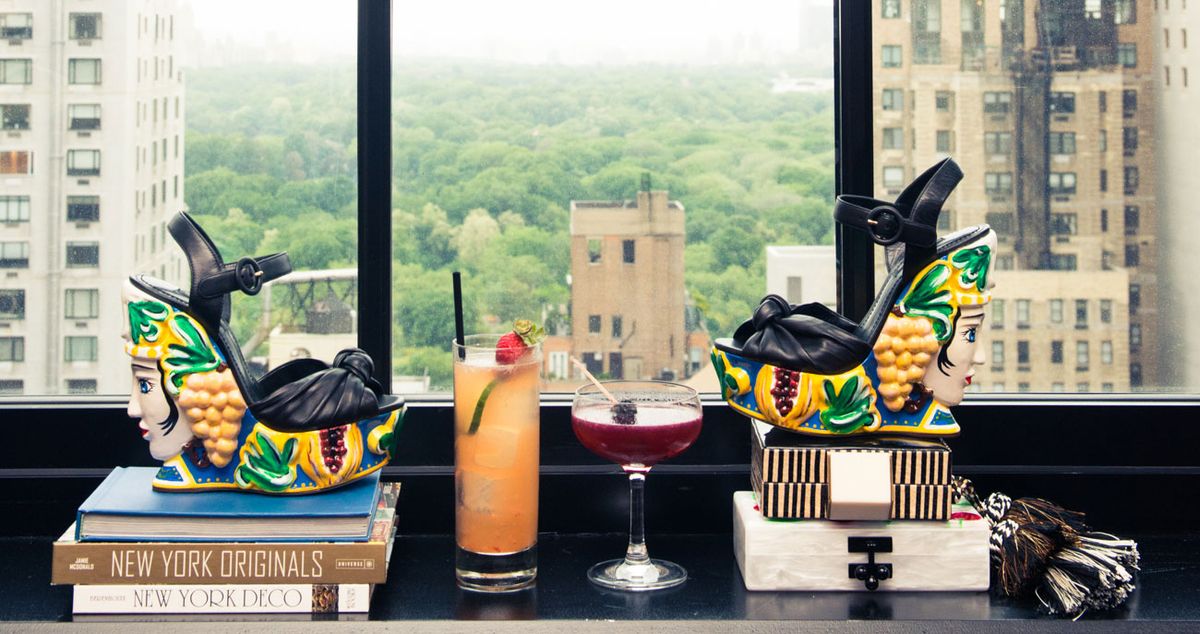 Fashion
Pia Arrobio, Jayne Min, Aleali May & Sandy Liang show us how.
Much like clichés are often clichés because they're annoyingly true, anything that's been anointed as 'basic' is deemed so because, well, everyone likes it—and everyone likes it with good reason. You'd be a total masochist not to, even. Like rosé. Or avocado toast. Mean Girls. Or green juice. You get the picture, right? Then you'll know this list isn't quite complete without brunch. We all roll our eyes at it, and yet we've all found ourselves inexplicably waiting in an hour long line to get it. The allure of $30 eggs benedict and half a dozen beverages for yourself (sparkling water, coffee, a mimosa, again, a green juice…) is just too strong a temptation to turn away, I guess?
I've been guilty of using the idea of Saturday morning brunch as the proverbial carrot-on-a-stick to see me through when it's the middle of the work week and it's the kind of day where having to stop to eat lunch while hovering over my desk feels like the world's biggest inconvenience. And with brunching (yep, it's a verb, too) top of mind, we had to ask what the weekend AM rituals of four of the coolest girls we know looks like.
---
Creative Director, LPA The Label
 
"I try to get in a 7 A.M. workout on Saturday mornings. Saturday nights rip around, and I sleep in on Sundays. I start waking up around 7, do some work, read Daily Mail and hopefully fall back asleep until around 9:30, 10 A.M.
"My routine is always the same: Ayer-Medic antibacterial face wash, coconut oil and makeup. I put that on my face everyday. I love wearing makeup. My mother won't leave the house without her face on and I always thought it was so feminine and womanly. I want to not care, and be a strong, empowered woman who doesn't need it, but nope, gimme my bronzer. [My go-to uniform is] usually something stretchy with a hoodie.
"I love Lil Dom's because of the breakfast pizza. Soho Malibu has a buffet that's INSANE. I make myself sick over-eating there every damn time. Gjusta in Venice is the best place in the world. Hands down. It's like a joke. I get three dishes every time because choosing one thing would be a crime. I like to order an egg situation, a bread situation, a salad situation and a sweet thing for the table, with an Aperol Spritz or a St. Bernard. [Afterwards], I head to my Uber and go home to sleep."
Image Consultant
 
"I usually wake up around 7:30 or 8 A.M. on weekends.
"For brunch I like to keep it casual, a graphic tee/crop top with denim shorts or jeans and sneakers is a definite go-to for me. I like to have a light application of makeup. Sunscreen, light coverage with Bareminerals powder foundation, Bobbi Brown Bronzer, Benefit's Fake Up Concealer for dark circles, Aquaphor Lip Therapy, and Anastasia Beverly Hills' Brow Wiz.
"In L.A,, I love Free Range L.A. at the Melrose Market on Sundays. Free Range sandwiches are packed with flavor! You can grab a seat around the market as you dig into your oh-so-loaded chicken sandwich. It's the perfect way to spend your Sunday with friends. Afterwards, you can purchase flowers for your home, handmade soaps, fruits and vegetables.
"French toast is always a classic! Breakfast food options are my personal favorite for brunch. [I'll order] watermelon, orange or mango juice.
After, I like to cruise nearby shops, like Isabel Marant and Opening Ceremony."
Designer, Sandy Liang
 
"[What time I wake up] depends on the activities from the night before! But usually no later than 9:30 or 10 A.M. [I have the] same routine every day—play music, brush my teeth, wash my face, SPF and moisturizer, Stila eyeliner, mascara, a touch of RMS bronzer. After I'm done with that, I'll have some water with apple cider vinegar and take my probiotics. [What I wear] depends on my mood and the weather but it will always be something comfortable and flat shoes are a must.
"[I like] Dimes Deli for easy, simple and clean food, no fuss, happy vibes. Cafe Mogador— it feels comfortable here, you kind of want to sink into your seat and have a full breakfast and not have to think about the rest of your week! A little escape. And Remedy Diner—chocolate chip pancakes!
"[What I order] depends on how hungry I am—If I'm doing sweet, I love chocolate chip pancakes or buckwheat pancakes. If I'm feeling savory I'll do eggs and some sort of avocado addition with toast and loads of good butter—good toast and salty creamy butter is the best! Above all, good coffee is a must. I can't do day-drinking, I get so tired and just want to nap the rest of the day away
"I love running errands on the weekends, it makes me feel recharged for the week. That pretty much consists of getting groceries at Whole Foods. If I'm having breakfast or brunch around my neighborhood, the Lower East Side, I'll walk to Coming Soon and see what they have going on in the store! Always cool stuff."
Designer; Creative Consultant
 
"I usually wake up around 7 A.M. every day, but on the weekends I'll try to prolong getting out of bed as long as I can.
"My laziest public outing face is concealer and lip balm and sunglasses to cover the rest of the mess. Depending on if it's an impromptu just-need-to-eat, lazy brunch or a scheduled hangout brunch, I'll wear something easy like baggy overalls (probably dirty) or I'll get properly ready and put on jeans and a t-shirt (most likely clean).
"Millie's is my favorite local brunch spot because it's easy,close and filling, just a super classic American breakfast. Paramount Coffee Project is my top favorite brunch spot, that has the closest thing to an Aussie breakfast (the best kind), but it's on the other side of town so I don't go as often as I'd like (ideally two times a day, everyday).
"At Millie's [I order] the 'usual' with over easy eggs, gluten-free banana chocolate chip pancakes, veggie sausage, and sub steamed spinach for the potatoes. At PCP, the avocado on toast with poached egg or the soft scram on toast with avocado (both with a side of Vegemite) and if I'm extra hungry, also the house granola with sheep's milk yogurt and fruit. [With] an iced soy latte and OJ. Equally crucial.
"Millie's is across from Aesop in Silver Lake, so I'll sometimes stop by and stock up or walk down to Sunset Junction and grab flowers from Clementine and see what there is at Mohawk General Store. PCP is on Fairfax so I'll try to get to any of the places I have saved for west side days, like LACMA or Barneys or Shop Super Street."