How To Wear Summer's Coolest Bikini Style
It involves a Clarisonic, a bag of frozen peas, and a butt-load of confidence.
Fashion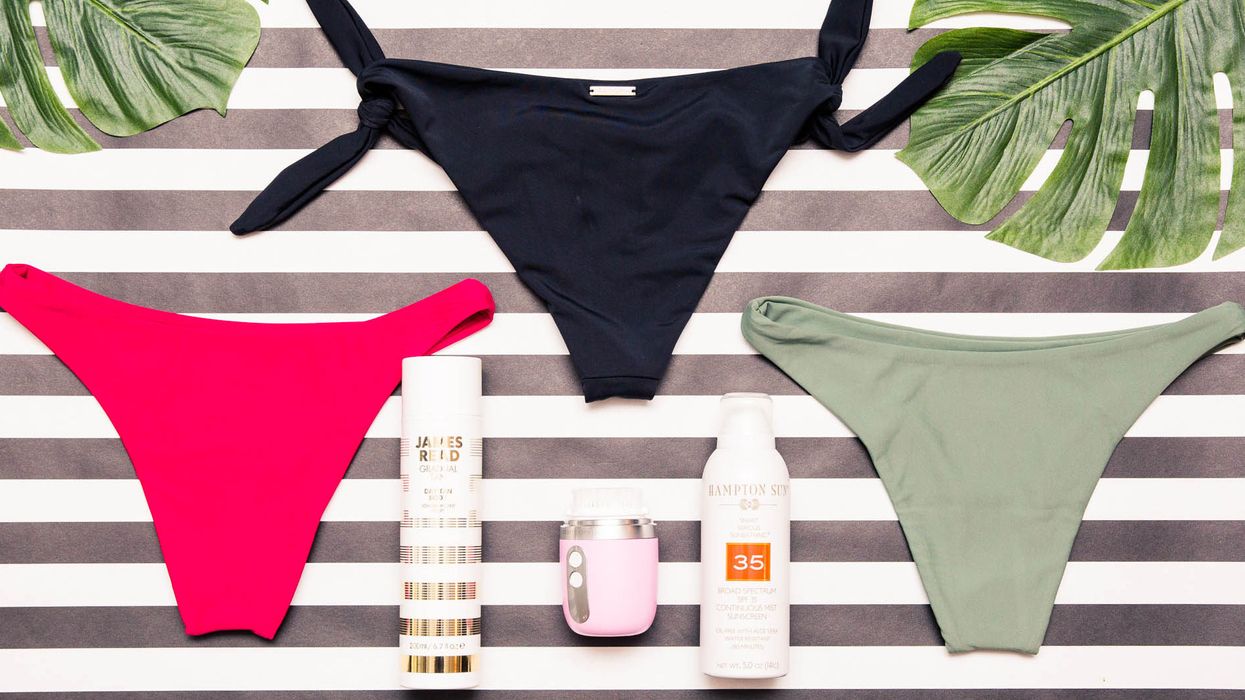 If anything, the Olympic Opening Ceremonies in Rio reminded us of three important things: Rio is gorgeous, Gisele is a goddess, and Brazilians love booty. We saw so many booties during the ceremony we lost count, and we love it. Bring on the booty, we say.
---
It should come as no surprise, then, that the Brazilian bottom—the most popular bikini bottom shape of the summer—it... well...there's no nice way of saying this: it lets your cheeks hang out. It's sort of a demi-thong, and it's actually surprisingly flattering. Whether you're working with a half-tank or have full-throttle buns, the high-cut, low-waisted style works wonders for literally everyone. "I've actually found that bottoms with less coverage are more flattering, more comfortable and give the body more shape," says Brittany Kozerski, a fashion editor and founder of Jade Swim. "They're my most requested style! The great thing about the present is that we're becoming more comfortable with and accepting of our bodies and different body types."
Now, there's a big difference between theoretically embracing the style and actually going out in public with your full ass-ets on display. The first thing you'll want to do is make sure your badonkadonk is smooth and spot-free. "The bottom line about the bottom is that the skin is very sensitive," says Washington D.C.-based dermatologist Dr. Tina Ulster. "If you have problems like folliculitis or acne, do not use things that sting, like alcohol-based toners or pads that contain salicylic acid—they will only irritate it further. Stay away from scrubs, which can make the problem worse."
To exfoliate the skin and get it in prime shape for being on display, she recommends only exfoliating in the shower. "Once in the shower, get a Clarisonic and use that on the area with a mild cleanser, not a scrub. That will loosen the cells that are clogging the pores." Finally, be sure to use lots of sunscreen on your cheeks, since that area likely hasn't seen the sun since you were a little kid running wild and free on the beach.
And with that in mind, most of us have some sort of not fun tan-line situation happening on our buns. To find out how to even out any tan lines and get your crazy-pale cheeks caught up to the rest of your body, we consulted James Read, self-tanning expert and maker of the chicest sunless-tanning products ever. "Before applying a self-tanner, exfoliate everywhere. The prep [for your butt] should be the same as on any other part of your body," he says. "To make sure your tan goes on evenly, take a bag of frozen peas and rub it along your skin to close the pores." We've never heard that one before, but OK!
To blend your tan lines, Read suggests using a tanning mitt. "Using a mitt, apply the product in layers, starting on the butt only. This helps build up the tan and also conceals any tan lines from your bathing suit. The tanning mitt is great because you can also use it to buff some extra tan around areas with cellulite," he adds. "Apply the tanner in a sweeping motion, and it will even out the tan and help make cellulite less noticeable." Once the tan line becomes less noticeable, add a layer to the rest of your leg. "Work the tan in a downward motion, leaving the feet until last. Wait two to three hours in between layers, and keep adding until you've reached your desired level of darkness."
And what happens if you make a mistake? "The easiest way to get rid of a self-tan mistake is to spend 20 minutes in the steam room," he says. "You can also mix lemon juice, lime juice, and a little bit of water. Pour it over a washcloth, then heat it in the microwave, and rub it along the area where you'd like to remove the tanner. The acids will help take the tan off." And if you want to treat your skin while removing mistakes, there's always Read's Tan Perfecting Enzyme Peel Mask, which hydrates as it erases mistakes.