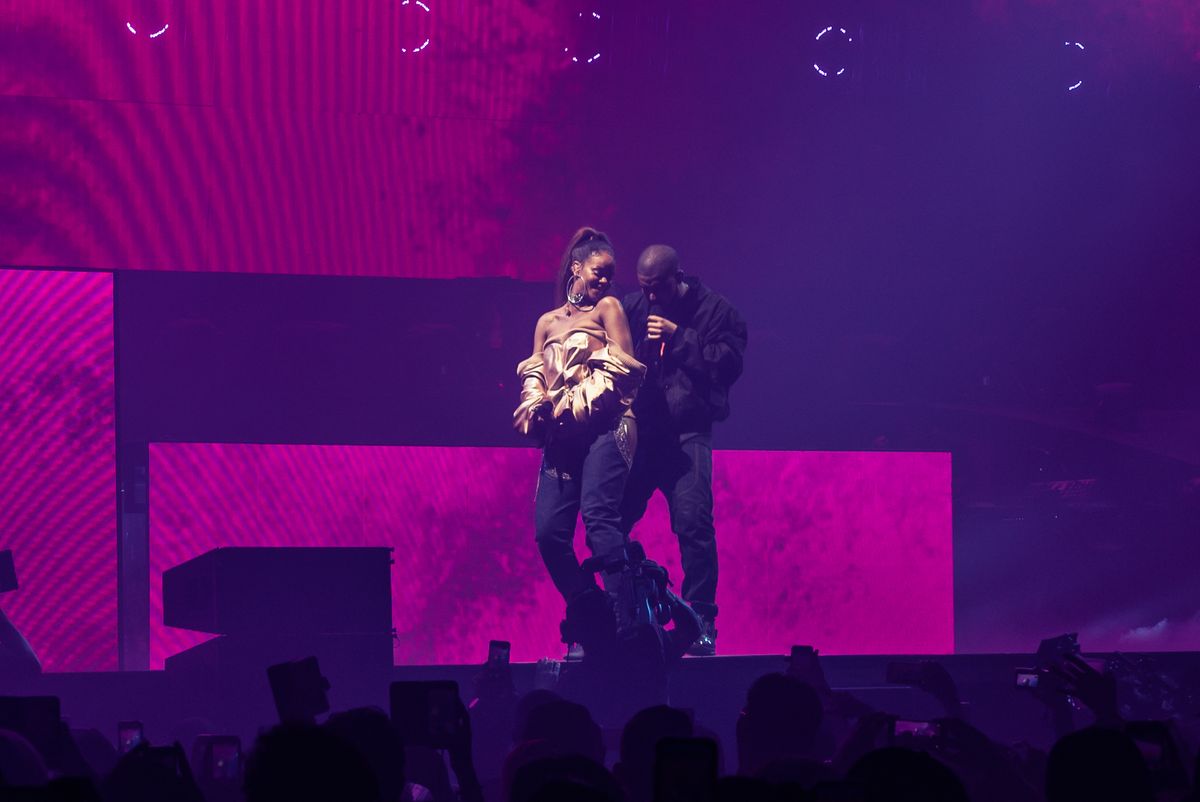 Entertaining
Featuring Drake, Rihanna, Kanye West & more. Toronto
Renée Rodenkirchen
How does one even begin to speak to everything that was last night's 7th OVO fest in Toronto? We'd be lying if we said we didn't spend the majority of our morning replaying our Snap story and discussing how there is just no way that Drake and Rihanna aren't dating (hello, did you guys see the way she was looking at him and calling him BABY!?!). #the6ix god had promised his city a memorable night brimming with special guests, and did he ever deliver.
The crowd warmed up to a slew of artists from the OVO Camp, and went from jumping up and down to Baka, singing and swaying with Roy Woods, to grabbing and holding on tight to their S/O during DVSN. Energy was at an all time high and just when everyone started to get slightly antsy, out came Dancehall star Popcaan. Note that Toronto proudly hosted their Caribana festival this weekend, so bringing out this *unruly boss* was a smart move. Finally, two hours into the show Drake himself hit the stage accompanied by flashing lights, smoke and fireworks because, of course. And as he jumped around to 'Summer Sixteen', it was evident just how much his city and fans actually admire and support him. It seemed not a single person was in their seat, and if you tried to take a break to save your feet, you were called out by none other than Drizzy himself.
'Show me love and you will be gifted' was The Boy's mantra for the night—and our first gift came by way of a thirty-one-year-old rapper who, even if you're not familiar with his music, you'll know from his past relationship with a certain Kardashian. French Montana took us 'all the way up' (literally) and let's be real, a few of us are adding his tracks to our workout playlists today. Up next was Future, who mixed in new and old hits, all the while being hyped up and cheered on by DJ Esco.
Then, in a flurry of smoke and rising platforms Drake was back onstage and before we even had a chance to catch our breath up out of the floor rose Rihanna. Dressed in a satin bomber turned bustier by Fortie (!!!), and her denim thigh-high Manolos, she was dripping in diamonds and looking like, well, the most beautiful human, ever. After performing 'Needed Me' and 'BBHMM', she and Drake had everyone losing their shit as they blatantly flirted with each other and performed together (for the first time might we add), 'Too Good'.
But OVO Fest wasn't done just yet. There was one more special guest rumored to be coming out, and as we heard the opening bars to 'Pop Style' we knew all our dreams were about to come true. In the middle of the stage appeared Mr. West himself, donning his infamous Balmain denim and a Life of Pablo jacket. I don't think the ACC arena has ever felt or seen so much energy from a crowd (no joke, there were people with tears rolling down their cheeks). And as if it wasn't quite enough, Kanye also hinted that there's a collaborative album in the works between himself and our beloved Drake. Cue major freak out. And now you can understand why we're going to be on cloud nine—or should we say six—for the rest of the summer.
---