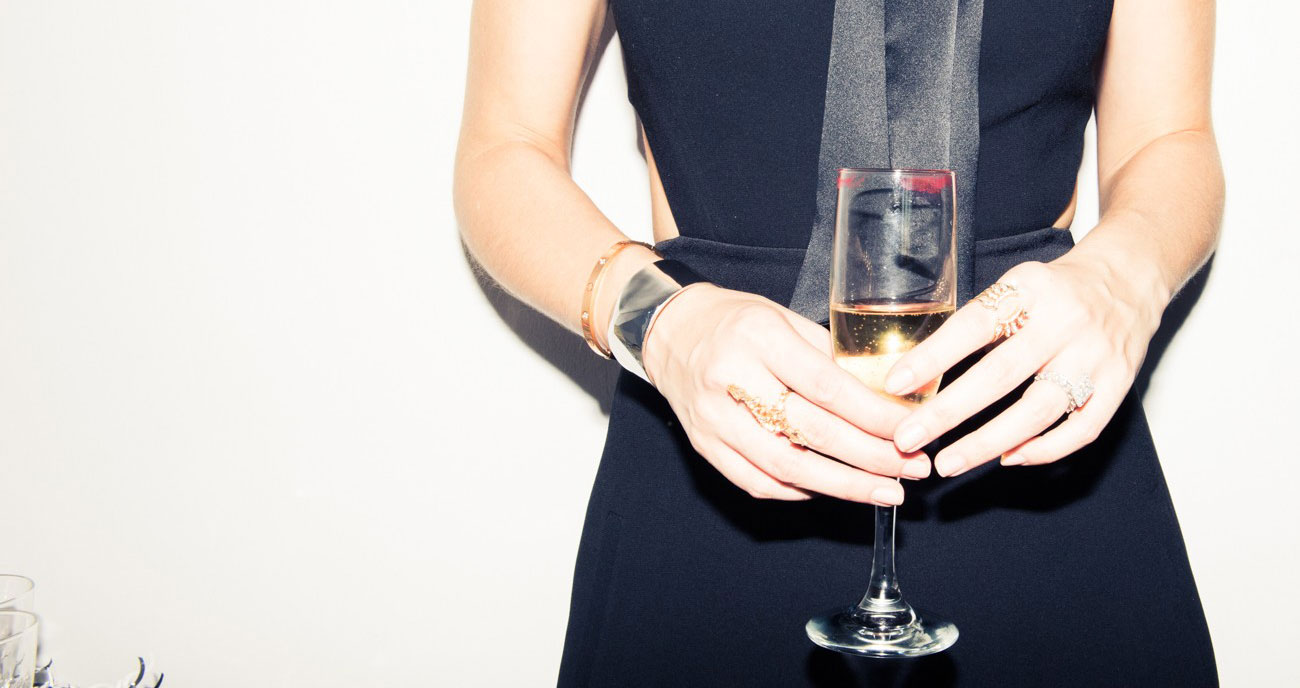 What We'd Wear on The Bachelorette Finale
Embrace your inner prom queen.
To be completely, 100% honest, we've been too busy watching the Republican and Democratic conventions these past two weeks to watch The Bachelorette. Sorry, not sorry, but we're not totally sure which anonymously hunky guy is up against the other anonymously hunky guy to win JoJo's 'heart.' However, we have every intention of catching up tonight.
While we're not completely sure what's happening on the show at this moment, we are sure of one thing: JoJo will be wearing one hell of a fantastic, body-con, 'Vegas black tie' sparkly outfit to hand out the final rose (and possibly get engaged (!)) tonight. If there's one thing we love about The Bachelorette, besides the man-tears, man-buns, and man-crazy, it's the over-the-top spangly rose ceremony outfits.
And so, if you'll allow us this brief indulgence, we've imagined exactly what we'd wear, if it was us handing out the final rose tonight. Bachelorette fashion is the ultimate fantasy fashion–any notion of 'chic-ness,' 'restraint,' or 'practicality' goes out the window in favor of, well, ratings.
And JoJo, we're so sorry you've been upstaged by Donald and Hillary, but we wish you all the best with your chosen anonymous hunky guy. May you both live forever in bliss. But anyway, here's what we'd wear if we were in your impossibly high, and very likely sparkly shoes.
Meagan Wilson
Editorial Manager and Social Media Manager
1. Self Portrait Jumpsuit: Full disclosure: I've never actually watched an episode of The Bachelor or The Bachelorette, which means my 'final rose' outfit might be wildly... ff. In any case, this Self Portrait jumpsuit, with its not-quite-plunging neckline and sheer paneling strikes the perfect tone between what I imagine to be Bach-appropriate and actually...well, me.
2. Milk Makeup Highlighter: Milk Makeup's tutorials and brand videos are all kinds of mesmerizing, and they've pretty much sold me on this pretty, champagne-y highlighter. The deodorant-ish applicator feels easy and unfussy in the most appealing way, and I get the feeling that shimmer is a Bachelor prerequisite.
3. Miu Miu Platforms: These platforms are the best of all worlds: a crystal-covered pump (my stab again, at being Bach-appropriate), a satin rose (get it?!) front and and suede platform and ankle strap. Plus a platform for dramatically running away from my suitors if needed.
1. Badgley-Mischka Gown: In searching for the perfect Final Rose DressTM I found out that there's an actual category for "fully sequined dresses" on some websites. Which comes in handy should you ever find yourself a) a contestant on The Bachelor/Bachelorette or b) at an MTV Super Sweet 16-esque party. Plus there's nothing like showing up to meet your future husband in a 1000 lb dress made entirely of sequins y'know?
2. Gucci Sandals: PINK! GLITTER! SPARKLES! Because there's literally no other time I can completely justify wearing pink metallic stilettos with a jeweled blush floor length gown when it's still daylight out and I'm showing up to proclaim to the world how I'm just so confused and totally "in love with two people." (!!) 
3. Charlotte Tilbury Lipstick: Most women are blindsided the day of their engagement, resulting in messy hair and a chipped manicure (but genuinely happy, so whatever) but if you're The Bachelorette a.k.a JoJo Fletcher, you know the exact day and time that Neil Lane rock is (hopefully) sliding onto your finger. Which means your hair, face and pinky toes are primped to an inch of their life. A nude lip is the obvious choice for this super magical moment and if anyone has your back for this glammed up moment, it's Charlotte Tilbury.
Emily Ramshaw
Senior Editor
1. Tom Ford gown: Because, honestly, when the hell else would I ever get to wear a velvet, backless, deep-V Tom Ford gown than when I'm on the finale of The Bachelorette? The ring is totally a sure thing now!
2. Jimmy Choo heels: These are like the classier version of the golden glitter stripper heels I wish I was wearing.
3. Charlotte Tilbery K.I.S.S.I.N.G. lipstick in So Marilyn: This is the ultimate red lipstick for engagement-level kisses. Now all I need to decide is who gets the final rose.
Andee Olson
Site Director and Head of Product
1. vbeauté Charcoal Mask: First things first, your skin must be flawless when you are a) giving the final rose the man you want to spend your life with, b) being proposed to by that man, and c) doing it all on national television. This charcoal face mask will have you glowing like a true bride.
2. Galvan Slip Dress: Simple is always better in my book, so this slip dress stays true to that, while still being glamorous enough for a final rose look.
3. Deborah Lippmann Shimmer Nail Polish: A post-engagement ring selfie is a must, especially when you are The Bachelorette, so this subtle shimmer nail polish will be perfect for any close-ups. 
Jodi Taylor
Editorial Assistant
1. Michelle Mason Silk-Satin Wrap Gown: My style is pretty damn simple. So why change it up when I am on the finale of The Bachelorette? Might as well show these men the true me. Plus, that front slit? I'll never say no to that.
2. Valentino Lace-Up Heels: Realistically I would love for these to wrap all the way up my leg, but if I'm going to be on national television I'll try to keep things a little more PG—for my parent's sake.
3. Stella McCartney Gold-Plated Choker: Considering I'm about to be receiving a rock that's as blinding as the sun, I'll keep my jewelry pretty minimal for the rose ceremony. I feel like this choker is the perfect finishing touch for my outfit, and the thin chain that's attached will accentuate the v in the dress just the *right* amount.
Lindsey Halpern
Editorial Intern
1. Valentino Gown: Though I really did (literally, not kidding) start filling out an application for the last season of The Bachelor, the thought of me actually ever making it onto the show is almost as absurd as the price of this gown. Yet, a girl can dream, right? This dress is DREAMY. Its blush tone and sparkles feel vaguely bridal, but the Valentino stars keep the look high-fashion. Let's just hope that my Bachelorette proposal does not occur in blistering hot Thailand (like JoJo's) because sweat definitely does not go with this fantasy look.
2. Jimmy Choo Glitter Pumps: When your Neil Lane diamond is as big as your face, the rest of your outfit has to shine hard too. So why not wear these pink and gold ombre glitter pumps?! Let's hope they're comfy for all those little bridges, fake plants, and randomly placed rugs that Chris Harrison makes you walk through.
3. Jennifer Behr Headband: It's not quite a veil, but this goddess-like headpiece sticks with the golden theme and will keep you channeling all the bridal/fairy nymph vibes on this special day that marks the end of your "amazing journey."
Laurel Pantin
Editorial Director
1. Juicy Couture Sweat Pants: Listen. If this guy really wants to be with me, he wants to be with me even when I'm watching Zootopia for the tenth time, wearing sweats on the couch. If we're proclaiming our love in front of literally millions of people on TV, he'd better love me for me. Paris Hilton fantasies and all. 
2. Tom Ford Tuscan Leather: Just because I'm wearing sweats, that doesn't mean I can't smell sexy as hell, right? My final rose look is all about living my truth, and if my truth happens to be an elastic waist-band and smelling like upholstery, then so be it. 
3. Deborah Lippmann Glitter Polish: Ok, ok, ok..while I'm opposed to wearing actual, real pants for the biggest moment of my life, I'm not above a good manicure. And for me, that means glitter. When I give out *my* final rose, you'd better believe I'll have some super-fun, sparkly nails for the occasion.