The Under-the-Radar Italian Vacation That Needs to Make Your Bucket List
That time we went on a weeklong sparkling wine bender in Italy's most up-and-coming wine region.
Travel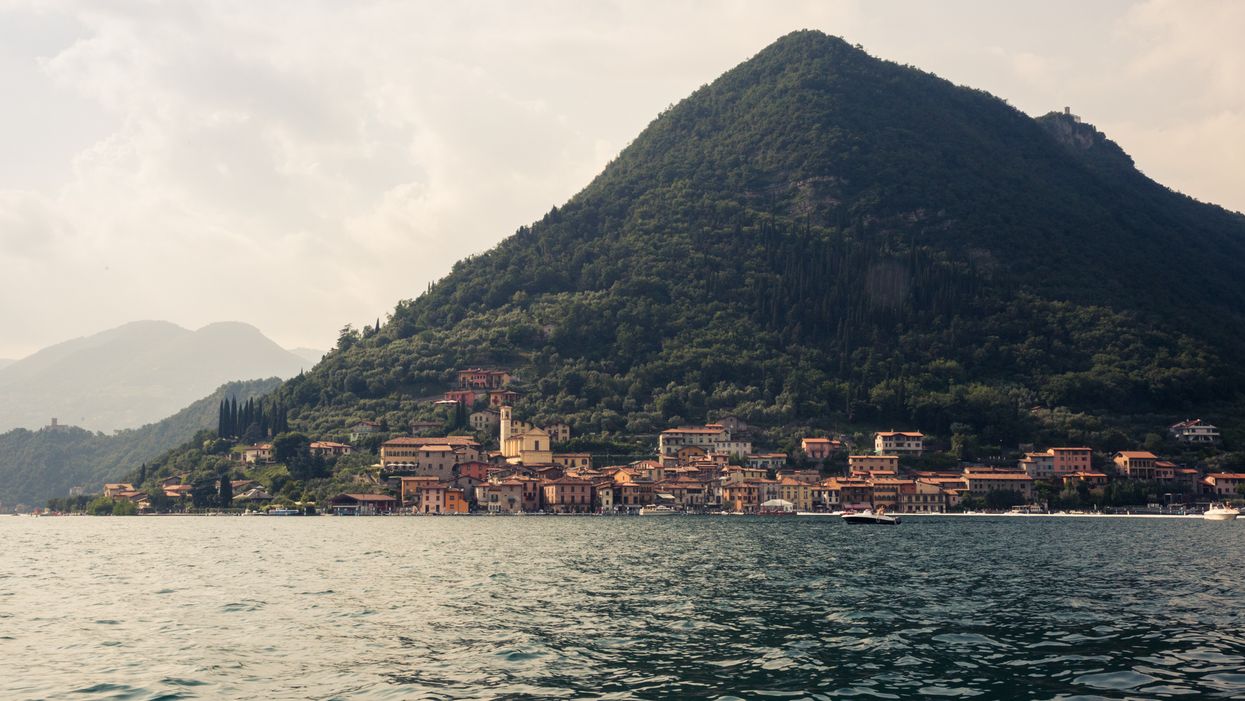 It seems like virtually everyone is somewhere in some over-the-top scenic part of Italy right now. We're pretty sure we know where we got this impression, and it can be summed up in three little words: Chrissy Teigen's Snapchat. We won't lie, though—we're guilty of feeding into it too (see here. Also here. And oh god, here.) You see, we started our summer by taking a tour through the country's surreally stunning Franciacorta region—part of Brescia, just off of Lake Iseo, and famed for its sparkling wine. In other words, check, check and check, please. And between spending leisurely mornings at fancy spas, followed by hours of wine tastings (including ample cured meats and formaggio, because the only time we're not thinking about eating is when we're actually, uh, eating) and taking in the making of Christo's Floating Piers installation, we think we have art of the ball-out-Italian-vacation down. Here's what we learned, and here's why you should make Franciacorta the next stop on your summer travel list.
---
Le Quattro Terre

Surrounded by rolling hills and fields of vineyards, sits the 18th century renovated farmhouse (!) we called home during our time in Franciacorta. Suffice it to say, there's no prettier place to lay your head after an extremely taxing and stressful day of touring wineries.
Ricci Curbastro

This was the first winery we visited, and we couldn't have had a better introduction to Franciacorta. After a guided tour of the premises and wine-making process by the generations-deep owner of the vineyard, we opened a few vintage bottles (including a reaaaaaallly yummy Rosé Brut) while rain poured. Bonus points for the sheer fact that they have two really adorable dogs who accompany the tour.
Cappuccini Resort
Listen: we know firsthand all that eating and drinking eventually requires a little decompression. We get it! That's why we're big advocates of a stop by Cappuccini, where, after making your way through their healing water circuit, you can get a fancy massage complete with exfoliants, lotions, and potions made from local grapes. Just because you're not drinking, doesn't mean you can't keep the theme alive.
Unless, of course, you prefer your spa visits to be of the more rigorous, exacting, and admittedly, totally terrifying variety. Espace Chenot is a famed wellness retreat that specializes in essentially resetting your entire system (if you deign to stay for one of their 3-14 day programs) through a series of wellness treatments...including oxygenating your blood. Not for the weak of heart, to say the very least.
You know how we kicked this thing off by mentioning the deluge of Italy Instagrams that have probably taken over your feed? Chances are that had something to do with Iseo's most recent installation, the Floating Piers by Christo, which more or less consisted of a tangerine-orange tarp creating "piers" for viewers to walk along and explore the lake where there were none before. Cool, right? Interactive installation or not, our wine-fueled boat ride along the lake made for a pretty magical afternoon—especially given the presence of actual castles (yup) dotting it.
If we had a secret wedding Pinterest board, this place would be on it. Not only is it totally dreamy, but we had the most delicious tasting here—our favorites were the Rosé Demi Sec and Brut Jeroboam.
Guys. Guys! A bed and breakfast might seem like a slightly out of left field as a day-tripping suggestion, but if you're going to have the most idyllic, unreal Italian experience ever, there's nothing better than horseback riding, mulberry picking, and being handed a peach right off a tree by one of Locando del Pesco's farmers. Just go with it—follow up a winery visit with a gaggle of pals with this, and you're pretty much guaranteed a good time. We know, because that's exactly what happened and we were totally charmed. Bonus points for the presence of a very cute dog. Everybody wins.
The last winery stop on our trip, Majolini was far and away one of our favorites. Surrounded by rolling green hills and pure white limestone, it makes the perfect setting for trying a flight of sparkling wines—our favorites were the Brut Satèn and Blanc de Noir. And yes, we might have walked away with a bottle (or two!) to stash in our suitcases.
Our meal at Due Colombe can only be described as one of those culinary experiences where you kind of have no idea what's going on, but in the very best way possible. That basically sums up our night at this Michelin-starred spot. Favorites included candied lemon risotto, the most incredible concoction of purple potato, prawns, and a cheesy roux made with Franciacorta sauce, and a dessert of yogurt, burnt meringue, and jelly cubes made of gin. In other words, GO!