WWWRN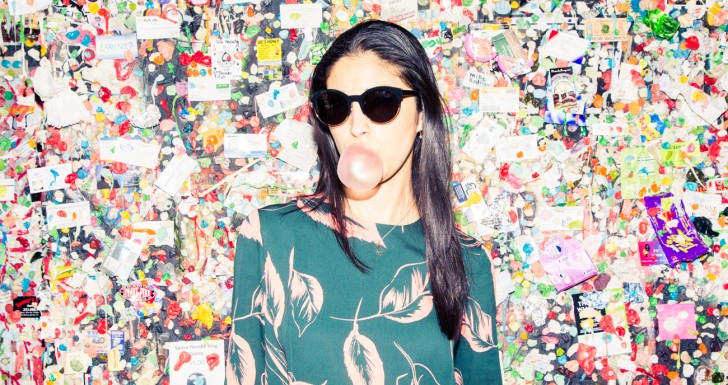 Our Editors' Summer Looks
Have you guys noticed it's hot out?
The only way we can describe summer in the city: sweaty. And, truthfully, there's not much to say about being hot and melty that we haven't already tackled (but if there is something you'd love to see from us, just send us a message, or tweet, or snap, or whatever). So instead of harping on the subject any longer, we're going to just take you through our shopping carts/minds this week, where we've laid out everything we're buying/daydreaming about/listening to while we're holed up in our HQ, struggling between being way too hot and then way too cold from the office AC. Frankly, we'd rather be here.
1. CO Dress: Light blue! Airy! Side pockets! Basically, it ticks all my ideal warm-weather-dress boxes. 
2. Cartier Sunglasses: Dark aviators that I can throw over tired eyes en route to work, meaning I don't have to worry about mascara, are the best addition to my morning commute. 
3. Ancient Greek Sandals: These black pony-hair sandals are the ultimate TGIF pick-me-up purchase. 
4. Yuripibu Essence: If you saw our summer K Beauty Facebook Live with Glow Recipe, you'll know that this artichoke (yes, artichoke) essence promises smaller pores, fewer wrinkles and super-hydrated skin. So, naturally, I've been slathering it on every single morning and night. 
5. Jil Sander Sweatpants: Okay, I know this may sound contradictory to the whole sweating in the city theme, but there's nothing I enjoy more than getting home to my apartment, blasting the AC, throwing on some cashmere sweatpants and binge-watching Netflix. 
 
Laurel Pantin
Editorial Director
1. Fleur du Mal Bikini Bottoms: These are, without a doubt, the raciest things I've ever worn, but I love them. In the dead of summer, I'd wear these bottoms under a sheer lace dress and pretty much call it a day. 
2. "Wow" by Beck: I can't stop with this song! It's on repeat on my phone and gets me through super-hot long walks to work. 
3. Essie Polish in A Stroke of Brilliance: I live for glitter nail polish, especially on my toes. This blue one is my go-to. 
4. Topshop iPhone Case: I hate carrying a bag in the summer. I prefer to stash my credit card and ID between my phone case and my phone and then hit the road. I like this one because it's summery and silly but not too silly.
5. Holly Dyment Ring: In case you couldn't tell based on my Instagram, I'm on a bit of a Holly Dyment kick this summer. The rings I've been escorting around the city and on my travels are all borrowed, sadly, but I'd do just about anything to own this one. It looks so good with simple summer outfits. 
Meagan Wilson
Editorial & Social Media Manager
1. Topshop Poplin Dress: I stand by my theory that wearing a dress in the summer is the easiest way to look pulled together even when you're covered in sweat and hating yourself.
2. Sensi Studio Pompom Hat: It's the summer of the pom-pom, and there's no need for your head to be excluded from the fun.
3. Ouai Wave Spray: Try saying this three times fast. Actually, don't, because I have, and it usually ends in a really embarrassing way. What I will say is that this stuff is your one-bottle ticket to pretty, beachy hair.
4. Marc Jacobs Glow Stick: This is perfect for when you, like everyone else in the entire world, want to look dewy and glowy and vaguely sweaty and powder feels like the antithesis of all that. I speak from experience, clearly.
5. 3.1 Phillip Lim Mules: Brown suede mules are this year's fashion-y equivalent of flip-flops, and I kind of love it.
Noah Lehava
Senior Editor
1. Sachajuan Ocean Mist: Salty hair in the middle of the city. Yes. 
2. Deborah Pagani Earrings: Diamond pill-shaped earrings—my kind of juxtapositional jewels. 
3. Mabu by Maris BK Sandals: It's the last stretch of summer, which means I have to wear everything that would be just fucking ridiculous in any other season. These can't be worn with socks. 
4. Noah NY T-Shirt: Subtle, right? 
5. Watermelon Rosé: My life changed the first time I had this concoction at a small café on Toronto Island (yes, we have an island and, yes, you should go). I've been trying to recreate it since. Essentially, blend fresh watermelon, rosé and ice. Mind blown.
Emily Ramshaw
Senior Editor
1. Reformation Dress: This is the smallest dress I can find that is still (almost) okay to wear on the subway. 
2. Dear Frances Slides: All slides all the time. IMO, the trick to dressing in the summer when you're not on the beach is wearing things that are as low effort as possible (slides) without looking like you've walked out of a Billabong ad (slides). 
3. Master & Dynamic Earphones: If I'm walking, I'm probably listening to a podcast. Right now I'm into Sooo Many White Guys, a new podcast by Phoebe Robinson (of 2 Dope Queens) and executive produced by Broad City's Ilana Glazer. Robinson interviews musicians, actors, writers and comedians who aren't white men. It's really good. 
4. Nars Laguna Tiare Bronzer: This is a cult classic for a reason. And it's responsible for my summer *glow*. 
5. Irene Neuwirth Pendant: This pendant on a long gold chain is just about perfect. 
Jodi Taylor
Assistant Editor
1. Know Yourself OVO Towel: The ultimate rooftop (or public) pool accessory. 
2. Essie Topless & Barefoot: If there's one thing I can't stand, it's bare nails—and my next biggest pet peeve is chipped nails. Since I seem to barely have time to brush my hair, let alone maintain my nails, you can see that I have a problem here. My solution is this Essie nail polish. I get to have painted nails 24/7 but the color is so subtle you'd never notice a chip.
3. Saint Laurent Ear Cuff: I'm not one to wear my hair up, but in summer I rarely have a choice. The way I look at it, if I'm going to be forced, I may as well have a badass ear cuff to show off. 
4. Boscia Black Charcoal Blotting Linens: Summer in the city means a whole lot of walking. Walking everywhere means that nine times out of ten I arrive at my destination with a good sheen of sweat going on. (Don't pretend this never happens to you.) Thanks to these Boscia blotting papers, I don't have to spend the rest of my day looking like a literal hot mess.
5. Raey Silk Slip Dress: My summer wardrobe consists of slip dresses, slip dresses and, well, more slip dresses. There's always room for one more though and, hey, I don't have a nude one yet anyways. 
Part of the series:
WWWRN