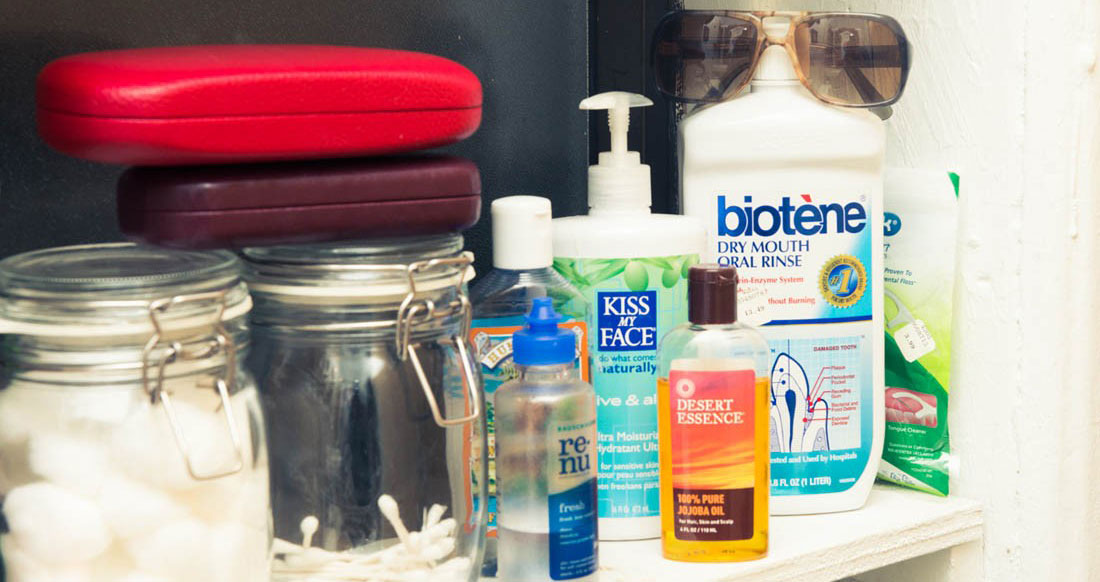 The Drugstore Buys our Favorite Derms Swear By
If we love anything, it's a drugstore beauty raid.
Whenever we're feeling sad, lonely, excited, hungry, bored, or, you know, if it's a day that ends in "y," we love a trip to CVS. What is it about strolling aisle after aisle of practical and affordable beauty and skin products (beyond the fact of practical and affordable products) that makes everything better? We play our own private version of Supermarket Sweep down the makeup aisle regularly, but when it comes to selecting drugstore skincare we get a little overwhelmed. So, we turned to some of our favorite dermatologists (an done plastic surgeon) to find out which non-prescription, mass-market (read: accessible) skincare products they recommend for getting your best summer skin—including the one deodorant that won't leave yellow stains on your white clothing.
1. Emjoi Micro-Pedi: This device is the best I know of to gently but effectively buff away dry, rough skin on your heels and feet. It is battery operated and literally sands away thick heel skin.
2. AmLactin Ultra Hydrating Body Cream: For dry, rough skin on the body and feet, this is a year-round favorite of mine. It utilizes ammonium lactate, mineral oil and glycerin to exfoliate and intensely hydrate skin. This cream is especially great after buffing away your dry heels with the Micro-Pedi! 
3. L'Oreal Revitalift Bright Reveal (Brightening Peel Pads): These gylcolic acid pads are used nightly to gently but effectively remove the top layer of dead skin, making the skin appear smoother and brighter. These are especially a favorite in the summer with the heat and increased oil production in the skin. 
4. Neutrogena Ultra Gentle Daily Cleanser: While I may recommend creamy cleansers in the winter months, in the summer, people often feel they need a little something more intense. This cleanser is the perfect balance—it gently but deeply cleans without over drying.
1. La Roche-Posay Anthelion 50 Mineral Ultra-Light Sunscreen Fluid: This sunscreen provides broad-spectrum coverage from UVA and UVB rays, has SPF 50. It's a lightweight fluid which has a smooth application and dries quickly without leaving a sticky feeling on the skin. It also comes in tinted and un-tinted, is water resistant for 40 minutes, and is paraben and fragrance free.
2. Neutrogena Hydroboost Water Gel: This great lightweight water gel moisturizing formula absorbs quickly which is ideal for the summer months. It contains hyaluronic acid (commonly used in injectable fillers) which can attract 1000x its weight in water to hydrate your skin and help reduce fine lines.
3. Labello Lip Balm: I first discovered this shea butter-based lip balm when I was studying in France. It's the perfect texture, doesn't melt and leaves your lips feeling extra soft. I love the original and rose balms for everyday but opt for the one with SPF when in the sun.
4. L'Oreal Nature's Therapy Mega Sleek Deep Conditioning Creme: This is a great conditioner for the summer to nourish damaged, sun-drenched hair, and stiff chlorinated hair. It doesn't contain sulfates, so it won't destroy your keratin treatment! It's formulated with hydrating coconut oil and nourishing Argan oil (which contains fatty acids and vitamin E) to help smooth hair and prevent frizz.
5. Lady Speed Stick with Stain Guard: There's something about wearing all white that makes me feel instantly chic during the summer months. But I hate having to constantly replace my white shirts due to yellow underarm stains [ed note: these stains come from your deodorant, not sweat!]. This deodorant has a stain guard so that it does not destroy your clothing. 
1. Cerave Moisturizer: It's hypoallergenic, and provides hydration for the entire day. It's a staple and great for your skin.
2. Elta MD Sunscreen: It has high SPF, and it's non-greasy and non-comedogenic, so you won't break out
3. Head and Shoulders Shampoo: This contains Pyrithione Zinc which is a strong anti-inflammatory, and it prevents itchy dryness and flakiness, but it also decreases scalp oiliness and unclogs hair follicles.
4. Garnier Micella Water: because it is non oily and safe to use to remove makeup.