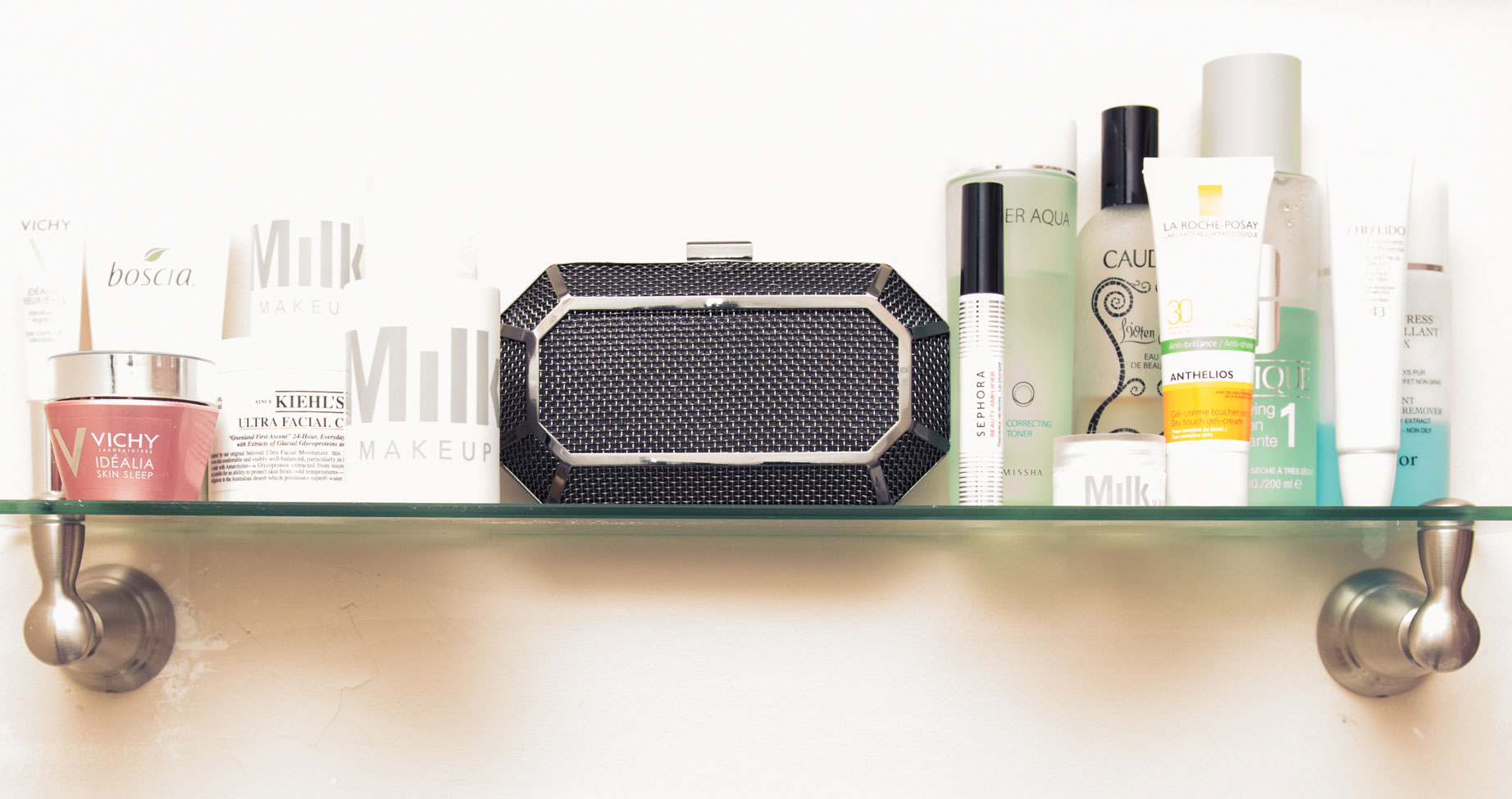 How to Fix Your Skin Problems
Open in case of emergency.
As evidenced here and here, as editors we put work into our skincare routines on the daily. And as much as we wish our constant cycles of cleanse, exfoliate, serum, repeat (plus arsenals of hard hitting products like prescription retinols, snail slime and Biologique Recherche's P50) kept any issues at bay, we're only human—and busy ones at that so yeah, emergencies do arise despite our best efforts. Sometimes explainable ones, like the week before our period or after a really drying red eye flight. But then there's also those surprise ones in which we have no idea why our skin decided to just flake off and turn red. Thankfully, over time we've mastered the art of the SOS skin routine as well. Below we take you through exactly what we do when pimples, puffiness and peeling try to ruin our days.
Meagan Wilson
Editorial Manager
My feelings on this topic can only be described as extensive. I like to think I've pretty much mastered the art of addressing any skin emergency in the swiftest manner imaginable, and I'm pretty proud of it—not that it actually makes skin emergencies any more enjoyable. That said, I've been fortunate enough to suffer through not even a fraction of said emergencies solely because of one product (you might have guessed it, given that I blather on about it pretty much non-stop): Biologique Recherche's P50. I feel Kanye rant-level passionate about this stuff. I thought people complimenting me on my skin would never be a thing, but this makes it one. It's that good.
In the case of a breakout, I've never found a spot treatment that works, and yes, I've tried the fancy calamine solutions you need to use with a Q-tip and gotten derms to hook me up with the prescription-only stuff alike. Nada. Instead? I opt to spot-treat with a mask. I talk about Caolion's Steam Pore Pack ad nauseum because it's my numero uno in this department. Just buy it, use it the next time you break out, and thank me when it fixes your face. Queen Helene's Mint Julep Masque is under $7 and comes in at a close second. Yes, really. When my skin's looking a little congested over all, I love Glamglow's OG SuperMud Clearing Treatment and it works like actual, price-justifying magic. In the case of moisture-sapped dullness, I only fuck with sheet masks. This is the last one I used and it worked wonders.
Emily Ramshaw 
Senior Editor
My skincare emergency is always the same. And it's the worst: A deep and painful pimple—usually two or three at a time. After years of fighting it, I've finally resigned myself to the fact that they are very well-timed to an oncoming period and that—in terms of prevention—there's very little I can do. To minimize and get rid of the breakout as quickly as possible I do the most extreme version of my skincare routine. After washing my face with any given cleanser, I swab it with Yes to Tomatoes toner, apply a light layer of Marie d'Argan Nigella Sativa Oil, which is moisturizing, but also heals skin, and then spot treat with Clearasil Treatment Cream. Honestly, it's the only stuff that actually works.
My skin usually throws up red flags after two occasions: a really long bout of traveling (that airplane air, though) or a too fun weekend (one that involved too many sodium heavy tequila drinks and not enough face washing, although by that I mean I only got around to two steps of my regime instead of all ten). I won't even mention the acne (or hormonal breakouts) that are pretty much so constant they don't even count as red flags anymore, plus I kind of have them under control thanks to a perfectly mixed cocktail of dermatologist recommended prescriptions.
When my skin feels like complete shit. I open my medicine cabinet and get to work. Step one is to break out Dermalogica's Microfoliant, which buffs off most of the nasty stuff and dead skin cells that are behind the skincare emergency in the first place. Then I go in, with an intense round of double (sometimes triple) masking. Blemishes get covered in a heavy dose of salicic acid-heavy Yes to Tomatoes Detoxifying Charcoal Mask and then any super tough spots require one of GlamGlow's treatments either the SuperMud (which clears up everything and is like a mini pore vcauum) or their YouthMud while the rest of my face gets a hydrating rose clay mask from Charlotte Tilbury. After masking, there's toner, piles of serums, heaps of moisturizer and Heritage Rose Water Spray. If my skin is super dry I'll pop a sheet mask on and then break out the big guns, Elemis' Pro-Collagen Hydra-Gel Eye Masks. A beauty editor I used to work with once told me that you shouldn't get married unless you have these on your wedding day, since trying them years ago I can totally understand why (and attest to the fact that it hold true for any special occasion). The seriously tighten, brighten and take down any under-eye puffiness that was once there.
Laurel Pantin
Editorial Director
My main skin woe is puffiness—especially under my eyes. As someone who loves a good dirty (read: salty) Tito's martini, and also spicy food (read: a shit-ton of Cholula and Sriracha on everything) I get the puff bad. When it's especially brutal, I use my Clarisonic in the shower to kind of massage the fluid out of my face and away from my eyes. It's definitely not meant for de-puffing, but it works. Then, I'll slather on my favorite Belif moisturizer, and use it as a conductor for my NuFace, which I also use to massage the garbage out of my face. Other than puffiness, my main skin concern is dullness. I like to use Drunk Elephant's Glycolic Night Serum as a light exfoliant (I love this stuff), or else Sunday Riley's Good Genes (I also love this stuff) to brighten everything up a bit.
When I break out, I use Renee Rouleau's serum, which works, but only until I start picking my face (which, let's be honest, always happens). Once I've thoroughly attacked the evil zit, I dab on a teensy bit of coconut oil to disinfect and soothe the area, and then spend the next four or five days regretting everything.
Noah Lehava
Senior Editor
This story couldn't have come at a more opportune time; my skin is in the midst of a freak out. My manageably dry skin has resolved to full-blown flaking—no, not a casualty of a sunburn—and I've broken out in tiny pimples scattered across my face. And because I can't resist picking everything off, I have small darkish scars left in every pimple's wake. Not good.
So now I'm in crisis mode: first, I'm obsessively cleaning my face the moment I get home from work. I've also tried to go sans makeup for much of the weekend. I love M16's Power Cleanser—the glycolic acid helps with my acneic and dry skin, and the tea tree oil helps kill any bacteria settled in my pores. Once my face is clean, I'll use Dr. Dennis Gross Alpha Beta Peel wipes because they were recommend to me by Shani Darden and I trust every word she says. I'll follow with Glossier's Mega Green face mask, which is so calming and soothing, plus it leaves my skin incredibly smooth. Right before bed, I'll gently put on Caudalie's Detox Overnight Face Oil, which I've mentioned about 50 times—but deserves every last shout out.