Career
How two best friends took the industry by storm.
Welcome to Next Gen, The Coveteur's way of spotlighting the up-and-coming designers, musicians, artists, entrepreneurs, actors—essentially, talented people in any given field—who are doing cool things and who, in our humble opinions, are going to be big effing deals in the near future (if they aren't already). In short: we're excited about the people profiled here. Are there soon-to-be-big people who deserve our attention? Tweet us and tell us about them @thecoveteur #covnextgen.
---
Flagpole is the true story of two best friends from South Florida, Jaime Barker and Megan Balch, who met in high school and shared a love for fashion (in the form of Wet Seal and Rainbow flip flops). They always wanted to work together, moved to New York, and had a lightning bolt idea that involved starting a swimwear label inspired by the dance leotards they grew up wearing. The story ends happily—or, rather continues happily, because this is only the beginning. After that initial epiphany (at the age of 22), there were years of sharing a bedroom and living in bunk beds, being told 'no' by swimwear buyers from the country's top stores, and slogging through three binders to create the mother of all business plans. Flagpole is a story of triumph. It is a story of finish-each-other's-sentences friendship. It is a story of super high quality swimwear that is produced in New York and that is now backed by companies like Net-A-Porter and Saks (come October!) and people like Erika Bearman. In other words, it's a good story. Read on.
The meet-cute (that happened in high school):
Jaime: "We went to middle school together. We knew of each other, but middle school is weird."
Megan: "We had one class in high school where our teacher made us sit in alphabetical order and I'm Megan Balch and she's Jaime Barker. And I was like, 'Hi, I'm Megan.' And she was like, 'I know. I'm Jaime.' And then we dressed the same at school the very next day."
Jaime: "We wore a ridiculous outfit that we both just happened to own. It was a white, collared, long sleeve shirt…"
Megan: "With a tie…"
Jaime: "And a tube top over it…"
Megan: "From Wet Seal. This was 2003."
Jaime: "We paired it with Rainbows [flipflops].
It was always going to be fashion:
Jaime: "I did a pre-college program at Pratt the summer before I went to my senior year of high school, and I majored in fashion. That's when I was like, 'Yes. I love this.' I danced for a while, and I thought I wanted to be on Broadway, but I was too short. It's funny because my thought process when I was younger was, 'Oh, this is good. I won't have to be a starving artist now, I'll just go into fashion.' Little did I know…"
Megan: "I was like 'I want to do something artistic, but I want to make money, so I'll go into advertising!' And then I had one class at NYU in advertising and I was like, 'Nope.' I got my degree in Media Culture and Communications."
Jaime: "I went to SCAD for fashion design. I knew from day one that I wanted to do fashion and I was so intent on trying to learn everything that I could. I always interned in NYC in the summers. My first internship was with Rebecca Taylor."
They always wanted to work together:
Jaime: "We are on a really weird wavelength. From a young age, we knew we wanted to work together. We'd always talk about things like business ideas, which I don't think is normal for kids. We would always talk about all the things we were going to do when we lived in New York together—even though we didn't know what we were going to do. So, then I graduated, and the plan was for us to move in together: she found an apartment for us to live in. It was a one bedroom. We ended up putting bunkbeds in it."
Megan: "We also moved out of said bunkbeds about a year ago…"
Jaime: "We were there for five years. It was intense. I moved in with [Megan] and she was finishing school and I was just about to take my first fashion job. I worked for a startup company and that is what led us here. They made everything in the garment district. There's only four or five factories that make swimwear here. The company I worked for, just happened to work with one of the swimwear factories. I really got to learn how to produce in New York City."
The lightbulb moment:
Jaime: "There was a girl starting a swim line in the factory. I was there all the time, running around, doing a job that I was probably unqualified to be doing. I just talked to this girl and I said'Your suits are so cute. How are you doing this? Are you just one person?' And she was like, 'Yeah, I'm just one person. I had this idea and now I'm making them and Anthropologie just bought them and now Nieman's too.' And something just exploded in my mind, like, 'Bathing suits!' I ran into the stairwell and called Megan. I told her that we should make bathing suits based off of leotards because we both grew up dancing in leotards. When we went to the beach [as kids], we were skateboarding and surfing and playing volleyball, doing cartwheels. It wasn't ever about tanning—it was always about movement. I was thinking about my favorite leotards growing up and I thought, 'If that was made out of swimwear, how cool would that be?' Does anything like this exist out there? I called her and my mom and dad and sister. I interrupted everyone's day and I was like, 'I don't know what's going to happen, but there's something here.'"
Megan: "My notes from school at that time went from notes to mostly bathing suit sketches."
How Flagpole was born:
Jaime: "It took us awhile. I ended up leaving my first job and designing for Macy's. I wanted to get a mass market feel and see what that was about, but I realized that wasn't where I was supposed to be. So that inspired more working after work. On the weekends, we'd go to Fort Greene and sit in the park and talk about what the name of this company would be and what else was in the market. We realized that there actually was a gap in the market and that we could actually make this work. Not being business people, but just having a passion, we sought advice and were ready to quit our jobs and be babysitters and bartenders and find whatever way we could to get money to slowly start with at least one style. We were 22 at the time."
Megan: "That's really the only reason we have this company. We made ourselves sit down and do the not fun part of fashion and think about everything, really look at the market, and also, prove to ourselves that when not fun things come up that we have to take care, that we are completely capable of handling those things as well. It is a big part of running a business."
Jaime: "We spent two months really hard core researching and developing. We ended up writing a 72-page business plan, which three binders worth of research—plus a brand book, one swimsuit, and a mock photo shoot.
"At the time, we weren't thinking that anything was even remotely possible. In our plan, we had written that this was all for the next five years or something like that. And our investor said , 'Um, no, actually, you're going to start it now. The fire is within you. You're not married, you don't have kids, nothing is holding you back. You're doing it now.' We hit the ground running. We got our first check and marched it straight over to the bank and were like, 'We want to open up this account.' In some ways we felt like we were 40 and in other ways we felt like we were 18. We knew there was going to be a lot of fit development, but there was so much more we didn't know about."
How they developed the line:
Megan: "We crunched the numbers for how much it costs to produce something entirely in New York City using Italian fabrics and we were like, 'Well that price was not the price we were imagining. So…'
Jaime: "It definitely flipped a switch for us. We had to do so much research. We had to be Eres quality at least. And they're amazing—their fabric is patented. Our fabric was a huge part of it, it's from Italy and the color cuts are amazing. When we design things, we design them in colors. When we're thinking about a shape, it's always a color with another color. We've just never really gone for print. Part of our DNA has always been a minimalist aesthetic—we just want amazing colors. We wanted people to feel like they could wear this suit, that was going to last forever—that was a higher price point, but was amazing quality, and to have it be seasonless.
"We have a factory in Long Island City. For now, we share the space. We started at a factory on 38th and 8th, where we still do our sampling at and produce some styles. For every factory we produce at, bare minimum you're creating at least six jobs when you're producing in New York."
Megan: "Our cutters are a different factory than our markers and graders who are a different factory from our actual sewers and our fabric vendors and our trim people. It's crazy to think how many people are involved in helping us make a single suit. We get to have a very personal relationship with each step of the process. Instead of just putting your suit through a cookie cutter marking and grading machine, we actually sit down with the workers and talk it out. We've learned so much from all of them."
Selling the first suits:
Jaime: "What was crazy was when we first started off was that our investors were like, 'You must get Barneys and Net-A-Porter.' And we were like, 'Ha ha...got it, we'll be on it first thing.' Funny enough, our very first meeting that we ever had was with Barneys. It was just the two of us. We went out and bought outfits for it".
Megan: "We were like, we can't wear Forever 21 anymore, we think they might know. We showed up and had our very first sales experience."
Jaime: "Something that was really important to us at the beginning was having a lot of high waisted bottoms and a lot of one pieces. And when we started our company four years ago, the high-waisted suits were just starting to be a thing. We showed them to the buyers and they were like, 'Oh no, ladies aren't wearing these.' And we were like, 'Well, yes, they are—they definitely want to be wearing them.'"
Megan: "No no, that is not what we said. We were actually like, 'You're right. These are stupid. We don't know what we're talking about.' We were so bright-eyed and bushy-tailed, I mean, we still are. But, that was a crazy landmark for us. We didn't hear from them for another year and then they ended up picking us up.
"Soon after the Barney's meeting, we signed up to do Miami Swim. Nobody knew who we were, and we realized that we were very different from a lot of swim companies. Buyers would come in and be like, 'Do you have anything that's skimpier? Where are your prints? Where are your metallics and electric colors? Where is mesh?'"
Jaime: "We were scared because we we thought we didn't have anything that anybody wants. But, we knew where we wanted to be. I think it was just about finding the right buyers and meeting the right people, hiring press. After that first trade show, we had this great conversation with a Self magazine editor. She sat down and talked to us for an hour and then they put our top in this great spread with Erin Andrews. We saw the magazine in the subway and we opened it up on the platform together and we both started crying. Then, momentum picked up and we had this great press preview. All of a sudden, that summer, Barneys picked us up, Net-A-Porter picked us up. We couldn't believe it."
What's next for the brand:
Megan: "We are showing activewear in July. It doesn't really differ from what we do with swimwear. It's colorblocked. It's all of our best, most athletic suits and transforming them into performance, athletic wear. Essentially, we are trying to make stuff that is cool enough you would just wear it, but also as functional as our swimwear. So, if you decide to go to a class, we've got you covered. If you decide to go to the grocery store, you look great."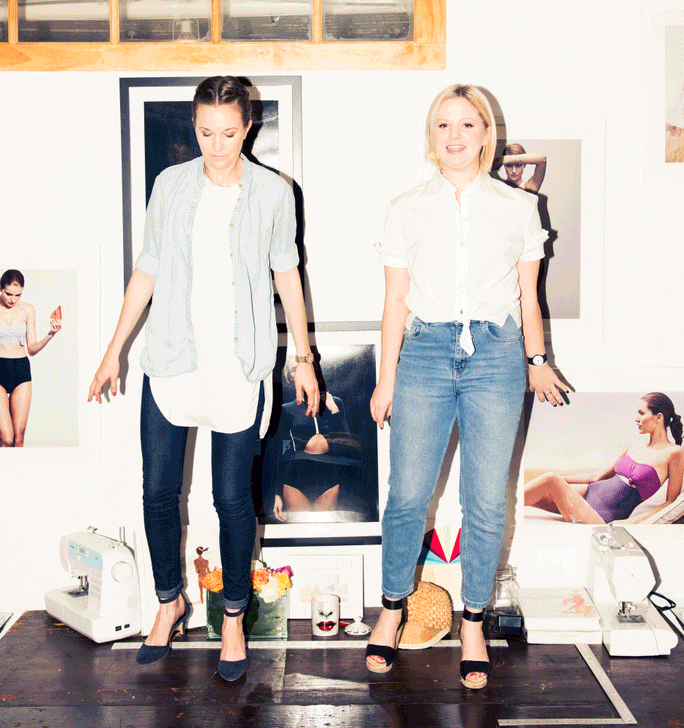 They're best friends and business partners:
Megan: "We collaborate pretty much on everything. We'll come together at the beginning of each collection and figure out a color story, what kind of things we liked from last year, what new things we want to try. Then, I'll do bigger, art direction stuff and Jaime really dives in and does the sketching. Obviously, we touch base throughout the whole thing."
Jaime: "It's definitely really collaborative and the reason we've been so successful being best friends and business partners is that we have the same idea of what we want our woman to look like. We always have the same goal in mind, even when we have different processes of getting there. It's nice to have someone to bounce things off of. We don't look at trends on purpose. I think our company is more about an emotion and a feeling."