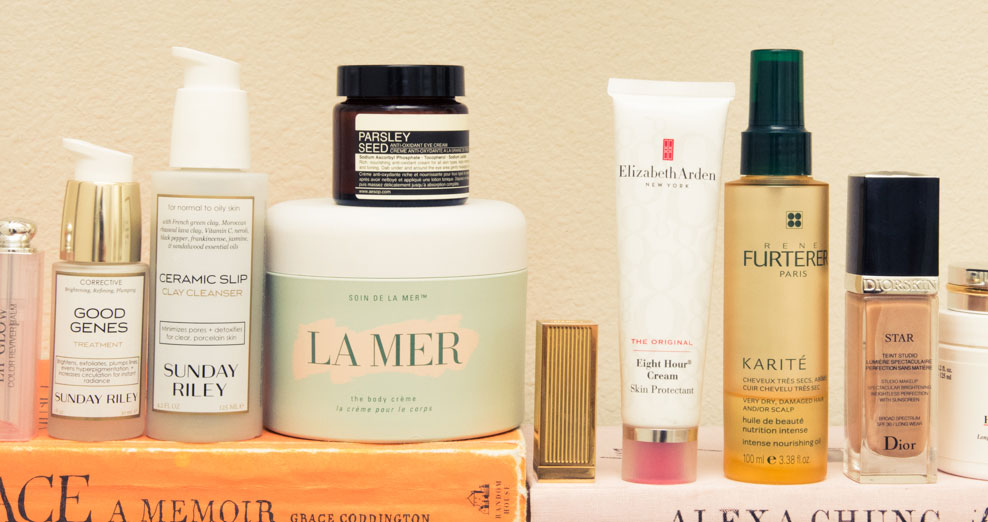 Fashion Girls' Favorite Skincare Products
We came, we saw, we copied.
There's an unspoken rule in the fashion industry where if you're into clothes, you're likely also into beauty. Maybe it has something to do with the requisite camera-time that comes with the job. Suffice it to say, poking around the homes of some of our most fashionable friends, we've found ourselves perusing through their La Mer and La Prairie stocked vanities, inside their Sunday Riley-dedicated cabinets, and rifling through the travel-sized lotions and potions they bring with them everywhere to see exactly how they really take care of their photo-ready skin. Here's what we found.
"In the mornings, I cleanse (with La Mer's The Cleansing Lotion), then every second or third day I use my Clarisonic. I always follow with an antioxidant-packed eye cream (I use Estelle & Thild Antioxidant Eye Cream) and a great moisturizer (Dr Jart Ceramidin Cream is literally the best ever)."
"I just got these Sunday Riley products and I love them. I use the Ceramic Slip face wash to cleanse my skin and then use Good Genes as a moisturizer. Sometimes my face will get really dry, so I throw some La Mer body lotion on top of that. Also I always use eye cream. My under eyes are very sensitive so I'm always protecting them. I use Aesop's Parsley Seed cream. I moisturize my entire body with the La Mer body lotion. I love the smell of it. So fresh! If I'm headed to bed, twice a week I use a hydrating night mask by Kiehl's, called the Ultra Facial Overnight Hydrating Masque. My skin is so soft in the morning!"
"I'm never really that beauty girl, but I do have favorites. Currently I am using the Estée Lauder Advanced Night Repair for my eyes, which is something I'm obsessed with. I bought it like, two months back and I'm obsessed with it. Then there are two creams which I really like, they're both CHANEL. One's Sublimage La Crème Sublimage. I got it at the couture show in the goodie bag, and I tried it and it's just super silky, it feels great. Then there's La Solution 10, it's super for sensitive skin. It just feels good! Then I have just very simple Nivea body lotion and stuff like that. Very basic."
"I can't live without my: La Prairie Platinum face cream, La Mer body cream, my Balmain jacket, shoes, and travel bags."
"I just came from Colette and I got Rodin (it's a bit too strong for me, but I feel like I will get used to it and grow to love it), Byredo Super Cedar and Diptyque Eau des Sens. For moisturizer, I try everything too (Kiehl's to La Mer to just anything)! I recently got Herve Herau extra-rich cream gel—my skin is tired from lack of sleep this whole fashion month and dry because of the weather. So, hopefully this works!
"I have become more and more regimented with my skincare routine lately. I use Eve Lom Morning Time Cleanser when I wake up, then Sunday Riley Good Genes. I just started using Shiva Rose Glow Face Balm, it is so moisturizing and smells incredible. I do the same thing at night. I also use Jiva-Apoha Oils on my body everyday after I get out of the shower. I have been using Amma, it is a blend of essential oils that make your skin feel so nourished. Once I find something that I love, I stick with it."
"Sunscreen is number one for me. I moisturize using lightweight products so they don't clog my pores. I burn easily in the sun, so having something to protect my skin is very important. Lip balm is also important—hydrating and protecting my lips is a step I never skip."
"I always make sure to wash my face morning and night, and to remove any makeup from the day to let my skin breathe. One of my favorite cleansers is Cetaphil, it's super gentle and perfect for my sensitive skin."
"When traveling I always need lip balm. I've been using Weleda Skinfood on my face lately which has been really moisturizing. If I'm traveling four times a week on long hauls, it's very drying and I'm scarily starting to see it affecting my skin. I also take a neck pillow (I don't even put it around my neck, I put it on my low back because just sitting that long sucks and your back gets sore) big earphones, sleeping pills and protein bars because you never know when you're going to get to eat. I always buy magazine when I get to the airport, too."
"In the airport, I'm that person that goes to La Mer or La Prairie counter and tries on all the testers and they're like, 'Can I help you?' No, I'm not going to buy this $500 moisturizer, I'm just going to use it every time I'm at the airport!"