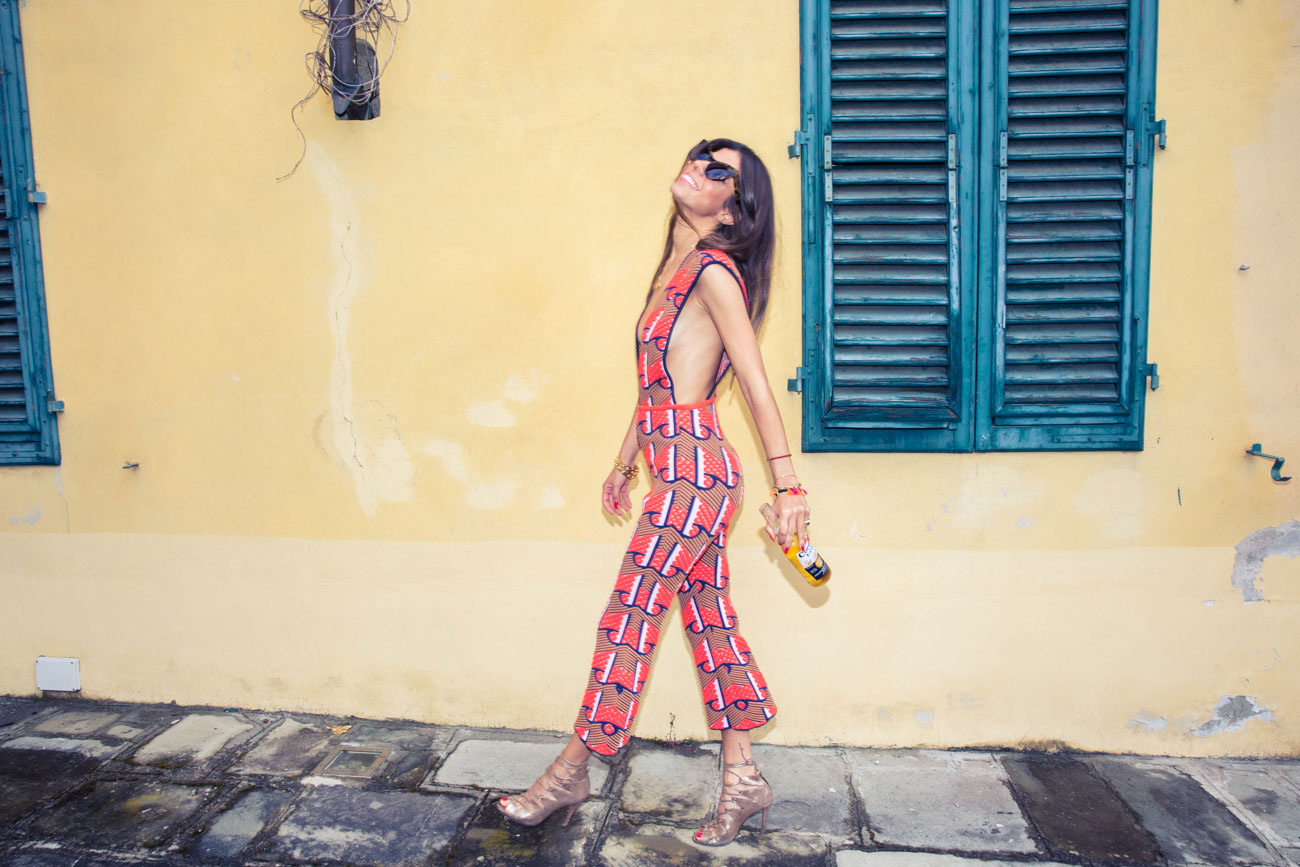 What to Wear When it's Hot AF Outside
And you just can't deal anymore.
You know what New Yorkers love complaining more about than the cold? The heat. We complain about it upon arrival to the office bearing iced coffee cups sweating just as much as we are, we complain about it while going to get lunch, and when we (reluctantly) spend the weekend anywhere besides the beach. Our main concern though, is getting dressed, because there's no way you'll find us in anything more than basics when there's a heat advisory. So instead of complaining about the weather, we decided to shop. Since we can't wear denim shorts and bathing suits Monday to Friday (wouldn't that be the dream?) instead we're relying on breezy dresses (linen!), sand colored slip-ons, and low-key skincare—basically anything we can throw on to go out and buy more iced beverages.
1. Reformation Dress: Reformation's linen heavy "Excessive Heat Advisory" collection (which is "the next best thing to no clothes") is the answer to all my 90+ degree dressing conundrums. 
2. J.Crew Sandals: And similarly, these ribbon ankle tie sandals are basically like wearing no sandals at all. 
3. How to be a Person in the World Ask Polly's Guide Through the Paradoxes of Modern Life by Heather Havrilesky: Since summer's arrival I'm boycotting the subway as much as possible in favor of long walks around Manhattan. When I am forced underground though I make sure to have a book on hand to distract myself from the general nastiness of riding in a sweaty subway car. 
4. Illesteva Sunglasses: Commuting by foot (in these temps) also means severely paring down the contents of my work bag. Sunglasses are a mainstay for obvious reasons, but also to hide tired eyes since I'm refusing to wear makeup for as long as possible.
5. Drunk Elephant Hydration Gel: My perpetually dry skin doesn't let up, even in this humidity. Drunk Elephant's skincare line is A+ and this hydrating/anti-aging/brightening gel that I swipe on every morning is like a cold glass of water for your face.
Meagan Wilson
Editorial Manager
1. Striped Zara Dress: I've been wearing this airy, light cotton dress what feels like every other day, and it's the ideal cheap, cheerful solution to easy summer dressing. Plus, the tie waist and scalloped shoulder make me feel like a lady even when I'm lowkey sweating my ass off. 
2. Herbivore Coco Rose Body Polish: Showing more skin means exfoliating it first. Herbivore's body polish has a pretty rose scent that's pretty without being overpowering, and it's coconut oil-based formula means you can actually skip moisturizer after. Genius, right?
3. No. 21 Sandals: In my head, the goal for all summer dressing is whatever requires as little effort as possible, while still looking reasonably polished. Enter these No.21 sandals: after spotting a couple of pairs in Tamu McPherson's closet, I've become determined to snap up my own. Mostly because they fulfill that exact purpose. 
4. Le Spec Sunglasses: When it's too hot for jewelry, you better believe your sunglasses need to pull double-duty and stand in for it. These do the job. 
5. Tatcha Luminous Dewy Skin Mist: Okay. Yes, this is pricey, but it's not your run-of-the-mill rosewater spray, either (no shade—I love those too). This stuff covers your skin with what almost feels like a layer of serum—it's imperceptible and doesn't feel heavy, just refreshing. It's basically the dream. 
Noah Lehava
Senior Editor
1. Ouai Texture Spray: Mother Nature is giving me texture with humidity, so I'm going with it! 
2. Topshop Floral Maxi: Wearing fabric between my legs on a hot and sticky day is my version of a nightmare. I love how flowy, light, airy, and girly this dress is. 
3. Zara Heeled Sandals: Same MO goes for my shoes: the less restriction, the better! 
4. No bra: Actually. I hate layering and in the summer, every single layer counts. Summer is all about freedom, right? Kinda...
5. Garrett Leight Wilson Sunglasses: I didn't realize sunglasses could be considered breezy until I got these. They are so lightweight, that I always forget they are on my face and they never slip down my nose (even if it's sweaty AF). 
Laurel Pantin
Editorial Director
1. Front Row Shop Mini Dress: Like everyone else on Team Coveteur, the only thing I can bear wearing when it's hot AF outside is a tiny dress. I like this one because it looks polished, but when wearing it I'm still basically naked. 
2. Topshop Sandals: Also helping me stay polished? Low/mid block heel sandals. These keep my feet and calves cool, but still look professional-ish. 
3. Skinceuticals Sunscreen: This is literally the only makeup I wear when it's crazy hot out, and it's not even really makeup. The minimal tint helps even out my skin, but it also protects my face from UVA and UVB rays. 
4. Under Armour Underwear: Maybe this is TMI, but I'm obsessed with Under Armour's underwear. They're thin, cool, and quick-dry for when it's stupid hot outside. TBH, my undie drawer is 99% Under Armour. 
5. Certain Dri: When things get really extra sweaty, I use Certain Dri. Sure, it's probably a bottle of toxic death, but it keeps my pits from sweating and staining my clothes. And come mid-july on the F-train platform, that's a minor miracle. This shit works. 
Emily Ramshaw
Senior Editor
1. Topshop Dress: The criteria for any summer dress: as easy and breezy (literally) as possible. 
2. Re/Done Shorts: I've said it before and I'll say it again: jean shorts are my first summer love and I will wear them over and over and over again. 
3. Solid and Striped Swimsuit: On super hot nights, I've taken to wearing this bathing suit as a top (with, you guessed it, jean shorts). It's lazy, but it's the coolest, smallest outfit possible without verging on inappropriate. 
4. Mario Badescu Facial Spray with Aloe, Herbs and Rosewater: This spray is the most refreshing thing ever when your face is otherwise wet with sweat. Keep it at your desk and your bedside. 
5. Jennifer Behr Hair Tie: Typically my hair ties are of the Duane Reade variety, but let's just pretend I'm glam enough to wear one with a golden bee on it by Jennifer Behr. There's no two ways about it, though: when your hair is as long and as dark as mine, a hair elastic is about the most important thing to battle the heat.