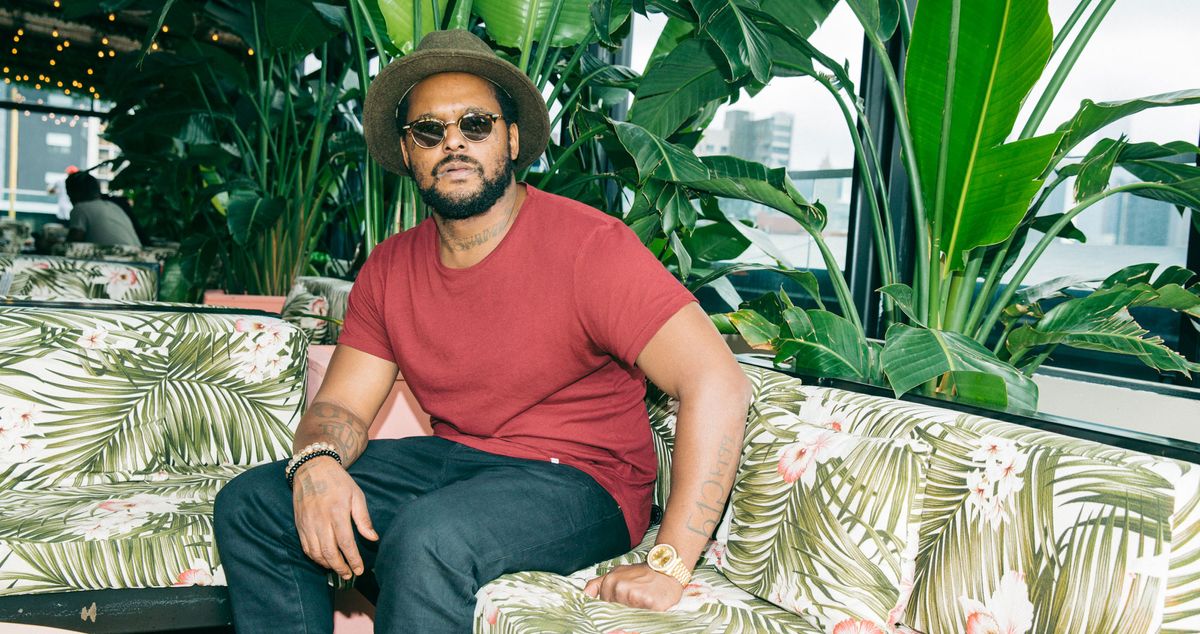 Fitness
How Weed Saved ScHoolboy Q's Life
And why the rapper suddenly decided that it was time to work on his fitness.
Leslie Kirchhoff
If you follow hip hop at all, you'll know that ScHoolboy Q is releasing a new album tomorrow—Blank Face LP is his first since 2014. And if you follow ScHoolboy Q at all on social media (get on the Instagram and Snapchat feeds now, friends), you'll know that on top of coming out with a song featuring Kanye West, the rapper has also lost some weight... Okay, okay, it might sound ridiculous when there's real artistic work to be discussed, but the man posts as many gym-bound Instagram videos as your average Hollywood starlet. Plus, we love a good makeover story. Which is how we wound up on the roof of The Sixty in New York's Lower East Side, where, after knocking back a tiny bottle of gin from the minibar and posing for our photographer in his Vivism sandals and "grandpa hat" (bucket hats are over, people), ScHoolboy Q told us about how he lost 30 pounds, why he was tired of girls liking him because of his stomach, and how weed saved his life. He also let us in on what his cheat day looks like. Hip hop stars: they're just like us.
Why he started focusing on fitness:
"I was waking up to heartburn. I had too many problems: I found out that I had a tumor in my liver. It's benign, but it gave me a scare, and I needed to get my shit together. It wasn't something [specific] that caused it—even though I had my little alchey bottle [at the shoot], I don't really drink much. I'm a pothead. I was like 215/220 pounds and I'm only five foot seven. That's a lot of weight! I was tired of my clothes not fitting.
His workout regimen:
"At the moment, I work out six days a week. I do everything. One day, I may do chest and back, I may do arms, hamstrings, the front of my legs, calves. I do cardio everyday. I lost 30 pounds from March 28th up til now. But, my stomach... I'm still working on my stomach to get it flat. I feel like you always hear stories, like, 'When you get older, it's gonna be harder to shake that weight.' And it's like, man, I lost all that weight, but it's still just my stomach. Like a little bit of excess, ya know? I guess that comes with being a grown man."
The music that he listens to while working out:
"Nirvana. All the time. That's all I listen to. That's it. Everyday."
What keeps him motivated:
"I can't fit in my pants. The fact that I was once that big is just like, 'Fuck that, no more.' At first, I used to like being fat—it was cool because I was getting all the girls. When I would have meet and greets, girls would just wanna take pictures with my stomach. For real. And I thought it was tight—I loved it. But, then I started having all these health issues. And I'm just like, 'Fuck this shit.' I was always tired. I would have eight hours of sleep and wake up still tired. I'm over it. I had my fun with it. Fuck that shit."
---
When he's on the road for this summer's Pit Stop tour:
"When I'm traveling, I try to get as much [exercise in] as I can. But the cardio is already there from the rapping—that's a lot of cardio. Honestly, even before I was really on my fitness, I'd go on tour and lose ten pounds. Now, I may come back a toothpick. I may have to watch that, to make sure I eat more, and make sure I keep my weight where I want it to be. I lose weight so fast on tour."
How he changed his diet:
"At the moment, I'm on a high-fat diet. You know about that diet, right? Just all protein, 15% fiber. I just eat broccoli once a day. I eat eggs. And fucking steak. Steak everyday. Eggs, steak, everyday.
"At this point, I hate that shit. I don't even taste it no more. Sometimes I eat some sashimi. If I just want a little, quick [meal]. No sodas, no nothing. I cheat a little bit, 'cause sometimes I like a little bit of gin.
"At the end of the month, I'm changing from an all protein diet and we're gonna start adding in veggies since I've hit the weight that I wanted."


What a cheat day looks like for ScHoolboy Q:

"Lately, because I hit my goal weight—I wanted to lose 30 pounds and I did that—I've been cheating a lot. Like, all week, I've been cheating a lot because I haven't had a lot of this shit since March. I had a soda the other day. I had fried chicken today. But, once I'm done after today, I'm probably gonna give that up. I actually dislike [that food]—I can't finish it now. I tried to eat a whole fried chicken meal, and normally I would've smashed that and then some, but now, I can't even finish it. My body isn't used to eating it no more."



Even his signature bucket hat has changed:

"I'm more into the fedora now, and the grandpa hat. Somedays, I go no hat and just keep my hair nappy, ya know what I mean? I just go with whatever looks good. The bucket hat thing got out of hand: everyone started wearing them. Everywhere I went, people were wearing them. People would walk up to me and be like, 'Are you ScHoolboy Q.' And I'm like, 'Man, I think it's just the bucket hat.'

"This new hat is just me and my new shit. But, I'm starting to see people wear these now, too— the same Freddie Krueger hat. I do a show now and I see 100 people with Freddie Krueger hats and with nappy facial hair."



How his perspective on health has changed:

"It's changed because of my daughter, too. She's seven years old and she's a soccer player. I want her to know that her daddy gets up and works out everyday, and to know that he's trying to take care of himself and his body."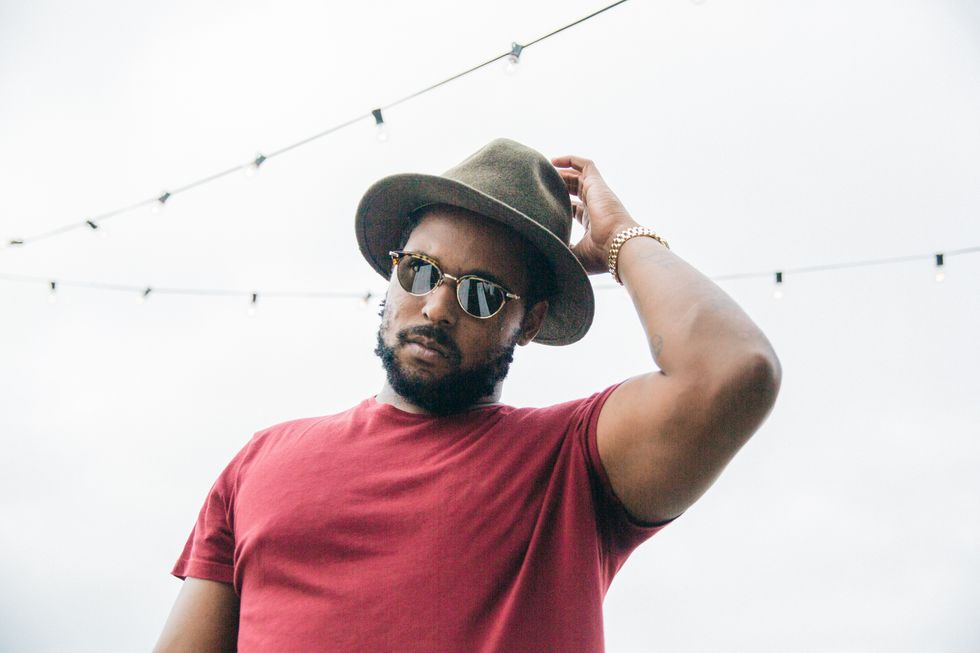 How becoming a pothead saved his life:
"I'm actually high right now. It's just something I like to do. It's a health thing for me, too, though. I was a different person before I smoked weed. I was a hyper person always—always here, always there. I'd probably be dead if I didn't pick up weed. I come from a life of gang bangin', you know what I mean? Being out a lot gets you crossed up in the wrong mix and then you get caught up by that so-called energy. Because I'm a big weed head, I'm not even trying to go nowhere else outside my vicinity. I'm high and feeling good and I'm not even gonna get into any trouble. I really think it did save my life. Because I come from gang banging and not being high, you get bored a lot. Not too many potheads get bored. It's like, 'You bored? Smoke some more weed.' All of that going out, every weekend at the club, that's other drugs—potheads aren't doing that. You're not trying to go out every fucking weekend. I'll pass on the clubs today or such-and-such's house at one in the morning and I'll just sit here and smoke my weed and watch something funny."