11 Decor Cues to Copy from the Coolest Spot in Montauk
Fiona Byrne just revamped Montauk's Surf Lodge and we're taking notes.
Living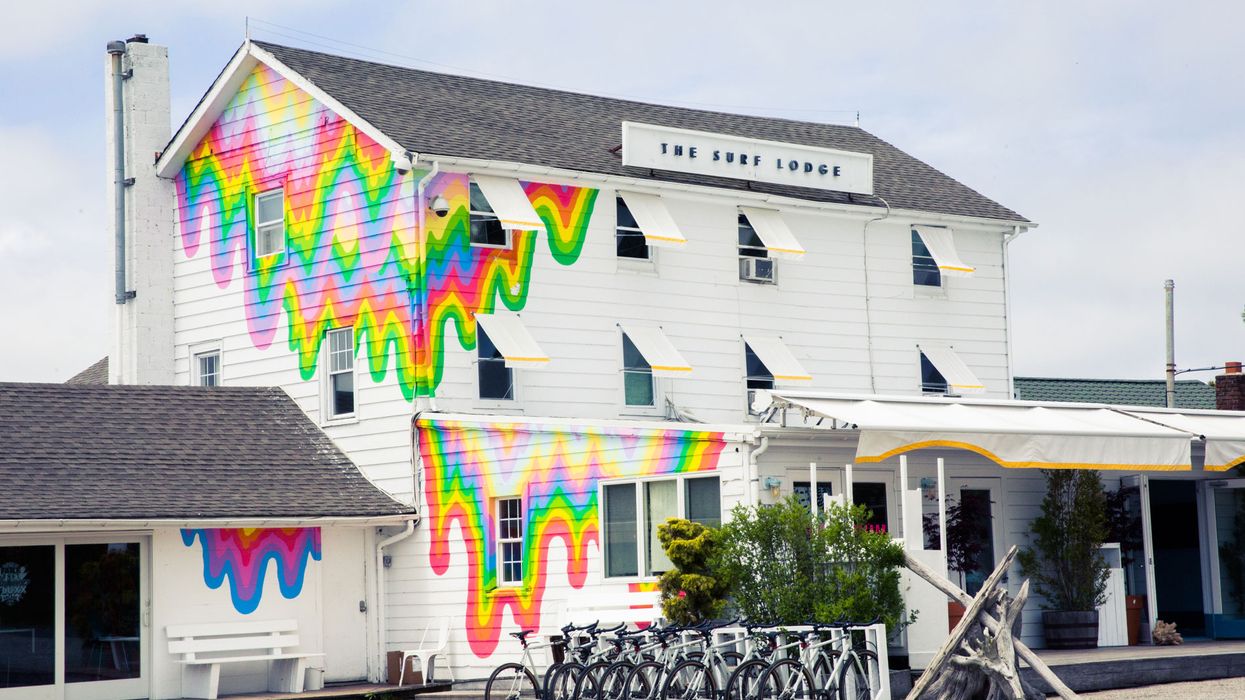 ---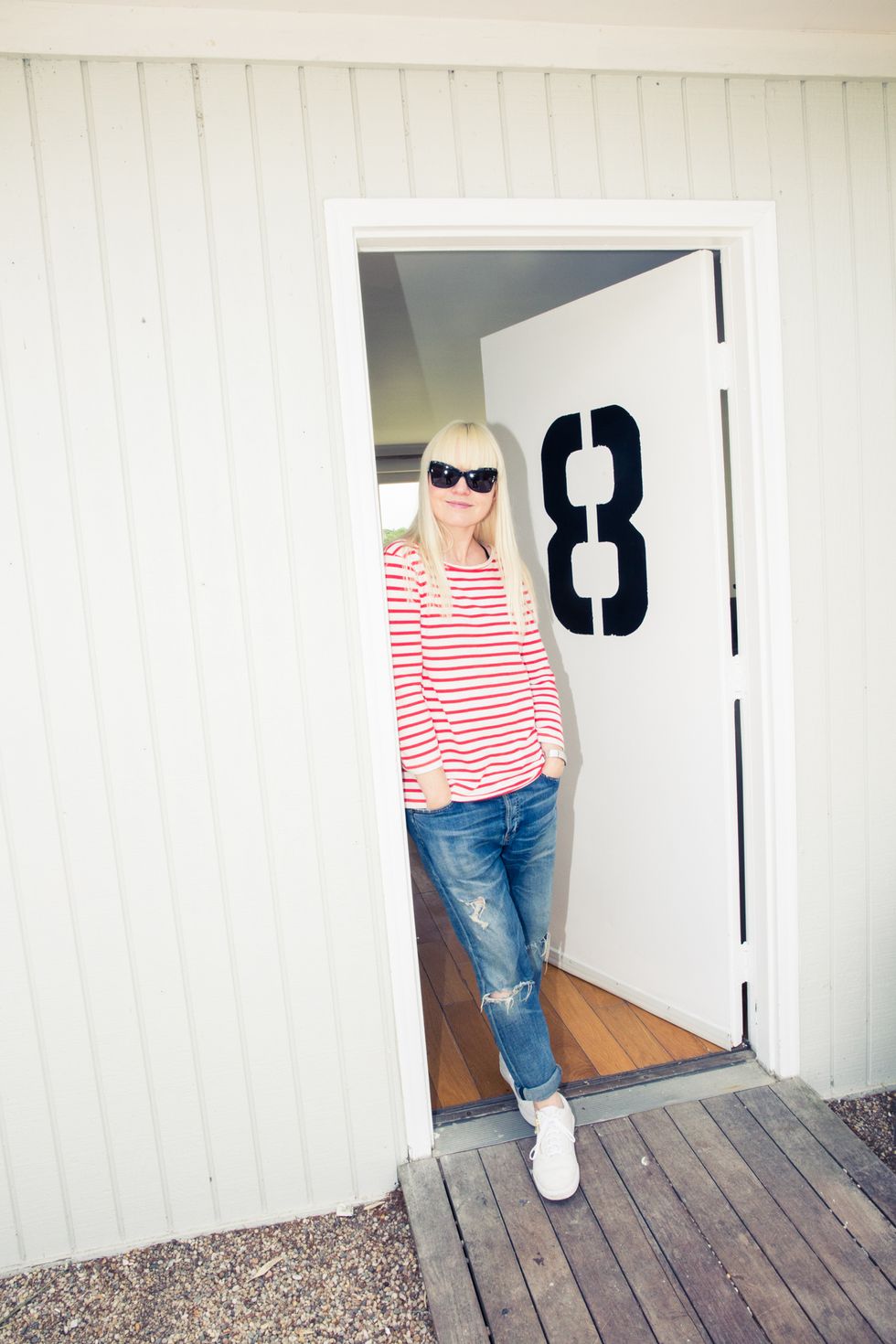 In our years of getting an intimate look at some really beautiful homes, we know firsthand that it's all about the little things: the candles on a hearth; the freshly-picked flowers on a bedside table; the coffee table books stacked *just so* and topped with a crystal bookend. And yet we look around our own apartments they feel, well, stale. In part because the contents of our apartments have been collected over time from various sources (parents, thrift stores, college roommates), but also just because everything is very—how do we put this?—not new.
But then one fateful weekend, we went to Surf Lodge, Montauk's mecca of everything of-the-moment, and discovered that it had undergone the slightest refresh at the very capable and creative hands of Fiona Byrne. And after drinking a bottle (or two) of Whispering Angel on the deck, we had Byrne walk us through her interior facelift and tell us exactly how we can do the same thing at home, so that even our old apartments can feel new again—just in time for summer.
1. Unexpected color + antique accent = win
"I live for an advertising antique like this lifesaver. I found it at Mantiques in Chelsea where you can find the craziest stuff. It's given the room a gallery feel by hanging in an all-white space."
2. Reduce, reuse, upcycle (and get a Smeg)
"One of my favorite things we did at The Surf Lodge was find a super old and messed up cart, and I had my go-to craftsman, Andrew Thomas Hamm, turn it into a little kitchenette. He carved out a space for the sink and then added ring burners. We sprayed the whole thing white, and added a white coffee maker and a white Smeg that I am totally in love with. Having a Smeg immediately elevates your space and sends the message that you value aesthetics."
3. All-white everything (except for one showstopper)
"An all-white palette immediately freshens up a room and allows hero pieces to pop. Clearly the hero here is the Freshwest pool coffee table. It's such a showstopper. The Cloud sofa is by RH Modern and really lives up to its name. All the art throughout the rooms is by Gray Malin whose amazing photos really epitomize summer. I really like using cylinder shaped side tables—if you have a statement lamp like this vintage one I got at Porter James in Greenpoint, it makes it feel very sculptural. "
4. Streamline your furniture (but always add some vintage)
"Less is more is my mantra. When something doesn't look right, I take pieces away until it does. It's like taking off a piece of jewelry before you leave the house. Adding a vintage book and a natural bookend to a glossy white dresser is a perfect contrast. I love how clean this one from ABC Home & Carpet is."
5. Take inspiration from nature (and Instagram)
"Refinishing your furniture can drastically change the look and feel of your space. In many bedrooms at Surf Lodge, we custom finished the beds with a whitewash that has pink tones that correspond with the Montauk sunsets. It's super easy to do and will change the look completely. I think a vintage lamp is always a good look—I like Porter James in Greenpoint for well-curated vintage home shopping. The best place to keep up with new items is on their Instagram."
6. Embrace wallpaper
"I just live for a wallpapered closet, and this pineapple print wallpaper by Walls Need Love is fun, but elegant. When the inside of your closet looks like this, why have doors? The best part about this paper is that it's peel and stick and comes off easily whenever you want it to."
7. Plant a tree
"It might seem like a small detail, but a fig tree really adds something to a room. When your space is minimal, a plant brings a homeyness and life to a corner."
8. White sheets will make you feel like you're living in a hotel.
"A really great bedroom update is to get rid of all your throw pillows and throws and use all-white linens. Another major upgrade you should make isn't necessarily visible, but it's life-changing. I sleep on a Wright mattress and we got them for all the standard rooms at the hotel. Now, when I'm at Surf Lodge, I feel like I'm sleeping in my own bed. Stacking four pillows like this also brings a hotel look to your bed, even at home."
9. Get crafty
"These driftwood hangers are so easy to make and so inexpensive. You just want to make sure they're anchored really well into the ceiling, so having a skilled person on hand is helpful. This can hold 300lbs! I had Andrew Thomas Hamm make ours."
10. Invest in art
"Gray Malin's photos really make a statement and are not only beautiful, they're fun, too. The moment you see one of his pictures at Surf Lodge, you're like, 'I'm at the beach!' If you don't have much else in your room, one great piece of art will give it personality. If you don't want to buy a ton of stuff, just make sure to invest in one nice piece of art for your wall. The gallery wall [with tons of things on it] is a trend that's passing."
11. Go tropical
"Tropical plants and succulents are totally on trend and can work in any environment as long as you mix them in with native plants. Weathered wood finishes like these chairs from RH, Restoration Hardware give a lived in, beachy look."